Cambridge Audio's New 'Black Edition' Dac & Streamer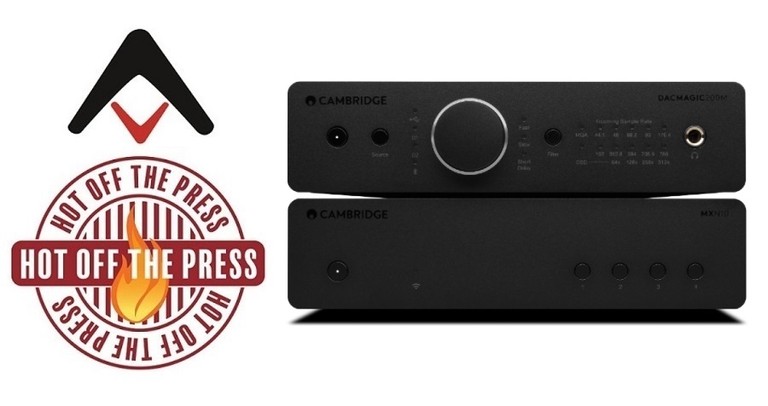 Cambridge MXN10 and DacMagic Black stack
Last spring, Cambridge Audio launched a limited-run "Black Edition" of the company's popular CX Series, including the CXA81 and CXA61 integrated amplifiers, the CXN V2 network player, and the CXC CD transport. These stealthy components swapped out the Lunar Gray aluminum faceplates from the originals with new, matte-black anodized aluminum front plates trimmed with discreet gloss-black branding and lettering. This dual-texture effect allowed the Black Edition products to stand out just enough to make a statement in a sea of silver and standard black audio electronics. Cambridge called it "a marriage of understated class and head-turning brilliance." I think they look totally slick. If Batman had a HiFi system in his cave, this is what he'd have. Thanks to the success of this limited-edition launch, the folks at Cambridge Audio are now giving the Black Edition treatment to their desktop-friendly DacMagic 200M digital-to-analog converter and MXN10 network streamer.
As with the CX Series Black Edition products, the new Black Edition DacMagic 200M and MXN10 will have the same functionality and performance as their gray doppelgängers, but they'll sport matte-black anodized faceplates with gloss-black spot branding. A stack of these pint-sized Black Edition components would look right at home on any desk or nightstand, though they could just as easily be deployed as part of a larger system. In what seems like a surprisingly generous move on Cambridge's part, the Black Edition DacMagic 200M and MXN10 will sell for the same prices as their Lunar Gray counterparts, despite their limited-edition status. I'll be doing a full review of both units shortly, but for now, here's a quick rundown on what they have to offer.
Cambridge Audio MXN10 Network Streamer ($499)

The MXN10 is a fairly simple network streamer: ethernet or Wi-Fi in; analog or digital audio out. On its clean-looking front panel, which measures about 8.5 inches wide and 2 inches tall, you'll find a power button, a small light indicating Wi-Fi connection status, and four preset buttons. 
Around back, there's the ethernet port, a set of RCA analog outputs, one coaxial digital output on RCA, and one optical digital output via Toslink. In addition to accommodating Spotify Connect, Tidal Connect, Google Chromecast, and Apple AirPlay 2, the MXN10 uses Cambridge Audio's home-brewed StreamMagic Gen 4 module and control app to serve up Qobuz, Internet radio, and much more. The MXN10 is also Roon Ready. Inside, a high-performance DAC chip (the ESS Sabre ES9033Q, to be precise) helps dish out high-res audio.
DacMagic 200M ($549)
You can upgrade the audio output of the MXN10 — or any digital source — by connecting the DacMagic 200M via an optical or coaxial digital cable. The DacMagic 200M also has a USB input supporting 24-bit high-res PCM files with sample rates up to (a frankly ridiculous) 768kHz. The DacMagic 200M also supports DSD up to DSD512, and is the first Cambridge Audio DAC to support MQA. Bluetooth with aptX is on board for convenience. However you get your digital audio, it will be routed though the DacMagic's Dual ESS ES9028Q2M chips on its way to the unit's analog outputs. 
In addition to the standard RCA outputs, the fully balanced DacMagic 200M sports balanced XLR outputs, making it a perfect match for pro-level studio monitors, which may lack RCA inputs. The Dynaudio Core 7 and Adam Audio S2V are just two examples of great-sounding monitors that are XLR-only. (If I were using the Black Edition DacMagic 200 on a small desk, I might go for the matte black Genelec G Two speakers. On a bigger desk, the shapely Genelec G Three or monolithic ATC SCM20ASL Pro would fit the bill nicely.) Balanced XLR outputs are a great feature not often seen on DACs at this price. Kudos to Cambridge Audio for including them on the 200M. Also a must for desktop use is the DacMagic's built-in volume control and high-quality headphone amplifier.
The Black Edition MXN10 and DacMagic 200M will available this November from authorized Cambridge Audio dealers, like our friends at Audio Advice, and at cambridgeaudio.com.