Blockbuster Buys MovieLink Download Service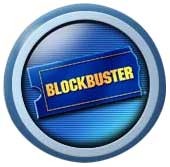 Blockbuster video adds downloadable movies
For a while now, Netflix has boasted as being the only DVD-by-mail service that also enables live viewing of movies online through its website. Now Blockbuster seems to be getting into the game by purchasing Movielink, a digital movie download service that allows users to rent downloadable movies to their PCs. Current pricing starts at just $0.99/movie and more current releases are priced around $4.99 for a 24-hour rental (movies are stored for up to 30 days and the 24-hour viewing period starts upon play). The Netflix system doesn't currently cost its users anything, however only older movies are included in the line-up. It will be interesting to see how Blockbuster uses this new technology which supports both rental and "owned" downloads. Perhaps new movies will still incur additional fees while older movies may be released as rentals at no charge.
Blockbuster has indicated it will run MovieLink as a standalone service but incorporate some of the technologies into Blockbuster online. Presumably this would indicate that some form of free online rentals are coming soon to users of the online rental service. Having the option of a physical rental, a movie in the mail and a downloadable movie is highly compelling indeed.

"Many of our stores still say 'Blockbuster Video,'" Chief Executive James Keyes said in an interview recorded at the Baltimore Sun. "We're taking a fresh look at the future of Blockbuster. The popularity of (online rentals) convinced us that customers are ready for more convenient forms of digital delivery that we think Blockbuster can successfully enter."
This isn't the first time Blockbuster had been in talks with MovieLink. Back in February both companies were talking and the deal/offer was valued somewhere around $50 million in cash and stock. This time the deal looks to have gone through thanks to a change in management at Blockbuster. Currently Netflix has around 6.7 million subscriber to Blockbuster's 3.6 million, though Blockbuster seems to be growing at a much faster rate with 600,000 new subscribers added in the second quarter of this year (Netflix actually lost 55,000, a first for the company since it began in 1999).
Netflix has tallied over 5 million downloads of its Watch Now movie service this year, so it looks to be something that is gaining in popularity.

Recent Forum Posts:
Buckeye_Nut posts on August 10, 2007 15:26
Netflix has had a selection of movies & TV shows you can watch online for some time now, and they've even reduced their prices. I have yet to watch one online, but if the trailer quality is any indication……the image quality must be horrible.


They must be feeling the pressure of the "Red Boxes" you see popping up all over the place offering $1 rentals?
GlocksRock posts on August 10, 2007 12:55
unless the download would have full 5.1 or 6.1 audio tracks, I really wouldn't want it… I mean sure it would be nice to have if you are say at a hotel room and only have your laptop, but for those of us with nice media PC's, what's the point?
BMXTRIX posts on August 10, 2007 12:42
I think the future is not in streaming downloads, but in properly managed download services that have interactive functionality with TVs and A/V receivers.

Downloads that you put in your queue, as you do with BB Online, but then are downloaded to your PC. Maybe 3 or 5 movies are downloaded, and you return them when you are done with a mouse click, or an option on your TV screen. The movies can be HD or SD, but can be chosen by users for what their display supports.

If you pay for unlimited rentals, 3 out at a time, every month, then you will have 3 available to you at all times. It may be 12 or 24 hours for a rental to download to your PC, or whatever is storing the movies (receiver? TV?) but then it will be available until you return it. Stop with the stupid 24 horus from first watch to 'delete' of movies! Let me decide when I'm done viewing it.

Things that are really cool is that new movie releases could download to your video servier a week before they are 'officially' released, then on the date of release - at midnight, the movie beomes avaialble for playback.

No sold out titles, no waiting days for a movie to arrive, no scratched discs. It also adds the capability that even those with slower internet connections can take part. It may take longer for them to get the downloads, but when they get them, the full movie will be available to them - not streamed with the headaches that accompany streaming.

I could totally see that as the future - and it's several years away at least.
westcott posts on August 10, 2007 11:15
I have yet to hear from someone who likes the download service. I hear complaints of taking too long, broken links, corrupted downloads and poor video quality.

It may get better and some may not care about quality video, but reliability still seems to be a necessary function.

Any input?
birdonthebeach posts on August 09, 2007 17:06
Clint DeBoer, post: 294253
Or even better… Will it blend?
NOW you're talkin'!!!
Post Reply