Blackberry's Voice to Stream Media to Your Car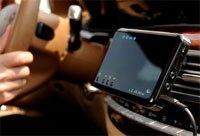 A new product is being launched today that will bring a voice to your Blackberry. The device is called iLane and will let users perform basic Blackberry functions while keeping eyes on road and hands on wheel. But the real potential for the device lay in its streaming content services. The developers hope one day you'll use the device to stream all your media content, including music files to your car stereo.
The company is called IMS (Intelligent Mechatronic Systems) out of Waterloo, Ontario, Canada – the hometown of RIM, the company that gave us the Blackberry. It makes sense that the company has had full cooperation with RIM in the development of this ultimate, in-car add-on every Crackberry addict will want.
Dr. Otman Basir, IMS's founder and CEO believes drivers shouldn't fumble around with a handheld device behind the wheel. But using cutting edge voice recognition technology, people shouldn't have go without the service of their mobile devices either.
Today his company introduces iLane. The device plugs into your car's cigarette lighter and, using Bluetooth, syncs to your handheld and headset. Now you have full voice control of your Blackberry. The device lets you check mail, instant messages and calendar. It'll actually read your mail to you using an advanced text-to-speech engine. It not only reads your messages but can add emotion based on the messages' punctuation, it'll even giggle or sob when is recognizes emoticons.
Sure, it might be good for one's soul to just put down the handheld for awhile and resist its grip. The real draw will be for those who commute long distances and feel the need to stay in touch with the office. Hopefully it's not just a device to further our Blackberry addiction.
The Blackberry operating system is just a start. The device will soon be compatible with Windows Mobile and Symbian operating systems as well. Compatibility with the iPhone is also likely on the horizon but only as a phase three. Yeah, it's hard to believe there s actually a company out there that's not jumping over itself to offer iPhone/iPod compatibility. Maybe IMS' close relationship to RIM has something to do with it?
Serving up Entertainment
The coolest feature of the iLane is its content services. This is where your Blackberry's Internet connection reads information updated at the company's hosted servers. They currently offer Associated Press news and weather from the Weather Network. Simply tell iLane you want to check news and then specify a category; such as Sports, Entertainment or Business - iLane will dig out the day's top news headlines for you and read the complete story to you. It's an excellent way to get last night's football scores.
IMS is working on rapidly expanding iLane's content services. The goal will be to give drivers full voice access to anything your handheld or the Internet itself has to offer, including media.
Imagine not having to take your eyes off the road or even move a finger to change the radio station. You could even order up a specific artist, album or song to hear that moment. That's the long range vision and thanks to today's growing number of Bluetooth enabled car stereos, receiving selected media with acceptable sound quality isn't so far off.
Currently the device's streaming news features are able to pick up anything streamed on the Internet and the addition of, oh perhaps home theater podcasts can't be far away. I have it on good authority that some of the developers of the system are audioholics themselves. Don't be surprised if iLane users are soon hearing the latest Home Theater info straight from the pages of Audioholics.com or even hearing an AV Rant podcast through the device.
See also:
Recent Forum Posts: