Blackberry to Storm Touch-Screen Market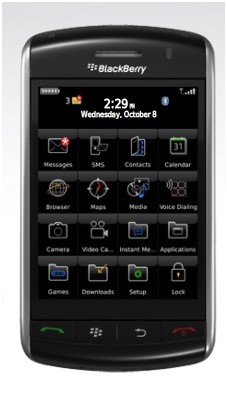 The makers of Blackberry tossed its keychain into the touch-screen fishbowl this week. As it dives into the same market as iPhone, RIM hopes to attract some crossover Apple unfaithful. But is the Waterloo tech firm taking a risk introducing the new Blackberry Storm in the midst of a financial world-storm? 
The new Blackberry Storm was just announced this week and it's the first PDA from RIM to do away with the type pad and trackball that made the so-called Crackberry an institution for years. As the company claws after Apple's action with enhanced media-phone capabilities, its touch-screen completes the iPhone synthesis. 
RIM, the revolutionary tech company out of (my own home-town) Waterloo Ontario wasn't satisfied to simply slap together yet another touch-screen Smartphone. We've seen imitators from the likes of HTC, Samsung and now Nokia. The Blackberry difference is its new "clickable" touch screen design. It's designed to provide resistance to your fingertips giving users the feel of pressing real keys. The screen is also designed to use multi-touch, taps, finger slides and other gestures to manipulate its 3.25-inch (480 x 360 pixel) screen. 
The device comes with a built-in 3.2 megapixel camera with a variable zoom. Huge for a cell phone! 
It's also got a built in GPS, 1 GB of built-in storage with a microSD/SDHD memory card slot. The powerful media player is capable of music, movies and photos. Video can be played back through a variety of formats including: Windows Media Video (WMV), Mpeg 4, H.264 and standard 3GP mobile phone video. Backing up this media blitz is the same powerful 624 MHz processor and 128MB RAM as the Bold. 
The biggest oversight in this phone is the lack of Wi-Fi. Yeah, it has GPS but lack of Wi-Fi harkens back to the earlier Blackberry models (eg Pearl) that always seemed to omit one key feature. Only to be added later to an updated model that would leave out an important feature included earlier. At this rate you can expect a new Storm to come out next year that has Wi-Fi but no GPS. 
Blackberry Storm For Free 
The Blackberry Storm is expected to make an appearance across North America just in time for the Christmas season. It'll be available in the US on Verizon and in Canada on Bell/Telus networks. No pricing has been announced yet but at least one news source is already speculating the phone might be free (in the US), with a hefty contract of course.
The free-with-contract idea might make sense if RIM is serious about usurping Apple in the handset market. The iPhone 3G had a reasonable price with stiff contract that seemed popular among consumers. Storm's US wireless carrier Verizon didn't mention a price yet. Storm is being marketed in the UK by Vodafone which PC World says is available at no initial cost after you sign an 18-month contract at US $70 per-month. This compares favorably to the iPhone which is $65 dollars a month after an initial $200 investment. 
Co-chief of RIM, Jim Balsillie is said to have shrugged off criticisms that his company's new tech-toy is preparing for release during a veritable financial melt-down. Considering RIM's own stock has taken a 30% decapitation recently - the company might as well stay-the-course. In fairness to RIM, the product's roadmap is likely following a course laid out long before any of the recent world market-financial troubles.
Recent Forum Posts:
EJ1 posts on October 13, 2008 12:32
Wayde Robson, post: 467311
In a year it'll be worth half what it's worth today.
But then there will be something even cooler I can't afford by that time, haha.
aberkowitz posts on October 13, 2008 09:35
GlocksRock, post: 468080
That looks pretty sweet, I would give it a shot. I hate the trackball on my Pearl, so maybe that would work better.
Ugghhhh- I'm now on my 3rd 8830 (all replaced under warranty) b/c of breaking trackballs.
GlocksRock posts on October 13, 2008 08:53
That looks pretty sweet, I would give it a shot. I hate the trackball on my Pearl, so maybe that would work better.
Wayde Robson posts on October 11, 2008 16:36
EJ1, post: 467269
My phone of choice if I could afford it, haha.
In a year it'll be worth half what it's worth today.
Wayde Robson posts on October 11, 2008 16:35
EJ1, post: 467233
I can take that HTC Touch off your hands.
Off the top of my head I think I'd sell it for like $100 US. I really don't know what it'd be worth.
I'm not trying to turn this into a sales thread but…
It's unlocked. I have none of the stuff that came with it and to be honest it's not in mint condition but it's well been cared for. It bears only a couple of minor scratches that I don't think you'd even notice unless it was pointed out.
There is a strange area on the screen that is slightly discolored though. I don't know how annoying that would be. It's an are of about a few px x a few px that just seems to stay a little darker than the rest of the screen. It's been that way since soon after I got it. I should have sent it back but it was so minor I seldom even notice it.
I may not ever get that much for it, I have no idea of its market value today. I haven't done the first search on kijiji or ebay to see what people are selling for these days.
Post Reply