Beamax Releases Gamers Guide to 3D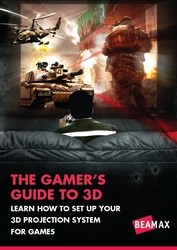 Gamers Guide to 3D
Call of Duty - Black Ops 3D and other new generation games are best played large – and even better in 3D. A new, free guide, entitled The Gamers' Guide to 3D, has been published by Beamax to help gamers prepare for affordable, 3D big screen gaming. The Guide demystifies technical terms and sets out clearly the components gamers will have to buy to complete their system to get the best 3D results. The Beamax Gamers' Guide To 3D is published to coincide with the release of Call of Duty - Black Ops 3D on the 9th November, and is available as a free PDF download at http://www.projectionscreen.net/3d .
Author of the Guide and founder of Beamax, Otto Tromm, an enthusiastic gamer himself, and explains that:
"At its highest level, gaming is about putting yourself at the heart of the action – where you share the perspective with the other characteristics, rather than looking into the game from the outside as you do with a flatscreen TV. To buy a TV big enough to create life size characters and to be fully immersive would cost many thousands. In our new Guide we show gamers how to achieve a high definition, 3D big screen gaming experience for a few hundreds."
The Beamax Gamers' Guide to 3D helps gamers choose a 3D-ready projector, select a projection screen, active glasses and the right cables to complete their gaming system. It provides practical advice on setting up the projector and screen with a console, and explains the issues of cabling for sound and vision.
Worldwide sales of 3D projectors will exceed 1 million units this year and will rise to 5.4 million annually within five years. Many of these will be bought by gamers looking for the truly immersive experience that only a high-definition, big screen projection system can provide.
Adding 3D capabilities to big screen gaming takes the gamer into the realm of virtual reality, and provides games developers with a whole new set of creative possibilities. The launch of Call of Duty - Black Ops 3D is just the first in a stream of new titles as games developers rush to exploit the potential of 3D.
Imminent releases include popular titles such as Need for Speed: Hot Pursuit, Gran Turismo 5, Killzone 3 and Motorstorm: Apocalypse among many others.
The Beamax Gamers' Guide to 3D enables the majority of gamers to enjoy the full potential of 3D gaming in an affordable way.