Axiom Intros Audiobyte PC Speakers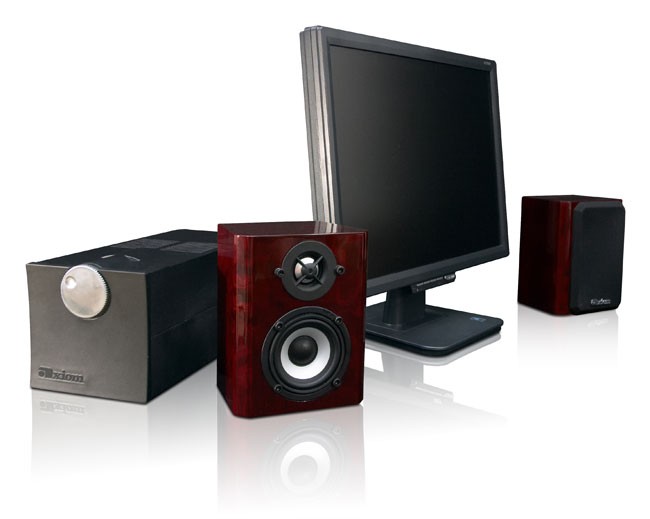 Axiom Audiobyte PC speakers
DWIGHT, ONTARIO - Axiom Audio today unveiled the Audiobyte, their first luxury hi-fi computer speaker system. Comprised of two high end, ultra-compact speakers plus a dedicated stereo amplifier and optional subwoofer, the self-contained Audiobyte system not only brings high-definition excitement to all forms of PC-based entertainment, but to Apple iPods as well.
"PCs, with their higher-resolution screens and increasingly sophisticated entertainment software, are competing with televisions and game systems for people's attention. Axiom Audio, a world leader in elite audio systems, is acknowledging this trend with the introduction of Audiobyte," said Ian Colquhoun, president and chief designer of Axiom Audio. "Audiobyte breaks new ground in PC audio quality, giving audiophiles and entertainment lovers alike a system that meets their demanding listening standards."
Available in seven speaker finishes including lacquered, real-wood Burled Walnut, Audiobyte is a premium system that rivals the fidelity of high quality home theater packages. Its standalone amp delivers 55 watts per speaker (110 watts total)—an output ten to twenty times the strength of typical PC speaker alternatives. In-room SPL (Sound Pressure Level) is 87 dB, sufficient for robust reproduction of the most dynamic music or movie tracks.
Customizable
Unlike typical specialty PC speaker systems, Axiom Audio has designed Audiobyte as it would its other premium lines—to meet the unique sonic and decorating needs of its owners.
At 6.5" (165mm) H x 5.5" (140mm) W x 4"(101mm) D, Audiobyte's two speaker units are small enough, yet powerful enough, to suit the playback needs of any room. Identical in configuration and performance to Axiom Audio's popular MZero speakers, each enclosure contains a 1" titanium dome tweeter and 3" aluminum cone woofer that together provide 100-20,000 Hz frequency response and 8 Ohm impedance.
To match any decorating scheme, the two ultra-compact units can be ordered in any of seven finishes: silver, charcoal, black or white matte-finish synthetic; high-gloss synthetic Cherry or Burled Walnut; or hand finished, real-wood Burled Walnut, encased in 12 coats of lacquer for long-lasting beauty.
Like its speaker counterparts, Audiobyte's dedicated amplifier delivers maximum performance in minimal space. Dimensions for the matte black, synthetic finish unit are 5" H x 5" W x 12-3/8" D, making it small and unobtrusive on a shelf, desktop, countertop, or beneath a desk. The unit's crossover is custom-matched specifically to the system's speakers; Audiobyte components, in fact, are designed to be used only with their companion output devices.
Finally, the optional Audiobyte subwoofer, patterned on Axiom Audio's EPZero product, houses an isobarically-loaded 6.5" driver and measures 12.4" (315mm) H x 7.87" (200mm) W x 14.17" (360mm) D. The subwoofer is also matte black to match the system's amplifier.
iPod Capability
Audiobyte's versatility extends to the most popular audio product on the market today—the Apple iPod. Thanks to the Audiobyte amplifier's USB plug, iPod owners can both play music and charge their iPod over the Audiobyte system. Its small size also allows it to become a portable playback partner to the iPod. Just put it wherever you want to use your iPod, plug in your player, and enjoy incredible, full-range audio.
Pricing, Availability
Axiom Audio's Audiobyte system is priced at $349 for two bookshelf speakers in standard synthetic finish; $399 in high-gloss synthetic; and $559 for the lacquered, real-wood Burled Walnut version. (All prices include dedicated amplifier in matte-black finish.) The optional subwoofer is priced at $179.
Audiobyte is now available for purchase direct from Axiom Audio. To learn more or to place an order, log on to the Axiom Audio Web site at www.axiomaudio.com.
About Axiom Audio
Axiom Audio has been designing, engineering and manufacturing award-winning high-end, high-value loudspeakers since 1980. The company's products feature transparent, wide-range sound developed through double-blind listening tests and extensive research. As a testament to its emphasis on quality design, Axiom Audio's loudspeakers have received multiple Product Of The Year honors from the Consumer Electronics Show as well as virtually every major audiophile media source. A 100% Internet-based company, privately-owned Axiom Audio services a worldwide customer base from its headquarters and manufacturing facilities situated in the unspoiled Muskoka district of Ontario. To learn more about Axiom, visit www.axiomaudio.com.

satish536 posts on February 12, 2008 17:18
Bump …… anyone ?
satish536 posts on February 11, 2008 18:43
Axiom Audiobyte vs Klipsch Promedia 2.1

Its that time of the year to shop for speakers again

How do these compare to the Klipsch Promedia 2.1?
I presently own the klipsch and i plan on upgrading to these. These are rather expensive $349 + $125(for a powered subwoofer that im definitely adding as i'm a bassaholic)

Heavy investment. Has anyone heard these speakers or have personal experience with them.
I dint find any more reviews than the ones axioms site.

Although i trust axiom, i hope these are worth the money.

Well im upgrading as i think the treble on my pro medias gets overbearing with the type of music i listen to.

Advice, comments appreciated as always.
mike c posts on November 21, 2007 06:34
Devin79 posts on November 21, 2007 05:42
Now that klipsch seems out of the PC speaker game.

Nice. I haven't upgraded my 5.1 computer speaker system since I got the Klipsch Pro Ultra 5.1 set, which is top notch in it's own right. I might look into Axiom though.
Post Reply