Home Theater Set Up and Buying Guide E-Books Membership Program!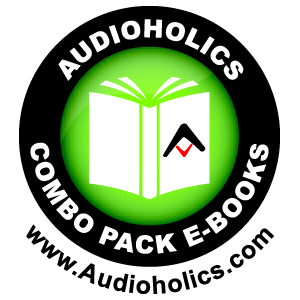 Audioholics Combo Pack E-Books
Are you looking for help in deciding on the best new AV equipment for your home theater? Or do you need set up tips and advice? If so, the Audioholics E-Book Membership Program is your answer.
Our Buying Guide E-Books will arm you with the necessary knowledge to make an informed purchasing decision on a new HDTV, AV Receiver, Speaker System, Subwoofer and more.
While our Set Up Guide E-Books will provide you concise instructions on how to properly set up and configure your new AV gear to ensure you achieve maximum performance and enjoyment.
Download them, print them, and take them with you as a reference when shopping or setting up your AV equipment.
Get ALL 10 of our E-Books ($100 value) and Become an Audioholics Member at no additional charge for one low price of $69.95!

(special holiday sale price of $49.95 extended till Jan 31st, 2015)
Must See Interview about the Audioholics E-Books

Our Combo Power Pack offers the best value to you as it includes ALL Six (6) of our Buying Guide E-Books and All Four (4) of our Set Up Guide E-Books for one incredible price of only $69.95 (special holiday sale price of $49.95 extended till Jan 31st, 2015).

In addition, you gain access to our exclusive members only forum area where you can ask questions or get advise from our friendly staff or other Audioholics members.  Anytime we make updates to any of our E-Books, they will be offered to you FREE of charge.  We are confident these E-Books combined with our exclusive membership will help you achieve maximum enjoyment from your home theater system for a lifetime!