Updated Apple TV 4K Delivers Dolby Atmos Sound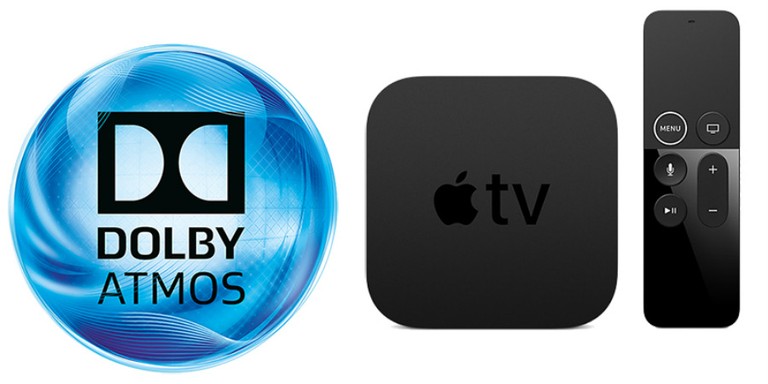 Apple TV 4K Dolby Atmos
In 2012, I had the thrilling experience of visiting one of the first Dolby Atmos theaters in the world, near Dolby's headquarters in San Francisco. A company representative gave a presentation on the game-changing audio technology before a screening of Pixar's Brave, the first feature film to leverage object-based, immersive surround sound. Arrows whooshed overhead, and the sound of rain falling from above was unlike anything I'd heard. At that time, I certainly didn't imagine that this kind of cutting-edge technology would soon be available via streamable, on-demand content for the home theater, but time can move quickly in the world of AV tech. The latest streaming media players from Roku and Amazon now offer some Dolby Atmos content via apps from Vudu, Netflix, and Amazon Prime Video. The catalog of Atmos content is fairly limited, however, and neither the Roku players nor Amazon's Fire TV boxes can process Dolby Vision HDR video. Coming to the rescue is the Apple TV 4K, which will become the first streaming media player to support both Dolby formats when it receives a software update this fall.
At Apple's recent Worldwide Developers Conference (WWDC), the Apple TV's lead designer Jen Fuls said that the player's updated operating system, known as tvOS 12, will bring Atmos support and a variety of other new capabilities to the Apple TV 4K, which was first introduced in September of 2017. Equally important to Atmos enthusiasts was the declaration that iTunes will become "the largest collection of Dolby Atmos supported movies" available on any streaming platform. Current iTunes customers will receive automatic, free upgrades for any previously-purchased movies that receive new Atmos soundtracks. These free upgrades offer a real incentive to buy into Apple's ecosystem. (I wish my dusty DVD collection would automatically become Ultra HD Blu-rays.) When the Apple TV 4K was first announced last year, iTunes performed similar upgrades to previous purchases as they became available in 4K HDR video. Apple claims that its overall Apple TV business has increased by an impressive 50% since the advent of the 4K model. 
Beyond Atmos support, the new tvOS12 operating system will bring increased cooperation between the Apple TV 4K and various cable providers around the world, starting with Charter Spectrum in the US. Subscribers to Charter Spectrum's cable offerings will be able to use an Apple TV 4K in lieu of a cable box to watch live TV, and access on-demand programming, using the new Spectrum TV app. A new feature called "zero sign-on" will make initial setup of the Apple TV 4K much easier for Spectrum subscribers. When an Apple TV 4K is on a Charter Spectrum broadband network, the player will automatically authenticate additional video apps for cable networks such as ESPN and AMC. Users will not need to provide log-in credentials to access these apps. If the user subscribes to premium channels, such as HBO or Showtime, the apps for those channels will also receive automatic authentication. Apple will be expanding these capabilities to work with additional cable providers over time. Finally, Apple is working with popular home control systems such as Control4, Savant, and Crestron, to enable those companies' remotes to control the Apple TV 4K, and to integrate Siri voice control.
The Apple TV 4K sells for $179 for the 32GB version, and $199 for the 64GB version. Will you be adding one to your home theater setup? Share your thoughts in the related forum thread below.