Apple Working on the iLost GPS System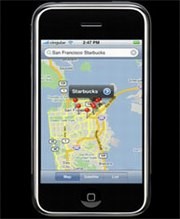 Apple's iLost GPS System
Apple and Mercedes Benz are working on a new GPS system that will be loosely based on Apple's new iPhone technology and will appear exclusively in 2009 model Mercedes Benz vehicles.

Currently, Mercedes uses a somewhat convoluted and confusing "Command" system navigation. The Apple iPhone interface design suggests that the final system will function via soft buttons and have no real hard buttons for activation. I woudl presume that voice commands would also be accepted given Apple's foray into the voice recognition arena in days passed. The new armrest-mounted scroll wheel that debuted on the S-Class (and now the upcoming C-Class) will most certainly be tied into the system for ease of use.

Cross-industry development is no stranger to the consumer electronics world, with Bose having been highly active in the automotive suspension development for years. For Apple to swing into GPS development with Mercedes only makes sense and is a logical extension of the iPhone interface. The big question is whether Apple will continue to expand its offerings once the initial exclusivity periods expire. Could we all be taking a ride to work with our iLost GPS systems guiding the way? Given Apple's track record for developing such nice interfaces and functional products that serve a given task, I wouldn't put it past them to take over yet another CE segment.

In related news, Microsoft is in development with Ford and Italian car maker Fiat to produce wireless Bluetooth systems for cell phones and in-car entertainment. Dubbed Sync (as in Sync my Ride) the system features voice recognition that can pull address from a phone's address book (similar to technology in use today on Verizon and other providers). The system is also the first of its type capable of reading text messages aloud over the car's stereo system.
With Apple and Microsoft both entering these markets the question should be simple: Do you want a glamorous system that functions well, looks beautiful and costs more than the car itself? Or would you prefer a more powerful, yet not as slick, interface that randomly crashes and allows endless configurability?
So many choices - who can decide?

ned posts on June 23, 2007 12:38
Ever since, Mercedes always has poor implenmentation of it's cellphone.
abboudc posts on June 23, 2007 12:10
Post Reply