Steely Dan: Gaucho (DTS) Review
Steely Dan: Gaucho (DTS) Review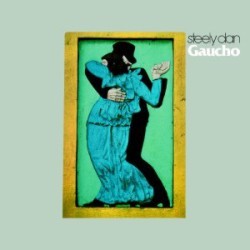 Introduction
This CD masterpiece from Steely Dan was originally recorded in 1980. It has recently been remastered by DTS into a 20 bit multi-channel surround format for use with DTS decoders in a 5.1 speaker system set-up.
Track List
1. Babylon Sisters
2. Hey Nineteen
3. Glamour Profession
4. Gaucho
5. Time Out Of Mind
6. My Rival
7. Third World Man
Sound Quality
The original 2 channel recording of "Gaucho" remastered for CD has decent sound quality but tends to be bright and a tad grainy as do most CD's from that era which were remastered to CD from an Analog source. The DTS version however, is a different story. While the DTS version, still sometimes sounds a little bright, the overall fidelity has increased tenfold and not just because it is in multi-channel surround. The DTS version has superior bass extension, which will give your sub a good workout. The extra instruments added to the rear effect, such as in "Babylon Sisters", really adds a refreshing twist on a classic song. The vocals presented to the rear speakers in "Hey Nineteen" sounds so real that it will make the hairs on your arms stand up the first time you hear it. Donald Fagens voice never sounded better as it does on this CD.
One can really appreciate a quality piece of music when the fidelity of it is equally as good, as this CD clearly demonstrates. In my opinion, it is worth having a DTS processor & amps and multi speakers & sub just to experience this CD. After listening to this CD extensively, I wonder why can't all my CD's be recorded like this? If they were, I would fear my social life would be severely compromised.
Confused about what AV Gear to buy or how to set it up? Join our Exclusive Audioholics E-Book Membership Program!