Star Trek First Contact (2012) CD Review
Star Trek First Contact (2012) CD Review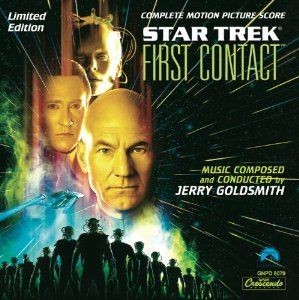 Star Trek First Contact
Label: Crescendo Records (GNPD 8079)
Track List
| | | |
| --- | --- | --- |
| 1. Main Title/Locutus | 11. Retreat | 21. Not Again |
| 2. How Many Ships | 12. No Success | 22. Evacuate |
| 3. Battle Watch | 13. Borg Montage | 23. New Orders/All the Time |
| 4. Red Alert | 14. Welcome Aboard | 24. Flight of the Phoenix |
| 5. Temporal Wake | 15. Stimulation | 25. First Contact |
| 6. Shields Down | 16. Smorgasborg | 26. End Credits |
| 7. The Phoenix | 17. Getting Ready | 27. The Phoenix [alternate] |
| 8. They're Here | 18. Fully Functional | 28. Borg Montage [alternate] |
| 9. 39.1 Degrees Celsius | 19. The Dish | 29. Main Title [alternate] |
| 10. Search for the Borg | 20. Objection Noted | |
Introduction
I'm both a big Star Trek fan and big Jerry Goldsmith fan, so it only stands to reason that this is one of my favorite movie soundtracks. Crescendo records is making a living out of "giving the fans what they want": re-issues of previously released movie soundtracks. Part of the benefit is modern (digital) remastering, but a big part of their effort is recovering/re-sequencing original material not previously available to the public. The trigger for these recent re-releases was the expiration of a little known musician's union rule in effect until just after the turn of the century that limited movie soundtrack releases to no more than 45 minutes of scored material; this wasn't a factor in the days before CD since album pressings rarely went beyond 40 minutes, but you won't find a pre-2000 CD movie soundtrack longer than 45 minutes (MINUS any non-scored tracks—like the Steppenwolf and Roy Orbison tracks on the original Star Trek: First Contact Soundtrack)! Since fans crave for more of their favorite music cues just like they do deleted scenes, many popular movie soundtracks (like those for Star Trek) have been given new life in an expanded format. Indeed, this re-release of Star Trek: First Contact contains over 30 minutes of additional music not on the original 1996 release.
Audio Quality
The greatness of Jerry Goldsmith pre-dates his association with Star Trek; you can listen to a Jerry Goldsmith soundtrack and picture the movie scene it was associated with in your mind's eye. Special note: for those of you familiar with the Disney ride "Soarin", the entire ride/show is accompanied by original music composed by none other than Jerry Goldsmith! When Goldsmith was approached to write the score for Star Trek: First Contact, almost 20 years had passed since his work on the original Star Trek: The Motion Picture (which has also been given the "special edition" treatment). His themes have been used and re-used in subsequent movies and even television shows (he wrote the original theme for the series Star Trek: Voyager). Close examination of the musical credits reveals that writing credits are shared by two Goldsmiths: Jerry and his son Joel. The story goes that Jerry Goldsmith had already committed to doing this movie when a scheduling conflict began to overlap with First Contact's delivery date; in stepped his son to "pick up the slack", resulting in some of the most recognizable musical queues in the movie (he's big on percussion driven pieces). My favorite passages are Red Alert, The Dish and First Contact, but fans have been waiting for tracks like Smorgasborg, Evacuate, and Flight of the Phoenix, NONE of which were present on the original release.
Summary
Star Trek movie soundtracks typically attract top-notch producers and composers, and Star Trek: First Contact is certainly no exception. I find the best soundtracks instantly remind me of WHERE you are in the movie time line; it's like listening to the movie all over again. Depending on your taste for both Star Trek and movie soundtracks, I highly recommend checking out many of the Crescendo records limited edition remasters produced over the last few years—all of which feature additional musical tracks and run time.
Scorecard
Audio Quality: 5/5
Features: 5/5
Overall: 5/5
Reference Equipment
Yamaha DSP-A1 Natural Sound A/V Amplifier (Stereo Mode)
Pioneer Elite CLD-99 Reference LD Player
Polk Monitor 10B Speakers (x2)