Sound of Contact Progressive Rock Band Interview
Sound of Contact Progressive Rock Band Interview
by
Steve DellaSala
—
June 13, 2013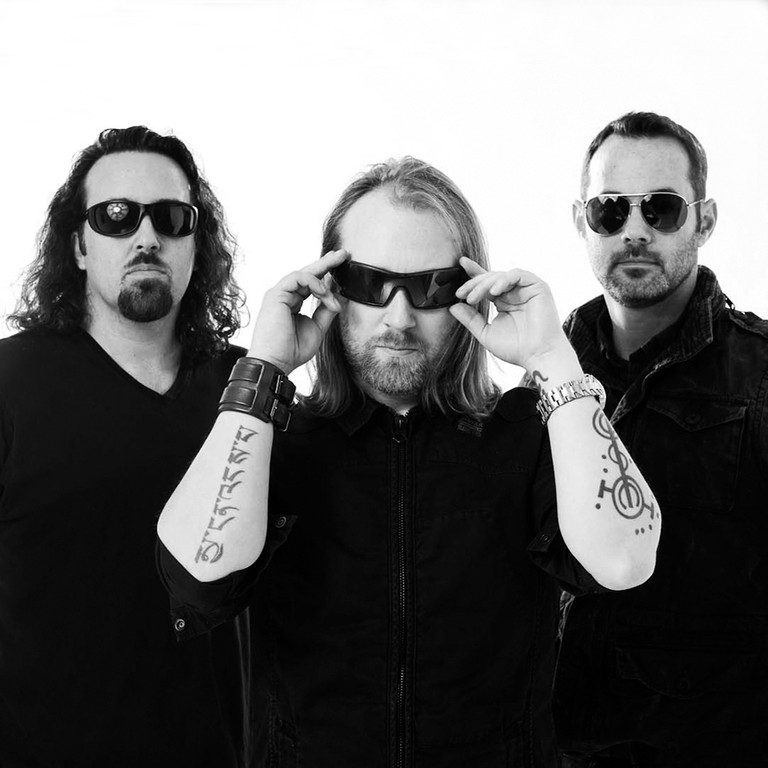 Sound of Contact Progressive Rock Band Interview
Band Members:
Simon Collins – Lead Vocals, Drums, Co-producer
Dave Kerzner – Keyboards, Acoustic Guitar, Backing Vocals, Co-producer
Matt Dorsey – Guitars, Bass, Backing Vocals
Studio Collaborators:
Kelly Nordstrom – Guitars, Bass
Hannah Stobart – Guest vocals on "Beyond Illumination"
Live Touring Musicians:
John Wesley – Guitar (First Contact : Montreal, May 2013 European Tour)
Ronen Gordon – Drums (May 2013 European Tour)
Jonathan Schang – Drums (First Contact : Montreal)
It's not often where one can say we may be witnessing the birth of a new super group, especially in the world of progressive music.  But, after an amazing debut album and a successful European tour, I think it's a safe bet that Sound of Contact will be the next big band to hit the progressive music industry.  During a chance behind the scenes at a 2006 New York Genesis concert, Simon Collins met Dave Kerzner, founder of software company Sonic Reality (www.sonicreality.com), keyboardist and fellow sci-fi and progressive music lover.  Hitting it off well, they decided to play homage to Simon's dad's Genesis hit called, "Keep it Dark."  The song was so well received by the band (Genesis), that it was added to the opening soundtrack prior to the very last show in Hollywood, CA.  Little did we know that it would be Genesis' last ever concert.  But flash forward to 2013 where Simon Collins, Dave Kerzner and Matt Dorsey released their debut Sound of Contact album conceptually named, "Dimensionaut."  This three pack power trio brought into the studio musician Kelly Nordstrom for guitars and bass.  Nordstrom had played on Collins' 2008 third solo-album titled "U-Catastrophe." 
Dimensionaut is a sci-fi "…deep concept album about a dimensional time and space traveler making wild discoveries on a trek to expand the boundaries of the human experience."  Musically, it's a masterful compilation of stellar drums, hard and soft progressions, cosmic synthesizer and meaningful, story based lyrics all layered within skillfully played music combining prog, pop and traditional rock and roll.  From opening songs "Sound of Contact" and "Cosmic Distance Ladder," you will quickly discover that Collins' drum talent is warrant of ranking with the greats. While you can hear a great deal of his father's influence, Simon adds a unique dynamic.  Throughout "Dimensionaut," he spices up the music with unanticipated mind blowing triples between his already lightning speed accurate rolls.  His voice is a distinct mix of a younger 1970s Phil Collins and Nick Barrett of Pendragon.  With such talent in mind, when asked why Sound of Contact went down the less traveled path of progressive music instead of something more mainstream, Collins' points out the diversity of the music within "Dimensionaut" while also acknowledging his upbringing.  This band was born out of the 70s Prog-Music and in every aspect, they deliver us some of the old famed with a new harder and edgier overall style that we fellow progers continue to love.  As Sound of Contact prepares for a focused USA tour, Audioholics caught up to them on the road in Europe.  Here's what they had to say.
Excerpts of Sound of Contact Music
The Band Interview
AH:  What is the purpose of Sound of Contact?

Simon Collins (SC): This band really is everything we have all been working towards musically since we decided to play an instrument.  I put this band together with the knowledge this would be an unmistakable team of talent and chemistry.  Personally, I am in a position where I can offer my best performances as a drummer and a singer, my best work as a song writer along with my experience as a producer as well.  This is what I have been patiently waiting for my entire career.  It was always the intended destination I just needed to find the right people to do it with.  The band I used to dream about when I was a kid has now arrived and I'm bloody excited about it! 

AH: Where did the name come from? Is it inspired by first contact with aliens?

SC: That is certainly one way to look at it, but there are other meanings to it.  We actually spent a couple months coming up with a solid name.  It had to be universal and have room for different interpretations.
AH: Understanding you're influenced by Sci-Fi, what stories / movies / books / themes most closely inspired "Dimensionaut?"

SC:  I'd have to say that Carl Sagan's visionary work has been a massive influence not just on this album but for much of my solo work.  His vision of the cosmos is everything in it changed the way I see the universe forever.  Also, Bruce Sterling's "Imagination" really paved the way for some ideas we were already playing with.  This album is also about a spiritual journey so classical movies like "Star Wars" even come into play.  We all know that Yoda was the Emperor of inner space and what the force was all about.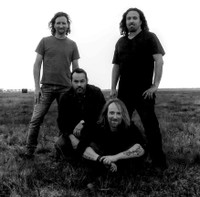 Dave Kerzner (DK): Speaking of Sagan, the movie "Contact" was an inspiration as was "2001," "2010," "Close Encounters of the Third Kind," "The Sixth Sense" and other movies that make you think and wonder. There's a depth to "Dimensionaut" rich with adventure and philosophy there for anyone to dig into if they want to. In some ways it is like a film score to a film that hasn't been made yet.

AH:  Why Progressive Music and not something more commercially accepted?

SC: This band is exploring new sonic ground but also playing homage to some of our favorite music.  We don't really look at it as just prog-rock.  There is pop sensibility in the band and it's on the album, so we don't look at it that way.
DK: I don't have a problem being associated with the "prog-rock" label because that's ultimately a good thing. We'd love nothing more than to do our part in helping to bring that adventurous, experimental and eclectic style back into the fold. I personally miss the excitement of new albums coming out with rich atmosphere, story, dynamics, mood and thought-provoking lyrics. I hope we see more and more of it to be honest. It's fuel. Fortunately there are some classic albums of this genre to listen to and discover for people who are new to it. But it's nice to offer new music of that nature to the world. To me it's a form of giving back. This is what motivated me to want to make music in the first place. The art and beauty of it.

AH:  Live on stage, what additional music do you fill with once you've played through Dimensionaut?
SC: We are thinking about injecting some new material.  We are writing for the next album and also some solo material of mine that would best fit to what we are doing with SOC.  There are a couple of tracks off of my 3ed solo album, "U-Catastrophe" that would work well.  Also, Dave and I covered Genesis, "Keep it Dark" back in '07 so we will play that along with a couple of surprises. 
DK: We're currently putting together a US tour and then another European tour to follow. We're doing some of those dates with Francis Dunnery, the original founder of the band It Bites. Francis sang on "Supper's Ready" along with Simon on vocals and me on keys with Steve Hackett for his "Genesis Revisited 2." So, all three of us are guesting with Hackett on Sept 20th and 21st in Chicago to perform that plus a few more. Leading up to that we'll be doing some pretty outrageous prog celebration sets at the end of the night. We're going to make it fun for any fan of progressive rock both old and new.
AH: Opening song, "Sound of Contact" opens up with Yes-style lyrics.  Were they an influence to the band?

DK:  "Sound of Contact" does have what you might consider some Yes-like lyrics and vocal harmonies. "Close To The Edge" is one of my favorite albums. But, our approach wasn't to intentionally do anything like any one band. We were going for a motif in the beginning that would be revisited at the end of the album and this worked to convey what we wanted to say. It's funny because some of Yes's lyrics I have never really understood. "Mountains come out of the sky and they stand there."  I asked Jon Anderson about some of those lyrics and he went into this elaborate explanation and then finally said "We were hippies man!" which I thought was funny. I love all those classic songs even if I don't always understand the lyrics. Although making new progressive rock music gives us the chance to write lyrics how we would want them to be.

SC: Yes was one of the first bands my father took me to see when I was getting into music as a kid.  It's deep within the sub-conscious at this point so it wasn't so much of a choice to sound that way from side, but I'll take it as a compliment.

AH:  The very end of "Pale Blue Dot."  Was the sound that carries through the vocals and then fades created via analog guitar effects pedals or keyboard?  If so, which ones?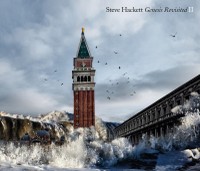 DK: There are a fair amount of sounds on the album that sound like guitar but are really keyboards. I tend to play keyboards like a guitarist often and some of my influences as a keyboardist are Steve Hackett, David Gilmour, Steve Howe, Jonny Buckland from Coldplay and Jonny Greenwood from Radiohead. As a keyboardist I'd say I'm as much influence by their guitar playing as I am by Tony Banks and other keyboardist's keyboard playing. Anyway, that said, it was probably more of The Who and Supertramp who influenced that intro and outro which was done on a Wurlitzer electric piano through some effects pedals like a Rotovibe, Vox Wah and Delay.

AH:  When is the US tour and will you be coming to Florida?

SC: We are in the midst of planning a U.S. tour for August and September with some highlights already confirmed.  Two of those being a guest appearance with Steve Hackett in Chicago, and we're headlining "Prog Day" (http://www.progday.net ) in North Carolina.

DK:  I'm from Florida and one our world SOC headquarters is in Miami where the Sonic Reality recording studio is. I think we'll at least do some sort of warm up gig down there and I'm pretty sure we have a gig booked in Gainesville as well. The tour dates will be announced on our web site http://www.soundofcontact.com

AH: After the tour, what's next?

SC: We are going to be touring the world with this album, so we plan on playing Europe again and even Japan and South America.  We are always writing too, but our priority is this album at the moment and we are going to be putting together videos for each song as well.
AH: Sound of Contact is essentially Simon Collins and Dave Kerzner.  What will that mean for the next studio album and will John Wesley be on it and able to co-write songs?

DK: I've worked with John before in the studio and he is one of the best guitarists you can find for this style of music. I'd love to work with him again and co-write something. That said, Matt Dorsey is the third member of the band and is not only a song collaborator with us already but plays both guitar and bass on "Dimensionaut." That doesn't mean we won't work with Wes when we get the opportunity should schedules be in sync. He is working on his own solo album and all sorts of projects so it is hard to say now what will happen. But, his role with Sound of Contact has always been mainly as touring guitarist and even then we knew we would only get him for as long as he is available.

SC: We would like to work with him on the next album so that's a possibility for sure.  We also like to work with many different talents, so we keep our mind open to the realm of possibilities. 
John Wesley Interview
AH:  I've been privileged to see you perform once with Fish in Tampa and two times with Porcupine Tree.  When you opened for him, during one of your solo songs you did one of the most passionate and melodic guitar solos I've ever heard.  You are a tremendous talent with an amazing and growing career. As a solo artist, you have highlighted your ability to write music.  As a live performer with Fish and Porcupine Tree, you have shown an amazing ability to perform additional highly complex music. Are you motivated by the potential to be part of a band that allows you to have writing and collaboration opportunities as do you think that will happen on the next SOC studio album?
JW: Thanks for then kind words on my previous gigs and career, it is greatly appreciated. With SOC my initial involvement was a result of hearing the album which I really liked, and I only take gigs with bands that play music that I enjoy performing. As to being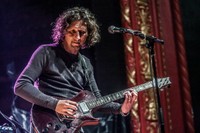 involved in the future recordings, it wasn't a prerequisite for me to do the gig, but if that door opens I will certainly take a look and see where it leads.

AH:  What's on your pedal board for SOC music and why?

JW: On this tour I catered the pedal board to the songs; I have my usual assortment of gain boxes, Klon Centaur, Analogman King of Tone, and Analogman Peppermint Fuzz. Delays are fairly critical to the songs, so I have the Diamond Memory Lane and the Strymon Delay in my effects loop. A 1974 MXR Phase 90' Analogman mini Bi Chorus and the Fulltone Deja Vibe for color, Fulltone Wah and Dunlop volume pedal.  All of these effects are powered and controlled by a Pro 14 by www.thegigrig.com

AH:  Why PRS Guitar?

JW: PRS really has taken guitar craftsmanship into a new level over the last thirty years. The single cut Piezo Trem that I play is one of the finest guitars I have ever owned.  Bottom line is that the type of gigs I do requires a guitar that will intonate, tune up and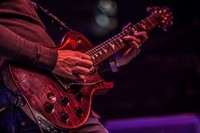 sound amazing all the time, or else it will not work not the gigs I do, there is no room for a temperamental instrument, and the PRS always performs.

AH:  What brand/gauge strings?
JW: Daddario .10

AH:  I admire how you make your solo music easily accessible and offer it for free on your website.  This is truly honorable and likely exposed you to many fans.  Tell us what inspired this decision. http://www.john-wesley.com
JW: I had experienced some less than positive dealings with record companies that had tied up my music and made it very expensive to sell. Realizing that the element of creating was more important than deriving income from the albums, I put them up for free download so that people could have and share the music and stories I had created. The end result was that thousands and thousands of people downloaded the music and some of them ended up buying the CDs, which is now helping to pay for the continued recording of solo albums and the expression of the music that I create.

AH:  Tell us about your pending sixth solo release, "Disconnect."

JW: I started recording it right after the last Porcupine Tree tour was finished. In that time I had a few life experiences that made me re-think the album, so I trashed it and started over. I hope to finish after working with Sound of Contact, I have a good portion of it done and now will finish as time permits. The album carries deep sets of ideas relating to the human condition and the consequences some of us face from the many facets of "Disconnect" that we experience in our daily lives. I hope to show that "Disconnect," in spite of what the literal meaning is, actually becomes a shared experience amongst us all.

Simon Collins Interview

AH:  Your vocals (key / pitch / range) are reminiscent of Nick Barrett of Pendragon.  Is he an influence?

SC: Quite honestly, I have never heard of Pendragon but will have a listen now that you've made the comparison.
AH:  What age did you get your own kit?
SC: I was 6 when my father bought me a kit for my birthday.  It was a red Tama 4-piece and that was what inspired me to really get into music.  I started playing to records my parents had lying around and my music education begun from learning to play to those albums, and of course, growing up on tour with Genesis.
AH:  What other instruments do you play?
SC: I taught myself the piano when I was in my early teens and immediately dove into song writing.  Shortly after that I was writing lyrics and working on my voice.  I couldn't find a singer back then, so I just decided to sing the songs myself.  Much later on, before production begun for my second solo album, I made a real effort to pick up the guitar and teach myself to play.  I knew different influences would come out from writing on guitar, so that was the goal.  I see the piano, guitar, vocals and even drums as tools that have the key to exploring different musical styles and directions.  That is so important as a song writer and producer and I'm so glad looking back that I made the extra effort to learn those instruments.

AH:  Aside from your dad, who else inspired you on drums and did you take formal lessons from someone?

SC:  I grew up playing to tons of albums, so it's very diverse.  William Calhoun, David Grohl, Manu Katche, Vinnie Calihouta, Keith Moon, Steve Perkins, Stewart Copeland and Gavin Harrison have all had a significant impact on me.  When I was 10-years old, I had a teacher but he was force feeding me jazz and at that age, all I really wanted to do was play to my favorite bands and make some serious noise.  Luckily, my mom and dad were okay with being deafened on a daily basis for hours on end. 

AH:  Encompassing his entire body of work, including Brand X, Genesis, solo career, collaborations with artists like Eric Clapton, Earth Wind and Fire and Tears of Fears (to name a few), what do you find most influential and what are your favorite projects from your dad?
SC: I still love all the music from my father's involvement with Genesis between late 70s and early 80s.  It's not just his work of course, but the entire band.  It's a big family to me.  Putting that aside though it just stands on its own as some of the best progressive rock that's been made to this day.  That's why singing on "Suppers Ready" recently with Steve Hackett, or my cover of "Keep it Dark" were so important to me.  It was my way of celebrating great music and giving something back to say, "Thank you!"  It's the soundtrack to my childhood and in a way that was my introduction to music.  It was that era of Genesis that I was on tour every night and that inspired me to start my own journey into music.
Dave Kezner Interview

AH:  Tell us about your keyboards and synth.

DK:  Well, depending on what we focus on, my rig with the band or my studio that could take up a lot of space! I have a rather large keyboard and synth collection. I'll list most of them and then just talk about the ones I use with Sound of Contact. Here we go:
Yamaha CP70
Kawai EP-308
Hammond C3 Organ with Leslie 122
Hammond L100 with Leslie 145
RMI Electra Piano
Arp Quadra, Solina and Arp 2600
EMS Synthi AKS
Oberheim 8 Voice SEMs and OBXa
EML 200 Modular
Serge Modular
Roland System 100
Sequential Circuits Prophet 10, Prophet 5 Rev 2 and Prophet T8
Wurlitzer 200A, 270, 140B
Hohner Electra Piano, Pianet N, Clavinet D6, Cembalet
Baldwin Electric Harpsichord
Vox Continental and Farfisa organs
Roland VP330 Vocoder
Yamaha EX-1, CS60
Rhodes Mk1, Mk2, Mk5 and Suitcase 88
Minimoog Model D
Moog Taurus I
Univox MiniKorg
Arp ProSoloist
Mellotron M400
Eigenharp Alpha
Haken Continuum Fingerboard
Yamaha Motif XF7
Nord Stage 2 73 and 88
Nord Wave
Prorphet VS rack
Yamaha FS1r
Kawai K5000r
Kurzweil K2600
Roland V-Synth rack and 5080
Korg EX 8000
Oberheim Matrix 1000
Arturia Origin

I justify the obsession with collecting instruments because it IS my business to "sample everything" with Sonic Reality. Some of these are very rare and keyboardists, songwriters and producers appreciate that there's someone like me going out and finding them, sampling them and making those sonic flavors available to them.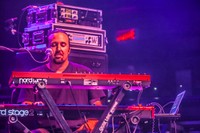 Now, when it comes to Sound of Contact I don't use all of those instruments by any means. But, you never know what you're going to use on a song so it is nice to have a variety. We did most of our tracking in Vancouver so I wasn't able to have them all at myDave Kerzner - Keyboard fingertips. When I have it available to me I use a lot of Wurlitzer and Yamaha CP70 electric pianos with SOC. Also Mellotron choir, flute, violins and even a viola which I used on Beyond Illumination (it sounds more like an exotic wind instrument the way I used it). Of course I use a ton of Sonic Reality sounds and IK Multimedia software. But, ironically, we didn't sequence anything on the album apart from the very end of "Only Breathing Out". So even if I played a plug-in on the computer I played it live and we recorded the output of my computer interface into the analog audio inputs into ProTools HD just like we did everything else. That approach gave the album a much more raw organic feel to it and I like that. We actually had to PLAY all the parts! Haha.

AH:  Who are your influences?
DK:  I have many ranging from Eckart Tolle to JD Salinger to Tony Banks. But, I assume you're more interested in the musical ones. Besides the guitarists I mentioned, Tony Banks was a huge influence because seeing him surrounded by a square of keyboards made me want to be a keyboard player. It looked so cool to me. Other influences would be Roger Waters, Peter Gabriel, John Lennon, Sting and Kevin Gilbert in terms of the high standard of lyric writing I aspire to. As for keys, Richard Wright of Pink Floyd, Rick Wakeman of Yes, Keith Emerson and the prog legends. But, I think more like a producer and songwriter than say just specifically in terms of the keyboard role. I'm also not going to be wearing a cape or throw knives at my Nord Stage any time soon.

AH:  Where did the idea of Sonic Reality (www.sonicreality.com) come from and what do you hope to achieve?
DK:  Well, when I lived in LA in the 90s I had collected keyboards back then and to make some extra cash I'd sample them for other companies such as Roland, Alesis etc. who would put the sounds onto these expansion boards for their popular keyboards. Then I started sampling for recording and performing artists like Crowded House, Madonna and others. When CD ROMS became available I realized I could actually just sell these sounds I was sampling for artists to musicians all over the world. Some other companies started doing it and I was doing it with them until I started Sonic Reality in 1996. The company has been through a lot from then to now. As far as what I hope to achieve with it, I look at it as a passion for sounds turned into a business. We connect with certain technology and take advantage of what it can offer. A lot of times that's with IK Multimedia who has been a long time partner of Sonic Reality. We actually share the same US office building in Sunrise, Florida. But, Sonic Reality also does sounds for many other formats like Reason, Kontakt, Rex, Apple Loops, Acid Waves and more. Besides continuing to "sample everything" (that's our motto), I am specifically working with the original drummers and engineer/producers of classic albums to recreate the sounds of their drums which are very distinct. So, for instance we've got a Floyd-style drum kit and groove library done with Nick Mason and Alan Parsons in the works. I've got Collins/Genesis-style drum libraries done with both Hugh Padgham and Nick Davis which we recorded at "The Farm" (Genesis' studio) and I even sampled Simon Collins' kit that we used on "Dimensionaut". These are all coming but currently we have drum libraries with Neil Peart of Rush, Terry Bozzio, Billy Cobham, Bob Siebenberg of Supertramp, Rod Morgenstein of Dixie Dregs, Woody Woodmansey of Bowie's Spiders from Mars… those last five were all recorded by producer/engineer Ken Scott who recorded The Beatles and so many others. It's an education and great fun working with all of these musical heroes of mine and a complete thrill to be able to bring those caliber sounds to musicians all over the world most who may otherwise never get the chance to work with those sounds or these artists.

AH:  How did you get Neil Peart to track for Sonic Reality?
DK:  I was at a studio in LA called "Ocean Way Recording" working on a product called "Ocean Way Drums" while Rush was there mixing "Snakes and Arrows". I said, half joking, to their A&R man Andy Curran "Hey, if Neil ever wants to do a sample library give me a call!" They were very nice and Alex uses our products so we kept in touch after that and one day Andy calls me up and says, "You still want to do a Neil Peart drum library? If so you have to come out to LA this weekend and he has one full day for you". Needless to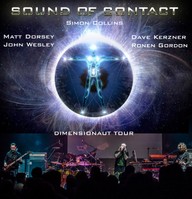 say we packed our bags immediately.

AH:  As a fellow musician, I would love to have drum clips created by Carl Palmer, Gavin Harrison, Terry Bozzio, Bill Bruford, Steve Gadd and after hearing "Dimensionaut," Simon Collins to name a few.  Any thoughts of capturing these greats?
DK:  Well, we do have libraries with some of those drummers you've mentioned. I'd love to do a Gavin Harrison sample library though. I co-produced an album called "Chalk Lines" by the band Lo-Fi Resistance and Gavin played drums on most of it along with Colin Edwin on bass. What those two brought to the album was so distinctly characteristic of them. While I'm not doing a drum library with Gavin I am doing a bass library with Colin which will be really unique. As far as capturing great drummers and other musicians, it really comes down to timing and circumstances. Certain situations present themselves and that's usually what affects them happening as opposed to me having a sort of "hit list". I do have some in mind that I would personally like to work with though. It's cool because when we capture riffs and grooves it's a chance for any musician to do essentially a virtual music session with these guys. It's like the elements of your "fantasy band". That's why I created my own fantasy band "Sonic Elements" making use of these artist sample libraries with cool special guests like Keith Emerson, Steve Hackett, Alan Parsons, Rik Emmett and other musicians I grew up listening to.
Conclusion
A lot of information learned from influences, to equipment to background and reason for Sound of Contact.  I've listened to "Dimensionaut" multiple times now, each one finding something else interesting to latch onto and look forward to in my next listening session.   I expect great things out of this band and even greater things out of Simon Collins in the years to come and look forward to seeing them live in Orlando, Florida soon (I hope).
Confused about what AV Gear to buy or how to set it up? Join our Exclusive Audioholics E-Book Membership Program!