Progressive Rock Band Renaissance - Annie Haslam Interview
Progressive Rock Band Renaissance - Annie Haslam Interview
by
Steve DellaSala
—
April 30, 2013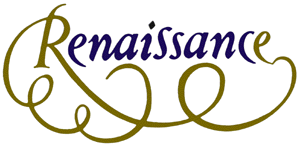 Renaissance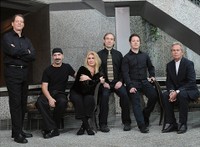 The British Progressive Band known as Renaissance was founded in 1969 by Keith Relf and Jim McCarty after the split up of their band, the Yardbirds.  Renaissance was set slightly apart from other Progressive bands throughout the 70s, such as Genesis, Yes and ELP, as they emphasized more on symphonic classical music blended into their progressive themes without relying on hard hitting synthesizer or screaming guitars.  But make no mistake; they were equally as popular amongst the same fans.  Between 1969 and 1971 the band went through personal changes with the inclusion of vocalist Annie Haslam and guitarist / composer Michael Dunford while former singer/songwriter Betty Thatcher remained as their lyricist.  The lineup continued to evolve until in 1973 when there were no original members left in the band just as they were finding their biggest success.  Renaissance went on to record 15 albums and did years of touring with highlights including Carnegie Hall with the New York Philharmonic Orchestra and the Royal Albert Hall with the Royal Philharmonic Orchestra, which Annie Haslam sites as her fondest memories of Renaissance later in this interview.  For most of Renaissance's history, Annie and Mike where the core of the band and after four decades of music, Annie went on to pursue other interests outside of music, including artwork.  After a long dormant period, Mike Dunford's sons stated that if you love the Renaissance so much than why don't you get back together?  And, in 2009, that happened with a successful tour and time in the studio.  Mike's unfortunate death in 2011 due to a stroke had a profound impact on Annie as they were close friends for decades, but she states how blessed she feels that he was on the recording of their forthcoming album Grandine il Vento.  Ryche Chlanda who has played with Nektar and Fireballet has now joined the band on guitar as they tour 2013.  Audioholics had an opportunity to speak with Annie Haslam at her studio in Pennsylvania.  Here's what she had to say.
AH:  What inspired the Renaissance reunion?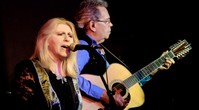 Annie: Well, it was actually Michael Dunford's son William who said, "Dad, you loved the band, didn't you?  So, why don't you get it back together?"  Then unfortunately or fortunately, whichever way you'd like to look at it, he was interested and brought the tour together in 2009.  Which was our 40th anniversary tour.  Originally it was going to be all the members but it didn't happen that way.  There were too many conflicts of time and different things going on.  The only time that we could actually go out and do the tour where the dates that John could get.  Which, unfortunately clashed with some things that the other band members couldn't change.  So, we decided to move on or there wouldn't be another opportunity.  That was it really.  So, it was down to Michael and me and we asked Rave Tesar and Dave Keyes if they would join up, and they did.  Then we brought in another keyboard player, Tom Brisland at that time and Frank Pagano.  Tom stayed with us for about a year and then Jason Hart joined.  We've got a great band of musicians.
AH:  Tell us about the new album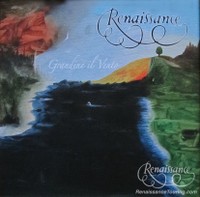 Annie:  Grandine il Vento.  We had a great year last year up until September.  We recorded the album in late June through August and then unfortunately, I had a collapsed vertebra in my spine.  We had to cancel the shows in Florida and all the other shows that were due to come up in the fall.  We were only able to do local ones that I could drive to in my brace.  Well, not drive in my brace, but drive in my brace in a car (laughing).  We did five shows and unfortunately postponed the others but decided not to cancel.  And, then Michael Dunford went back to England and had a stroke on the 19th of November and passed away the next day.  Which was a bit devastating for everybody.  But, thank goodness he was on the album because it's such a special album that if he hadn't had the chance to play his parts on it, it just wouldn't be the same.  So, at the very least he's on the album and his guitar sounds just so fantastic on it.  The album, the songs, I wrote the lyrics.  It was a little daunting for me originally because......., I don't try to step into anybody's shoes because I don't think one should ever try to do that.....Betty Thatcher was the most incredible song writer and poet.  So, I tried not to think about that or try to emulate anything that was Betty because there's no way.  She's a star in her own right; a big one.  One of the things I wanted to do on the album was a song about Leonardo da Vinci.  Mike had written this long piece, it's a 12 minutes long and very, very beautiful, dramatic music.  It's starts off with this grand beginning, which is 3-minutes long with an orchestra, and I sing about Leonardo and his last three years of life.  When the King of France gave him an apartment and looked after him like he was his own father.  It's called Symphony of Light and it's how he connected with the light of the Universe and that's why he's so special.  I believe we all do, but I don't think most of us realize that we all have so much talent and gifts.  It's about his life and connecting with the light.  And it goes into beautiful music, just gorgeous and so dramatic in the middle.  I write about when he put his painting on hold for a short while to do his inventions.  You can kind of imagine him working in his workshop and working out all these inventions that were flowing through him or channeled through him; however you look at it.  Then when he starts painting again there's this incredible orchestral lift in the song and it's just gorgeous, really gorgeous.  It's my favorite piece on the album.  Then we do a song called Waterfall which about the rain forest in Brazil.  I've been to Brazil quite a few times and love it so much.  The next one is Grandine il Vento which is basically a love song that transcends time.  Then the next one is Porcelain.  Porcelain is about...., it's very strange; I don't know where they came from.  Because it's about an African village and about the people who live in this village, they are a very simple people.  And then the next one is Cry to the World.  This is our world song and we have Ian Anderson playing flute on this.
AH:  How did you get Ian to play?
Annie:  Well, I asked him.  I've done something for him several years ago on his Rubbing Elbows tour and I thought I could ask him if he'd be interested.  He immediately came back and said yes, absolutely.  It just lifts the song. It just lifts it to another place.  It fits him beautifully.  I think he did it when he was on the road.  You know, he's constantly working.
And the next one (song) is Air of Drama.  That's another one that was very unexpected.  It's a bunch of people who met in France and they revisit their stories of how they met.  And, Jason, our keyboard player, plays accordion on this.  Originally we weren't sure where it was going and then he played the accordion and I thought, "oh, we're in France."  And, so I wrote a lot of the words in the studio while I was there, and it was interesting because they just came so easily which they haven't before.  Because, I wouldn't normally say that I'm a song writer.  I'm a singer and I'm a painter and that comes really naturally to me.  At some point when I was writing on the lap top, (I didn't write on paper), it just poured through me like I was sitting at an easel doing a painting.  It was very interesting.
The next one is called Blood Silver Like Moonlight which has John Wetton doing a duet with me.  It's just John and I, and Rave Tesar on piano.  I have many friends who are very spiritual oriented.  John and I were in The Angles Choir together.  I always thought that if Angles had bodies their blood would be silver.  I just thought of John and I in the choir when we sung together.  We have a tie, a connection.  We've been friends for many years and I think his voice is just a gift from God.  It's incredible, his voice.  His voice just gets better and better.
The Mystic and The Muse, we actually recorded that a couple of years ago.  We were hoping to start the album then and it didn't happen and that's when we decided to the Kickstarter (www.kickstarter.com) campaign, which is what helped us get the album recorded.  The song is actually inspired by some of my paintings.  One is called The Mystic and the other called The Muse.  I think I'm the Mystic and I think Mike was the Muse.  Although it could be the other way around (laughing).  I just don't know.  Again, the words just poured through me and it was very mystical.  And, that's it, it's the 8 songs.
AH:  Was the album compiled and recorded virtually or live in the studio.
Annie:  Oh, no, it was recorded in the studio.  Ya, Mickey flew over from England several times.  He has two young boys so it was difficult for him to stay.  He came over originally to do NEARfest and then he stayed and that's when we started doing the writing and things sorted out.  And then he went back home and came back, went back again and then came back for the tour.  So, he did a lot of traveling last year.
AH:  Do you write music too?
Annie:  No, I come up with ideas for arrangements, and sometimes melodies, but mainly arrangements than anything else.  We're going out with a new guitarist called Yche Chlanda and he's very good.  I think he's going to fit perfectly.  We've already met him and he's a good guy and I think Mickey would be proud; Mickey would approve, definitely.

AH:  Will this reunion be an ongoing endeavor including more music in the future?
Annie:  Yes.  You know, the main thing is that people come out and see us.  Because, if people don't, then it's going to be harder to get promoters to book us, if they see that particularly this tour coming up doesn't do well.  Of course, it's already been affected that some people can't make the date that we changed it to, so a few people are not coming.  I don't know what the situation is right now, but we do need as many people to come out as possible.  Yes, we want to carry on.  We've still got an amazing amount of music from the past and from this new album that we need to promote for people to hear.  There are many people who've never heard it yet.
AH:  I give you guys a lot of credit for doing the album independently.  Many other Progressive Rock bands do the same, and with the age of the internet, it seems to be a big trend now.
Annie:  Ya, and of course, there's so many more avenues now.  It's very different now.  There's no record label interested in us now because we're a "heritage band" as they say; which is fine.  So, the only way that a lot of bands can do that is to go through Kickstart or to fund it themselves.
AH:  What was your favorite moment in Renaissance history? 
Annie:  I think there are two.  The first one was performing at The Royal Albert Hall with the Royal Philharmonic Orchestra with my mom and dad in a box watching, all our families had boxes.  So that was so special.  And having three nights in Carnegie Hall.  Everything you could ever dream of.  You know, I joined the band in 1971 and we were playing Carnegie Hall four years later.  Which was quite incredible; really incredible.  I don't think about it until people ask you questions you don't expect and then, "oh my."

AH:  Renaissance music and lyrics tell stories.  Tell us where you draw your lyrical inspirations from.
Annie:  My artwork.  I sit down and let it come through; more so now.  I just channel it.  Betsy channeled her words, she was very gifted and they just ran through her like water.  Just recently, particularly in this last one.  Before, I didn't write many songs.  I started off writing my own which were on an album called Blessing in Disguise that we did together.  It's a little bit easier now because when my paintings started, that opened a whole new side of me and I think that side is channeling words and all kinds of things.  Does that make sense?  It's like when I started painting.  There was a voice in my head that was clear as day and said, "It's time to start painting."  It was clear as day.  I only ever painted one water color in art school because I was in fashion design.  I got sick of it because it would dry before I'd finish it.  I hadn't really painted after, but the flood gates really opened once I started.
AH:  You're a newfound talented artist with an eye for color.  Your paintings are beautiful and very accessible to people at economical prices.  What motivates you to paint?
Annie:  Ya, well, what's the point in doing things if you put them out of people's reach?  I've also given paintings away.  My first solo exhibition was at Image Makers (www.imagemakersart.com) in New Hope, PA with a guy called Colin Rowan who has his own gallery in Philadelphia and New York.  He put it on for me and that was huge.
They just pour through me.  I did five yesterday.  I'm in the middle of painting a guitar from somebody and finished parts on that, so I decided to do little paintings to take on tour with me.  I paint all these little mini-worlds.  I'm always was surprised what comes.  I think they're all places I've been to in another lifetime or other planet, I don't know; they're all over the place.  Some great places that you look at and say, "Gosh, I wish I could go there right now and just lie in it."
AH:  We often hear of your 5-octave vocal range, but I believe you also have perfect pitch.  Did you have any formal vocal or classical training?
Annie:  I had 9-months with an opera singer in London in the late 60s, and she taught me to breathe from my diaphragm rather than sing from my throat, which is half of it.  I didn't realize I had five octaves until she put me through that, I hadn't a clue.
AH:  Who today, inspires you vocally?
Annie:  The planet and everybody on it, the animals.  I do like Jann Klose, who's as singer songwriter.  He has a fantastic voice, very powerful, a bit like John Wetton in strength.  An unusual voice and lovely personality.  He's great on stage.  There are so many great singers out there.  Somebody who's just starting out, she's a friend of mine.  We did the album cover together, Laura Gardner.  Her son Garrett Gardner is going to be on The Voice.  He's just bursting with stuff.  He's like 17 and you could just tell.  And it's not just because I've known him since he was just a little boy, he was actually very small when I first met him.  He's just got a lot going on.  He was on in 2003, but didn't make it through the blind auditions but they invited him back.  I also like unusual voices...I like Kate Bush of course.  I like Barbara Streisand.  There are so many fantastic voices out there.  I love the planet, I love animals and I'm thankful to be alive and to be singing and painting.
AH:  You speak a lot about spirituality and the earth and animals, all similar inspirations for Jon Anderson.  Have you ever thought of doing a project him?
Annie:  I talked with Jon recently about 6-months ago about doing something.  But he's very much involved in what he's doing right now.  We did speak and it was about another song that he had done that I was thinking of maybe recording, but it didn't go any further.  I don't think so.  I think our energies are on different planes.  I mean, I understand what he is doing but I think I'm in a different place than him.  I don't mean higher or lower or anything, I just think he's got his thing to do and I've got  mine.  Whatever mine is, I just know that I want to help the planet, help the animals and everything and everybody.  We're all connected.  That's why it's such a shame when people look down on other people and they just don't realize we're all the same; we're all connected.  It's just like when people put things out just to make money, that's greed.  That's not a good thing.  It's not going to get very far if you're like that.  Something is going to happen that's going to make you deal with that yourself somehow.
AH:  Aside from Renaissance, do you have other future projects in mind?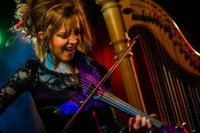 Annie:  I'm painting some more guitars and violins.  Do you know Mark Wood from Trans-Siberian Orchestra?  He makes his own violins (http://www.markwoodmusic.com/index2.html).  He actually just got a Kickstarter campaign it just started, that I'm part of and I donated a painting.  It's to raise funds for children's orchestras.  He does a lot for kids.  He goes out to schools and he gets everybody to play violins.  It's just unbelievable what he's doing.  Well, I've done eight violins for him now and I'm going to do two more when I get back off the tour.  And, there's another one.  Lindsey Stirling; have you heard of her?  She's a hip hop violinist who's just 17 I believe.  Phenomenal.  She borrowed the first violin I did for Mark called Victory, and played it on her video for YouTube, Phantom of the Opera.  Millions of people go to see her on YouTube.  Millions. 
Annie's closing comments:
There's a guy that's helped keep everything together for me, before and since Mike passed away is Rave Tesar who's in the band.  He was in my solo band right away which was in 1988 I think, something like that.  He's kept me together.  He's a good friend, a good soul.  He's a great player.  His roots are in jazz but also classical.  So, that's why he fits the band so well; he's wonderful.  He's my rock and has helped me through this difficult time (Mike's death).
I also want ask people to come out and support us at the shows.  Please go to our website for dates.  http://renaissancetouring.com/band. 

The CD will be available in the next couple of weeks.  We have the Kickstarter people to service first and then the public.