Peter Jackson's Beatles Documentary Delayed Until August 2021
Peter Jackson's Beatles Documentary Delayed Until August 2021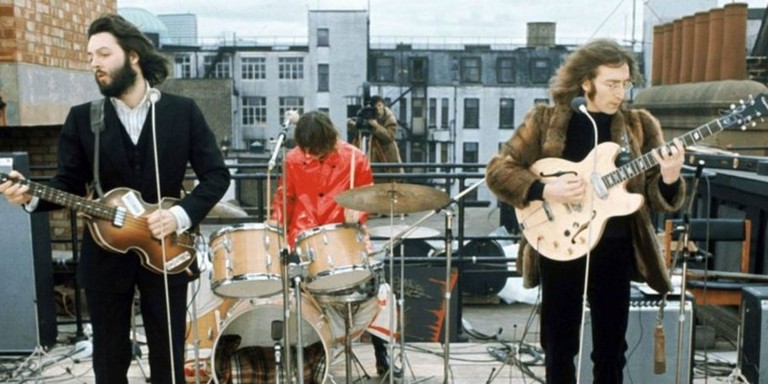 Peter Jackson Beatles Documentary
In addition to being the weirdest, most difficult, and scariest year in recent memory, 2020 just happens to mark the 50th anniversary of the break-up of the Beatles, and the release of the group's final studio album, Let It Be. To mark the occasion, three-time Oscar-winning filmmaker Peter Jackson teamed up with Apple Corps Ltd. to produce a highly-anticipated documentary called The Beatles: Get Back, which follows the group during the 1969 rehearsals and recording sessions that eventually yielded the Let It Be album — though the band famously abandoned the project to focus on creating what became its magnum opus, Abbey Road. (It was not until after Abbey Road was released, and indeed after the Beatles officially broke up, that Let It Be landed on shelves in 1970.) The new documentary is being distributed globally by Walt Disney Studios, which originally announced a release date of September 4th, 2020. But in light of the ongoing COVID-19 pandemic, the release has been rescheduled for August of 2021. The studio decided to stick with a cinematic release, rather than sending the documentary straight to streaming.
No band has had the kind of impact on the world that The Beatles have had, and 'The Beatles: Get Back' is a front-row seat to the inner workings of these genius creators at a seminal moment in music history, with spectacularly restored footage that looks like it was shot yesterday. I'm a huge fan myself, so I could not be happier that Disney is able to share Peter Jackson's stunning documentary with global audiences.
— Bob Iger, Executive Chairman of The Walt Disney Company
Beatles fans and historians will find that the film has a more lighthearted tone than the original Let It Be documentary, which was filmed in January of 1969 by Michael Lindsay-Hogg, and released in May of 1970, just weeks after The Beatles had officially broken up. Lindsay-Hogg's original (which has been out of circulation for many years) depicts a group on the verge of collapse, unable to work through internal disputes and ongoing arguments. But Jackson's documentary challenges the notion that discord among the group's members had the band teetering on the edge of a breakup during this pivotal moment in their history.
Working on this project has been a joyous discovery. I've been privileged to be a fly on the wall while the greatest band of all time works, plays, and creates masterpieces.
 — Peter Jackson
The two surviving Beatles support Jackson's more cheerful narrative, which allows the group's unparalleled creativity and famously fun-loving personalities to shine through the tensions that were laid bare in the 1970 film. (A fully-restored version of Michael Lindsay-Hogg's original Let It Be film will be released at a later date.) After an early screening, Variety magazine writer Jem Aswad described the new documentary as "brighter both visually and spiritually (than the 1970 film), with many, many shots of the Beatles joking around, making fun of each other, singing in silly accents, and generally indulging in vintage Moptop hijinks." Paul McCartney said in a statement, "I am really happy that Peter has delved into our archives to make a film that shows the truth about The Beatles recording together. The friendship and love between us comes over and reminds me of what a crazily beautiful time we had."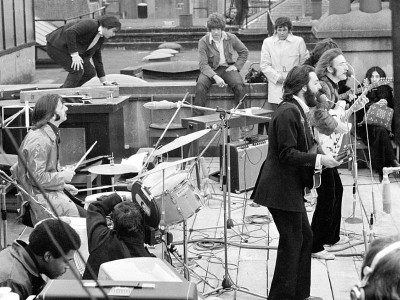 The archives that Sir Paul is referring to included 55 hours of unseen footage filmed by Michael Lindsay-Hogg in 1969, plus a further 140 hours of audio from the Let It Be album sessions, most of which has never been publicly available. Jackson's documentary reportedly includes the entire, unedited 42-minute rooftop concert that The Beatles performed on Jan. 29, 1969, atop the Apple Corps headquarters in London. The album versions of the songs "I've Got a Feeling," "One After 909" and "Dig a Pony" were taken from this concert, which was the group's last-ever live performance. All of the archival footage used in the new film was digitally restored by Park Road Post Production of Wellington, New Zealand and edited by Jabez Olssen. This is the same team that worked with Jackson on the critically-acclaimed 2018 film They Shall Not Grow Old, which made use of colorized and restored archival footage from World War I. Of course, the soundtrack of The Beatles: Get Back is every bit as important as the images, and so it should come as no surprise that the music used in the film was mixed at Abbey Road Studios, by Grammy-award-winning recording engineer Sam Okell and record producer Giles Martin, son of the legendary Beatles producer George Martin.
I'm really looking forward to this film. Peter is great and it was so cool looking at all this footage. There was hours and hours of us just laughing and playing music, not at all like the version that came out (in 1970). There was a lot of joy and I think Peter will show that. I think this version will be a lot more peace and loving, like we really were.
— Ringo Starr
The new film also has "the enthusiastic support of Yoko Ono Lennon and Olivia Harrison," according to a press release from earlier in 2020. But much has changed in the last few months, and it seems like a lifetime has passed since we could crowd into a movie theater without worrying about the public health crisis that could result from such brazen behavior. Will we be ready for The Beatles: Get Back when it hits theaters a year from now? Share your thoughts in the related forum thread below. 
Confused about what AV Gear to buy or how to set it up? Join our Exclusive Audioholics E-Book Membership Program!