Michael Franks : Burchfield Nines Review
Michael Franks : Burchfield Nines Review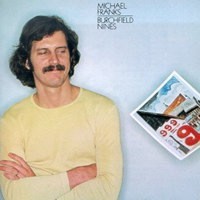 Track List
When The Cookie Jar Is Empty
Robin Song
Wrestle A Live Nude Girl
Burchfield Nines
Meet Me In The Deerpark
Dear Little Nightingale
In Search Of The Perfect Shampoo
Vivaldi's Song

Summary
This album was recorded in the mid 70's and remastered from its original analog source to CD. You may ask why I choose to review such an old CD mastered from an analog source. The answer is: It is an unbelievable transfer. The sound quality of this CD is amazing, especially for its time frame.
The spaciousness and debt really tests your systems capabilities. While this CD is very laid back and mellow, it allows the listener to evaluate the imaging capabilities of their speakers and how well they can produce the subtle nuances of background instruments. This CD never sounds bright or harsh, instead it remains smooth, transparent and clean. Considering most of the CD contains mellow passages, you would think background noise may cause a problem. However, background noise is quite low for a CD of its era and it never inhibits the enjoyment of listening. I highly recommend the addition of this CD into your collection assuming you like this kind of music. Pick it up today and "Wrestle A Live Nude Girl" if you can.
Great musical content, deep lyrics, this album has it all for Jazz lovers and music lovers alike.
Confused about what AV Gear to buy or how to set it up? Join our Exclusive Audioholics E-Book Membership Program!