Live Earth Concert Held July 7th
Live Earth Concert Held July 7th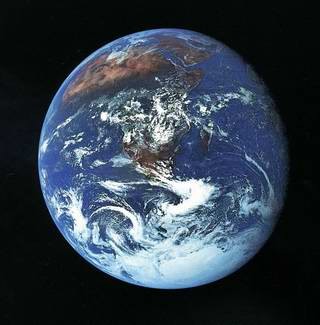 Earth
Live Earth concerts will be held July 7 in cities around the world, including London, aimed at raising climate change awareness. Whether or not you agree with the cause is irrelevant. I for one am looking forward to some of the bands that will be performing at this event. Most notably, Genesis will be there headed up by Phil Collins on drums and vocals.
Childhood memories of the Live Aid concerts started stirring in my head as I realized we were likely heading to another similarly great event to hear all of our favorite bands performing for a good cause.   I recall Phil flying across the globe on the same day to perform his solo stuff while also making a cameo to play drums for Led Zeppelin.  I am hoping for a similar surprise this time around.  Perhaps Peter Gabriel will join his old mates to render Supper's Ready?  Wishful thinking - A flower?
Other bands such as Madonna, the Beastie Boys and Black Eyed Peas will headline the concert at Wembley stadium in London. They will be joined by the Red Hot Chili Peppers, Keane, Foo Fighters and others. Headliners for the U.S. concert at Giants Stadium in East Rutherford, N.J., include Bon Jovi, Dave Matthews Band, Kanye West, Rihanna, John Mayer, Smashing Pumpkins and Fall Out Boy, with more likely to come.  Rumor has it U2 will also perform.  I suspect Bono won't pass on an event such as this, so here is hoping. 


According to the Associated Press, shows will also take place in Shanghai, China; Johannesburg, South Africa; Sydney, Australia; Tokyo; and Rio de Janeiro, Brazil and Antarctica (no joke, better bring your mittens and galoshes).

The concerts will be broadcast in the U.S. by General Electric Co.'s NBC network and on more than 120 networks around the world, and streamed live online at:
Promoters hope the concerts will reach an audience of 2 billion people. Proceeds will create a foundation to combat climate change led by The Alliance for Climate Protection, which is chaired by former Vice President
Recent Forum Posts:
genesis471 posts on April 10, 2007 13:09
Well, I eat my words… from the Webmaster at the Genesis site:

"I just had an email from Tony Smith (Manager), and we'll post something about the Live Earth gig later this morning. Tony tells me that the band will play a 20-25 minute set at around 2pmGMT before going to Manchester for their own show. Genesis is opening the show".
genesis471 posts on April 10, 2007 12:50
admin, post: 262076
Most notably, Genesis will be there headed up by Phil Collins on drums and vocals.



Not sure how they would pull that off!? They are playing a concert in Manchester on that same date. Perhaps they will be live via video feed or something, or they are playing in the morning and going to Manchester afterward.
Mike
Post Reply