Eagles Hell Freezes Over (DTS) Review
Eagles Hell Freezes Over (DTS) Review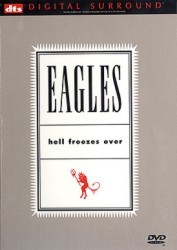 Introduction
Fourteen years ago, the Eagles said they would get back together for a tour when "Hell Freezes Over". I can't recall if 1997 was a cold year, but it I remember it marked the day when the Eagles united for a tour. What made this tour especially nice was that the concert was performed unplugged and recorded in DTS 5.1 Channel Surround Sound.
Track List
Tequila Sunrise
Love Will Keep Us Alive
Learn To Be Still
Hotel California
Wasted Time
Pretty Maids All In A Row
I Can't Tell You Why
The Girl From Yesterday
New York Minute
The Last Resort
Take It Easy
In The City
Life In The Fast Lane
Get Over It
Desperado
Seven Bridges Road (bonus track)
Sound Quality
This CD opens up with the track "Tequila Sunrise". What is noticeable immediately is the openness and airiness quality in all the channels. The shakers are reproduced flawlessly in the rears and you will find yourself turning your head several times to ensure Don Henley hasn't invaded your listening room. "Hotel California" alone is the reason to own this CD. It is not only superb from a musical standpoint, but its sound quality is phenomenal. The bass extension of this recording is so particularly excellent, that it can be used as a source to judge the musical quality of a subwoofer. The drums in this song sound so lifelike and real that I can't recall a better example of this in any CD recording whether it be two or five channel. "New York Minute" is such a pleasant song to listen to and its 3-dimensional sound quality will mesmerize you. "Seven Bridges Road" is an excellent sound to test vocal timber matching of all the speakers in your surround set-up. This song will really help you appreciate the benefits of a multi-channel recording and make you wish for more CD's recorded like this. I recommend sitting in different areas of the surround field when listening to this song, as you will discover different perspectives of this song by doing so.
Conclusion
The Eagles "Hell Freezes Over" DTS CD is another example of a quality multi-channel surround sound CD. It ranks up there with the very best multi-channel CD offerings currently available. I highly recommend its addition into your collection from a music and sound quality standpoint.