Sanus NF Series NFA-245 Audio Stand Review
Sanus NF Series NFA-245 Audio Stand Review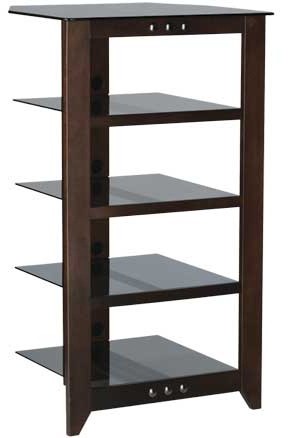 Sanus Systems NF 245 5 shelf AV Rack
Physical Attributes   
Dimensions:  26" W x 45.1" H x 22" D

Usable Shelf Width
Top Shelf:  26"
Bottom & Middle Shelves: 19"

Usable Shelf Depth:
Top Shelf:  22"
Bottom and Middle Shelves: 18.5"

Shelf Spacing:
Bottom Shelf:  8.75"
Middle Shelves: 8.5"
Top Shelf: 8.25"

Recommended Weight:
Top Shelf:  60 lbs.
Middle Shelves:  50 lbs.
Bottom Shelf:  70 lbs.

Cabinet Color: Mocha (other finishes include Black & Cherry)
Shelves:  5mm smoked glass
Top Shelf:  8mm smoked glass

Warranty
1 year parts & labor

Pros
Real hardwood construction
Beautiful finish
Open-air design allows for plenty of airflow for cooling components
Top shelf corners are angled to allow corner placement
Cons
Wire management system could not handle all the wires in my system
Floor spikes to provide stability would be a nice addition
Introduction
Face it, when people call you to talk about their great home theater or 2-channel audio room they just set up, they rarely tell you about the piece of furniture they store all their gear on. In fact, most of the rooms I help folks set up use either an old piece of furniture or some other make-shift AV stand and sink all their AV budget into their gear. While I certainly understand wanting to get the best gear for your money, I have found that having a high quality AV stand to store your gear in can be the finishing touch that takes the room from the "man room in the basement" to the family theater that you or your spouse will be proud to include on the home tour next time guests are over. Not to mention that stands like the NFA245 are designed to not only look great, but to also help ensure that gear is in optimum operating conditions that will prolong the life of your equipment and improve its performance.

Confused about what AV Gear to buy or how to set it up? Join our Exclusive Audioholics E-Book Membership Program!
See also:
Recent Forum Posts:
Soundman posts on May 27, 2009 14:37
Dezoris, post: 531948
Gary!

Where are the pictures?

The stock photo blows and all I can see is a foot, and parts of the back of the unit on the pictures attached.
Yeah, Anyone have a better picture of this thing?
Dezoris posts on March 02, 2009 21:24
Gary!

Where are the pictures?

The stock photo blows and all I can see is a foot, and parts of the back of the unit on the pictures attached.
cwall99 posts on March 02, 2009 11:01
Sorry, I lied…

… I have the NF206, not the NFA 245.

Still, the review pretty much applies exactly to my stand, too.

Okay, it wasn't a lie. I just got excited to almost see my rack reviewed right here at the center of the AV universe.
cwall99 posts on March 02, 2009 09:58
I have this one too…

… I just got mine about five or six weeks ago, and, like the previous poster said, it is a breeze to put together. I did pretty well with the interconnects through the holes, though, as I started to get close to the end of the process, the holes going into the back of the shelf where my receiver is, were getting pretty full.

It does sway slightly, especially if I'm standing there, pressing buttons on my receiver (a Pioneer VSX-82TXS - or whatever). It's on the second to top shelf (I wanted a tall stand so I could finally put my turntable out and not worry about my two-year old daughter playing with it).

But, with that heavy load of the turntable up high, and no real counter-weights at the bottom, it does feel a little top heavy.

I think it could be an inch or so deeper, too, to give you a bit more room in back to plug in banana plugs and interconnects. Some of mine have to make a pretty severe Z between the holes in the back piece and the places where they plug into my receiver.

Casters would have been nice as I had to do most of my connections with the receiver about a foot further out from where it now sits, but I know that would have added to the stability issue.

Still, it's good looking, and the top shelf lines up perfectly with the top of my old-ish (fall, 2002) Sony 57-inch RPTV.

Best part? I only paid about $200, with about $45 shipping, for mine. I ordered it on Wednesday, and it was sitting by my back door that Friday (and that was after the shipping method I elected to use promised an 8 to 12 business day turnaround).

Nice rack. Not perfect, but in this economy, I'm not complaining.

I guess, though, to stabilize the weight issue, what I really ought to do is buy a bunch of massive amps, put them on the bottom shelves, and then use my receiver as a pre-amp. I'm sure my wife would go for that.
davidtwotrees posts on March 02, 2009 08:09
I've owned this exact rack for a number of years, and the reviewer was spot on. It is an excellent addition to my home theatre rig, and has seen dozens of pieces of gear go in and out of the system. It is solidly built, graceful, and attractive. It has had a couple of amps that weighed in excess of 60 pounds on it. I found the cable management holes to be just fine, and only when the analog sacd bundle goes through does one of them become tight with wiring. I have the black satin finish and it looks sharp with black gear, and my silver lacquer Canton speakers. I bought mine open box for under $250. D2T
Post Reply