Omnimount DESK65 Lift/Lower Desk CEDIA Preview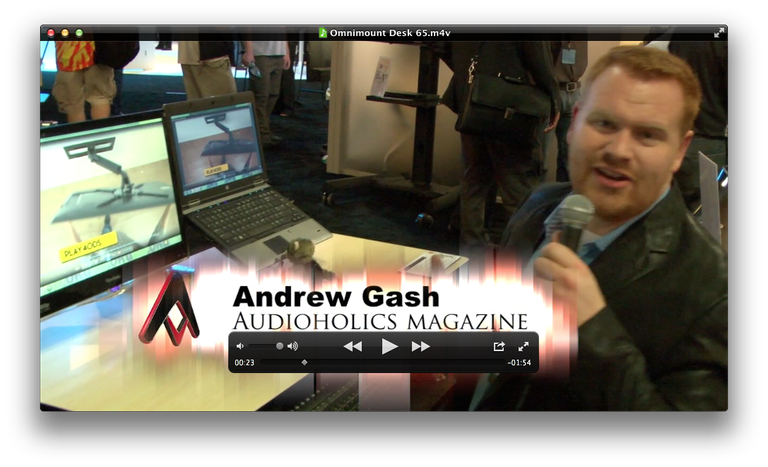 Omnimount DESK65 Lift/Lower Desk
Summary
Product Name:

DESK65 Lift/Lower Desk

Manufacturer:

Omnimount

Review Date:

September 19, 2012 12:15

MSRP: $699
First Impression:

Pretty Cool
20" vertical lift
keyboard tray option
Birch or Cherry color options
Supports up to 65 lbs.

Executive Overview
If you didn't know this already, I'm not just the anchor of these videos, I'm also the editor and in fact I spend way too much time at a desk - I'd rather be out exploring. And that's when the Omnimount DESK65 caught my eye. Now, I know it looks just like a regular desk, but when you press the lever it lifts vertically. In fact it has a full 20" of vertical lift... the entire desk. The Omnimount DESK65 can support up to 65 pounds. You can put a computer on it and stay productive.
You now those times when you're sitting down and drifting off to sleep but you really need to get more done… That's when a desk that lifts for standing is an excellent idea. It can make you productive and energetic and help you keep working. It's available in Birch or Cherry and will be available later this year for $700. One thing we also really like is the keyboard accessory. It mounts right to the desk and hides your keyboard out of the way when it's not in use. 
For whole-home custom installers and integrators who are looking to get the best stuff for your customers, you can let them know that the same fluid technology that's available in their TV mounts can also work in other areas of the house - like the home office. It's a great upsell and a great product to be aware of to meet the needs of your clients.
Don't miss out! Check out our full 2012 CEDIA Expo video coverage for all our event videos. And stay up to date on all our coverage, including photos and video, by Liking us at facebook.com/Audioholics.
Unless otherwise indicated, this is a preview article for the featured product. A formal review may or may not follow in the future.