TT-400 First Impressions
Furniture. Sometimes it can make or break a home theater. As often as not, the one that is picking the equipment is not in charge or picking the furniture. This leads to some, shall we say, interesting combinations. We've all seen the pictures of holiday figurines on top of speakers. We've all cringed. We've all swore up and down that we would NEVER allow something like that to happen to our home theater. And then one day we come home from work and it looks like Christmas threw-up all over our listening room. And though you'll never admit it, you bit your tongue and said, " Looks great honey. Now, that subwoofer I was telling you about..."
So, what's the solution? Most home theater "furniture" looks like it belongs in a dentist's office or that was built in metal shop by high school students. Some of us like that "industrial" look, but when you are trying to convince your significant other that upgrading your perfectly good speakers for ones that look remarkably similar but cost three times as much - you need to make concessions. But that doesn't mean that form and function are mutually exclusive.
First Impressions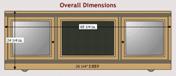 The literature about the TT-400 Credenza got me excited about the unit. Integrated fans? Remote controlled lights? Removable back? The whole thing's on wheels? For many people, they just plug their stuff in once and forget about it. When they upgrade, it is not just one piece, it is the whole HTiB. But for a reviewer or someone that likes to tweak their system, the ability to easily get behind your entertainment center to access your equipment is a godsend.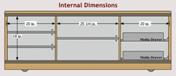 The delivery company did not have the ability to deliver to my home (more on that later) so I had to meet them and load the piece into my small SUV. Yes, it hung out the back but it was a short drive (in the rain) so it wasn't a problem. As the driver opened the back of the truck, a bunch of blankets fell out and the unit was sitting askew. I was a little worried about damage as I thought it might have fallen. The first thing I noticed about the unit was the heavy duty casters on the bottom. I was expecting plastic or those 70's style spherical ones but these seemed more suited for industrial settings. Definitely heavy duty and considering the amount of equipment I planned on placing in/on this unit, I was glad for it. There were also metal/nylon levelers that I later learned could be used to steady the unit if it was placed on a hard, uneven surface.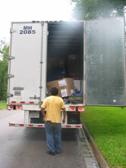 The bottom of the unit looked to be made of high quality plywood and had absolutely no give. I carefully inspected the bottom edges of the unit and confirmed that there was no veneer used. The stain was well penetrated and uniform. The unit was heavy, but two reasonably strong adults (or me and a very strong guy) can pick up and move the unit.
Confused about what AV Gear to buy or how to set it up? Join our Exclusive Audioholics E-Book Membership Program!