Wicked Audio WI-8500 Evac Overview and Use
Wicked Audio WI-8500 Evac Overview and Use
So, what do you get with the Wicked Audio WI-8500 Evac headphones? You get headphones. That's it. Well, and a sort of manual, but Wicked Audio obviously believes that their consumers can figure out how to put on a set of headphones. There is no travel case. No cord extender. No 1/4" adapter. Just headphones.
I found that sort of refreshing.
The current trend in headphones is to overload you with accessories that you rarely if ever use. Adapters, cases, extenders, modular cables...the list goes on. I buy headphones because I want to listen to music. If I'm spending $60 on headphones, I'm probably plugging them into my phone. If I decide to use them with my AV system, I probably have a 1/4" adapter somewhere.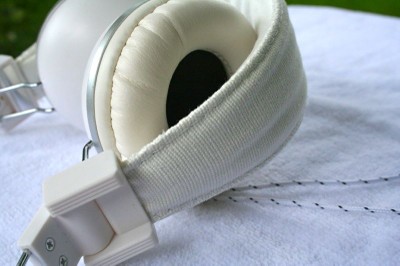 Wicked Audio WI-8500 Evac Canvas Headband 
The Wicked Audio WI-8500 Evac headphones weigh in at just under six ounces. While that isn't especially heavy, they are fairly beefy for their size. My comparison headphones (the RHA SA950is) weigh in at just over four ounces which makes the Evacs almost 50% heavier. That's noticeable.
The Wicked Audio WI-8500 Evacs have a matte white finish (a case could be made for semi-gloss though they definitely aren't glossy). They forgo the normal leather or pleather headband for, wait for it, canvas. It really brings home the old-school theme behind the Evac headphones. The earcup cushions are leather (or pleather) and very plush. The 3.5mm jack is gold plated. The cable is fabric covered and braided. It is attached to both earcups with the traditional 'V' connection which was not, I discovered, an in-line control/mic as I expected.
Use

But this is a comparison. As I mentioned, the Wicked Audio WI-8500 Evacs are nearly 50% heavier than the RHA SA950is. But this is not empty ounces - the Wicked Audio WI-8500 Evacs are much larger than the RHAs. This makes for a much wider range of people that can wear the headphones. In the pictures below, I extended the outer headphones as far as possible while making the inner ones as small as possible. I think the images speak for themselves.
There is no doubt that the Wicked Audio WI-8500 Evacs will fit you. They fit my 3 year old son and they fit me with only a slight adjustment. Even if you have the size of head that makes hat makers swoon, the Evacs will probably fit. There is just tons of space.
Even though the Wicked Audio WI-8500 Evac headphones didn't have a travel case, they did fold up. Because I knew there was no internal connection between the two earcups, I didn't feel uncomfortable playing with their collapsability (not a word). The only issue was that there was no way to fold them where the metal extending rods weren't exposed, but they did make an easy point for wrapping the cable so it ended up being a bit of a wash. You won't be putting these in your back pocket but they were definitely more compact and, most importantly, the cable connection to the earcups seemed better protected when folded.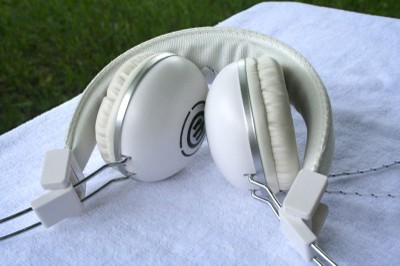 Wicked Audio WI-8500 Evac Folded 
My only real problem with the Wicked Audio WI-8500 Evac headphones in use was telling which side was which. The sides were marked with a raised letter on the inside of the bracket. In bright light, these letters are hard to see. Since I often use headphones in dimmed rooms, it was a real hassle. I'd highly recommend taking a sharpie and marking one side. With no physical cues (like where the cord connects) to give you a hint, you'll want something obvious.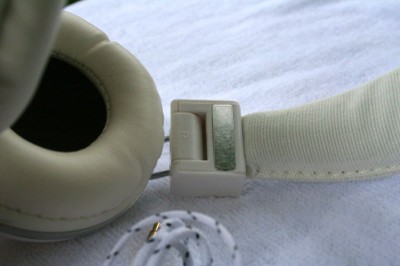 Wicked Audio WI-8500 Evac Close Up
Confused about what AV Gear to buy or how to set it up? Join our Exclusive Audioholics E-Book Membership Program!
Recent Forum Posts: