RHA MA350 Sound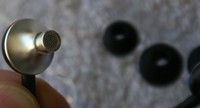 The RHA MA350 earbuds use a 10mm Mylar driver with a specified frequency response from 16Hz to 22kHz. Many earphones brag such wide response numbers, ones that most speakers would give their bottom woofer for, but few actually live up to the hype. The MA350s have a trumpet-like shape that "naturally transfers sound from the speaker to the ear." RHA calls this an Aerophonic design. While I'm not going to debate the viability of this design, it does show that RHA is putting some thought into their design for reasons other than to make them flashy. If anything, the RHA design is too understated. With a design this low-key, the sound quality better be good. 
Usually, when I finish my listening tests, I do a quick Google search to see what others (if any, I'm often one of the first to receive samples) say about the product. I find that, most times, my thoughts are at least in line with other, professional reviewers.
Not this time.
My experience with the RHA MA350 earbuds has been completely different than others. Working from the top-end down, I find the highs of the RHA MA350s to be well-extended and not at all fatiguing. I wouldn't call them a laid-back headphone but you certainly won't find them giving you a headache after a few minutes of listening. The midrange seems mostly okay except where it rolls into the bass region.
The RHA MA350 earbuds are one of the few headphones I've used where I wish I could turn the bass down. Usually, headphones, regardless of price, suffer from poor bass. They try to hit low but, too often, they either don't have the extension or the output. The MA350s have both. In spades.
This makes me wonder what is up with the other reviewers out there. Too often, reviewers are afraid to contradict each other for fear of either being wrong, or somehow disrespecting the other professionals.
Yeah, that's not me.
The general consensus from what I read was that the RHA MA350s have decent bass but the high end is a bit fatiguing. I didn't feel that at all. If you are a lover of bass-heavy music, you are either going to love these headphones or wish to turn the bass down as I did. With well recorded tracks, the RHA MA350s easily performed many times their $40 price point. Especially if the tracks had normal to light bass. But with bass heavy tracks like "Crazy" by Seal, and just about anything mixed in the last five years, the bass was so overpowering as to be muddy, distracting, and pretty much overshadowed the earphones performance.
I love to use the track "Junior B" by Yello for analyzing bass. It is a bass run at the beginning that will quickly reveal if a subwoofer has the goods or not. With the RHA MA350s, they laughed at this near-sub-sonic run and asked for more. For the first time, I felt like a pair of earphones really lived up to their 16Hz low-point.
With more recent recordings, specifically anything designed with heavy bass in mind, the RHA MA350s didn't fare as well. Because the bass was so prominent, it blurred the entire presentation, destroying any sense of imaging or soundstage. Without the overblown bass, the imaging of the RHA MA350s wasn't stellar but it certainly justified their $40 price point.
All in all, however, RHA has redefined the $40 price point. While they aren't flat, by any means, they are easy to wear for long times, they have prodigious amounts of bass, and they aren't at all fatiguing. The only physical problems I had with the MA350s is that the braided cable will transfer and noise from anything rubbing against it into your ear. This is a physical transference of the sound and can only be eliminated by decoupling the braided cable from the earphone. Depending on how you plan on using the MA350s, this may or may not bother you.
Confused about what AV Gear to buy or how to set it up? Join our Exclusive Audioholics E-Book Membership Program!
Recent Forum Posts: