RHA MA350 In Use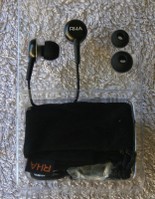 I have funny shaped ears. I'm now convinced of that. When I review in-ear products, I often have problems keeping them into place. Even the molded ones and I haven't gotten along very well. What I really want are headphones that will stay in place when I wear my motorcycle helmet.
Alas, the search is still on.
The RHA MA350s weight gives them a huge advantage over most of the competition. Being so light, they don't pull free nearly as easily as the rest. Like many earbud options out there, the MA350s use silicone tips. They offer small, medium, and large options. I've seen smaller (and larger) tips offered by other companies. They've also forgone the inclusion of the foam tip for maximum sound isolation - an odd exclusion considering RHA bills the MA350s as "Noise isolating aluminum earphones."
From a noise isolating standpoint, the MA350s work well. Just about the same as sticking your fingers in your ears. Add in some music and you can't really hear anything that's going on outside. This isn't all that different (and nothing in the MA350 design makes me think that it should be) than any of the other in-ear earbud offerings.
The fabric-covered cable has an adjustable choke at the Y-junction. The cable is the standard 1.2 meters in length and is tipped with a 3.5mm gold-plated connector. The end is straight instead of at a right angle. While I prefer a right-angled tip to the straight option (for in-pocket use), it really isn't much of a issue of contention for me. The only other accessory is a small velvet carrying case.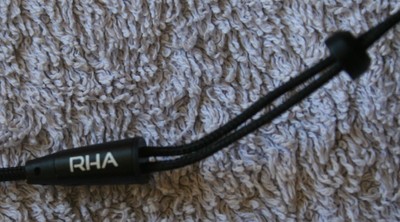 Not included is any sort of in-line controls or mic for use with your smartphone. At $40, that really isn't all that surprising. What is surprising is that RHA didn't include any way of attaching or securing the cable to your clothing. I realize that the adjustable choke can be used in a similar fashion, but I appreciate some sort of clip as I'm often wearing a single headphone when out and about.
The most egregious omission of the RHA MA350s is easily visible left/right markings. I've seen manufacturers that will use different color silicone tips, some that clearly mark the cable, but I've never seen anyone put a little, raised, black L or R on a little black cable. In bright light it is hard to read. Forget about it in dim light or in the dark. With markings this indistinct, I'm surprised that RHA didn't just put them in braille. That would have be just as useful to me.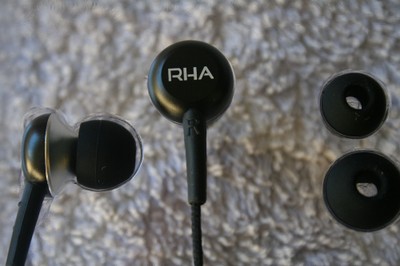 If you are familiar with in-ear headphones, you will be familiar with the comfort level of the RHA MA350s. Because they sit in your ears so tightly, you might find them initially slightly more uncomfortable than other earbuds, but that quickly fades. Because they are so light, any weight-based fatigued is all but eliminated.
The last thing I will say about using the RHA MA350s is about the cable. Fabric cables are a bit of a fad in headphones these days and I really wish they'd just go away. While I understand that they usually exhibit less drag than rubber-coated cables, I believe the downsides outweigh the up. Sure, the drag is less, especially when you are using them when you are working out, but think about it. Fabric + sweat = stink. Add to that the fact that fabric cables are much more prone to kinking and give me a rubber cable any day. But, if you disagree, or just prefer fabric, feel free to dismiss my rantings as the ravings of the lunatic fringe. You wouldn't be the first (on this issue and many others).
Confused about what AV Gear to buy or how to set it up? Join our Exclusive Audioholics E-Book Membership Program!
Recent Forum Posts: