RHA MA350 First Impressions
RHA MA350 First Impressions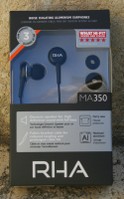 One thing I try to do as much as I can when reviewing a product, is to start the review before I know the price. As you might imagine, this isn't always possible. Most times, I've gotten some sort of press release about a product and decided to ask for a review sample. Invariably, those press releases list the price of the headphones. But when you do as many headphone reviews as I do, it is easy to get mixed up - to forget which headphones cost what. That said, The RHA MA350 headphones came and I really had no idea what they cost. All I had to go on was the design and how well I thought they sounded. 
RHA (stands for Reid Heath...Audio?) is a UK company that prides themselves on audio quality. From the MA350 box:
We create unique, high specification audio products, designed and engineered at our research and development centre in Glasgow, UK. Everything we make is engineered to deliver professional grade cutting edge sound. Each feature, detail and component is the result of extensive research and our uncompromising commitment to innovations and quality.
Now, if that is not a mission statement, I don't know what is. Take out the Glasgow part and the funny spelling of center and this should be on the wall of every audio manufacturer. 
The MA350 are some of the smallest earbuds I've ever reviewed. They look like a cross between those ones you get with your iPod that are meant to be just wedged in your ear and actual earbuds. What you end up with when you put them in, is a mix of both. They sit very flush to your ear and, depending on the shape of your ear, they may actually stay put a bit better than larger earbuds. They are extremely light. The specifications list them as 11 grams but that's with the cord and everything. Each of the earbuds weigh a fraction of that - which assists in keeping them in place.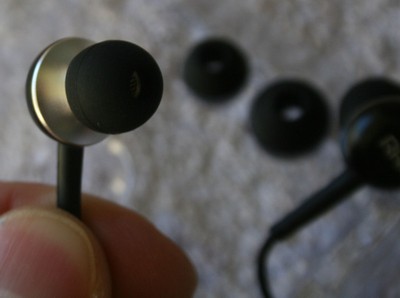 The enclosures are machined from solid aluminum and they feature a fabric braided cable. The design is a standard black and polished aluminum which, while not all that exciting, has a sort of understated class. The only easily visible markings on the MA350s is the RHA logo on the back of the enclosure.
Taking in the weight, the design, the enclosure, the fabric cable...I made some assumptions about the price. I can say that I was very off the mark. I would have guessed by their design (and my early listening tests), that the RHA MA350s would have been priced around $100. I wouldn't have been surprised if you had told me $150. I was, however, shocked that they retail for under $40. Honestly, it made me rethink everything I thought I knew about headphones.
Confused about what AV Gear to buy or how to set it up? Join our Exclusive Audioholics E-Book Membership Program!
Recent Forum Posts: