id America Metropolitan Use
id America Metropolitan Use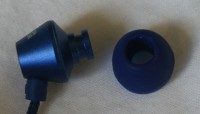 Of all the earbuds I've tested, the id America Metropolitan have been the easiest with which to install and remove the silicone tips. I've often wondered if that would make the tips more likely to come off in use (i.e. get stuck in your ears) but that didn't seem to be the case. I've actually had headphones that I was reluctant to try different tips with because of the difficulty in switching. With the id America Metropolitans, I was able to find the perfect size for me quickly because I wasn't dreading trying multiple tips over and over.
The in-line microphone and control work as advertised. This is a single button control that doesn't have any volume up or down. For people with iDevices, it will work as normal with a single press to start/stop music or answer/hang up a call. Double presses advance and triple presses go back. With some devices, you may be able to hold for volume up and double press and hold for volume down. Intelligibility during calls was good and, in my tests, I had no one complain that they couldn't hear me.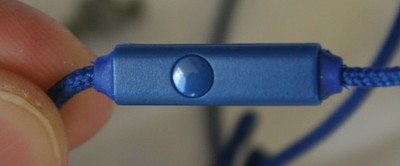 The fit and finish of the id America Metropolitan headphones was very good. There was a visible seam between the front and back of the headphones but nothing that was overtly obvious. The plus signs on the back of the earphones were distinctive, though we thought it a weird logo choice for the company overall. They've also labeled the top "Born in New York" which is the company's tagline. The posts on the headphones looked as large as the ones from the Phiaton PS 210 BTNC headphones but they fit comfortably in my ears.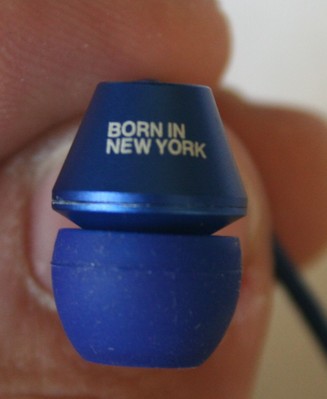 The cone shape of the id America Metropolitan headphones was compact and allowed them to fit into your ear cup easily. id America could have gone with a wider back to allow for wedging in the ear cup for a more secure fit. As it was, the Metropolitan headphones fit snugly enough, and flush enough to my head, so that it wasn't an issue. The only problem I had with the fit was the cable. It comes out of the earphone at a bit of an angle, but it still got hung up on my ear - threatening to pull the earphone free. Perhaps future versions of this headphone could have more of an exit angle.
The fabric-covered cable was very well isolated below the Y split with almost no noise being conveyed up to earphone from rubbing. Above the Y, however, any rubbing was clearly audible even over the musical content. For those that are planning on using the id America Metropolitan headphones during exercise, this could be an issue.
Confused about what AV Gear to buy or how to set it up? Join our Exclusive Audioholics E-Book Membership Program!
Recent Forum Posts: