id America Metropolitan First Impressions
id America Metropolitan First Impressions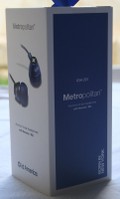 When creating devices as small as in-ear headphones, it is hard to be noticed. You have very little real estate with which to work with. With full-sized speakers, you can wrap them in real wood veneers or paint them candy-apple red, but that won't work with in-ear headphones. You need to do something else.
id America has gone with vibrant colors to distinguish their Metropolitan offering from the crowd. The make a black pair for the purists out there, but the rest sport such monikers as Brilliant Red, Yellow Green, Rose Pink, Aluminum Silver, and Navy Blue. Okay, that last one is a little pedestrian, but the rest are pretty out there. Having all these colors means that you could, theoretically, match your headphones to your outfit. That would be weird and, given the color options, calls to mind some very interesting flamingo dancer images... but you could.
The id America Metropolitan headphones are very tiny, very light in-ear monitors. The pair I was sent was in the Navy Blue finish and is probably the go-to pair for reviewers. The blue color is unique enough to remind us that they have a bunch of colors, but not so weird as to turn us off to the headphones. The enclosures are a flattened cone with a large + on the end that looks like an image of a Phillips screwdriver slot.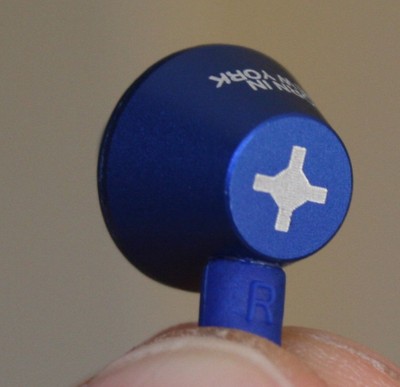 id America has included the ever popular fabric-covered cable with the Metropolitan headphones. The Left and Right headphones are marked so lightly as to be virtually invisible, but it won't matter. The left headphone has an in-line microphone and single button control for interfacing with your phone/MP3 player. As long as you can find the in-line control, you know which headphone goes in which ear.
The id America Metropolitans feature an all-aluminum design (It's possible the driver is aluminum as well, though all id America says is that the Metropolitans are "Aluminum in-ear headphones"). This allows for a very light set of headphones that are spec'd at 0.4 ounces - perfect for those on the go. The driver is 10mm and is rated down to 20Hz.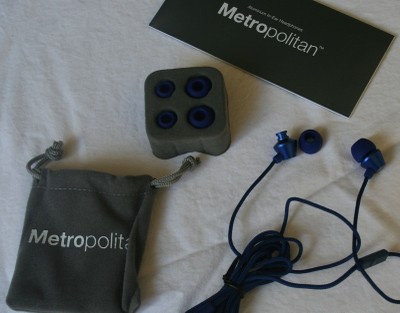 The cord is the standard 1.2m length and has a Y junction. Unlike many other headphones, there is no choke adjustment to the Y to control the spread of the two wires running to your ears. There is also no clip or any sort of method for securing the id America Metropolitan headphones to your clothes. 
The id America Metropolitan headphones have three different sized silicone tips but no memory foam ones for maximum sound isolation. id America has included the standard draw-string bag for transport which is more than large enough to hold all the tips and the headphones. The manual includes more pictures of the headphones in their various colors than actual instructions.
Confused about what AV Gear to buy or how to set it up? Join our Exclusive Audioholics E-Book Membership Program!
Recent Forum Posts: