I-MEGO Throne Gold Use
The I-MEGO Throne Gold headphones were one of the most comfortable headphones I've ever worn. They were just tight enough to let you know they were on but not so tight as to be uncomfortable. When I first put them on, I thought I had them on backwards. The seemed to angle slightly forward off my ears. When I turned them around, they felt the same which indicated that they were actually flat. After a few moments, the memory foam earpads compressed to my ears and the Throne headphones felt much more natural.


The I-MEGO Throne Gold headphones weigh just over seven ounces (according to my highly scientific kitchen scale) so long-term listening isn't going to be an issue. The headband is softer and more comfortable than just about every other pair of headphones I've tested. The vents on the outside of the Throne headphones are aesthetic only and don't indicate an open-backed design. Isolation from outside noise was as good as other on-ear headphones and noise leakage was minimal.
The in-line microphone was well placed on the cable and I never felt the need to hold it in front of my mouth. During use, my voice was clear and nearly indistinguishable from using the phone alone. The in-line control consisted of a single button. Rather than using an indentation to delineate the button location, I-MEGO opted for a raised one. I found this significantly harder to find and use. The way the button was positioned on the control unit faced it toward my body which was the opposite side my thumb would naturally land when reaching for the control.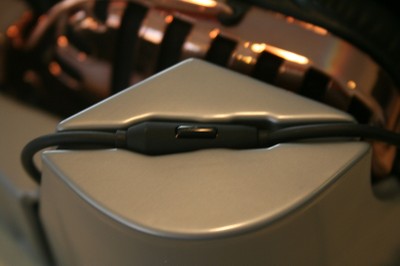 As mentioned, the I-MEGO Throne Gold headphones come with adapters for use with older smartphones (a small extension cord) and a 1/4" adapter. The 1/4" adapter snapped in securely without being overly difficult to remove. When you are spending over $100 on headphones, you don't want to fear damaging them when using an adapter.
When you get to the $130 price point, I start to expect removable cables. Let's face it - the cable is the weak link in nearly every headphone. If something is going to break, it'll be there. Even through there are in-line controls, I would have liked to see I-MEGO include a removable cable and, perhaps, a second cable without the in-line controls. This gives you the ability to swap cables if something breaks or install a much longer cable to suit your needs.
The fit and finish of the I-MEGO Throne Gold headphones was very good overall. The stitching on the headband was excellent and everything looked to be well made. There were a few scratches on the bottom of one of the earphones though it was hard to see on the reflective metal finish. This seems to indicate that the gold finish might not be very durable but small nicks and scratches are going to be all but indistinguishable.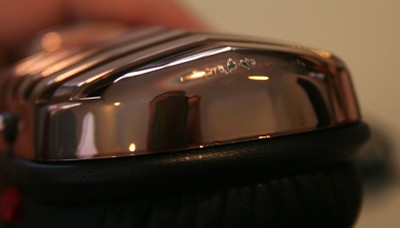 Confused about what AV Gear to buy or how to set it up? Join our Exclusive Audioholics E-Book Membership Program!
Recent Forum Posts: