Audio-Technica ATH-CP700 Sound and Cable
Audio-Technica ATH-CP700 Sound and Cable
The Audio-Technica ATH-CP700 seek to find a balance between quality sonics and letting in outside noise to keep you safe when you are exercising outside. This is a tall order as physics is working against this whole concept. Audio-Technica has given the ATH-CP700s a ton of bass to counteract the lack of a sealed connection to your ear to balance out the bass drain that happens when you open up a headphone to the outside world.
In short, it doesn't work very well. Or enough. Depending on how you look at it.
The Audio-Technica ATH-CP700 just don't have enough bass when they are naturally sitting in your ear. My runner friend confirmed that she thought the same. This gives them a slightly tinny sound where the high end sounds overly emphasized because of the lack of bass. It is possible that the shape of both of our ears were such that they didn't allow the bass to be directed down the ear canal properly. Audio-Technica has even included a pivot on the ATH-CP700 earbud to help it move with you to keep the earbuds in place. I found the pivot is too tight and it didn't seem to make that much difference.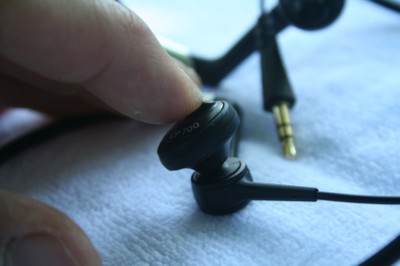 When I press the Audio-Technica ATH-CP700 into my ears more, the sound is pretty remarkable. If Audio-Technica knows anything, it is how to make a good sounding set of earphones. And the ATH-CP700 are a good set of earbuds. But the design choice to let in external noise has made it nearly impossible for them to sound as good as they could or, more accurately, do. The only issue I had with the bass (other than the lack thereof) was that very bass heavy tracks (this showed up in listening tests with tracks off Yello's the eye album) the drivers would distort. It was a very rare occurrence though I felt it should be mentioned.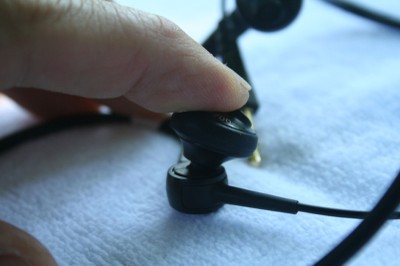 One thing that occurred to me over the course of this review is that the Audio-Technica ATH-CP700 headphones aren't just combating outside noise, but the noise you make when you move. Having an earbud that has more high-end energy may be fatiguing when you are sitting in your office chair, but it may be just what you need when you are out exercising to cut through all the other noises.
Cable and Controls

The Audio-Technica ATH-CP700 have a unique, modular, cable. It hangs off the left earbud making it very easy to know which side is which. But it is only 0.6 meters long. Most all headphones come with a 1.2 meter cable making this one exactly half as long as you'd want. It's an odd choice for lengths unless you are using an armband holster for your iPhone or MP3 player. If you use one of these, it is the perfect length. My runner friend uses a fanny pack for her iPhone and the attached cable was just a bit too short and kept pulling as she was running.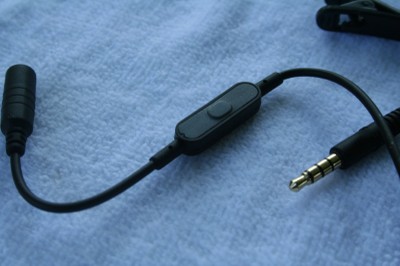 Audio-Technica has included with the ATH-CP700 two extension cables that are each 0.6 meters long (giving you the normal 1.2 meter length). One is a standard cable with a right angle 3.5mm input and the other has a straight input and a one-button in-line control and microphone. This is, again, an odd design choice as it means that if you use the included clip to put microphone where Audio-Technica, suggests (hanging near your sternum), you barely have enough cable to get the phone to your belt. Since I wear a lot of cargo shorts and pants, and like to put my phone in the side pockets, the in-line controls were way too low for me to use the mic. When I did have it clipped near my sternum, people said my voice was as clear as using the phone alone, which is impressive.
The upside of having two extension cables is that you can daisy chain them up to 1.8 meters. But then you have nearly six feet of cable to contend with. I wish that Audio-Technica had made the cable detachable from the actual earbud so that you could put the control near your jaw like normal headphones. While the single button control worked perfectly, it is situated very near the modular cable connection so that you often grab the connection before the control. This is obviously something that you'll get used to with prolonged use but I found it a very non-ergonomic first experience.
Confused about what AV Gear to buy or how to set it up? Join our Exclusive Audioholics E-Book Membership Program!
Recent Forum Posts: