Audio-Technica ATH-CP700 Fit and Use
Audio-Technica ATH-CP700 Fit and Use
There are two types of people on the planet (in my opinion); those with ears that will grab earbuds and keep them in place no matter what happens like some sort of third (and fourth) hand, and me. My ears just don't do well with earbuds and most in-ear monitors. That's why I was excited about the Audio-Technica ATH-CP700 behind-the-head band. This band really helps keep the earphones in place regardless of use. Usually, when I'm wearing eadbuds or in-ear monitors, I'm constantly having to fiddle with them. They either feel like they are falling out or they do just that.
I'm not talking about when doing vigorous exercise either, just walking across a room.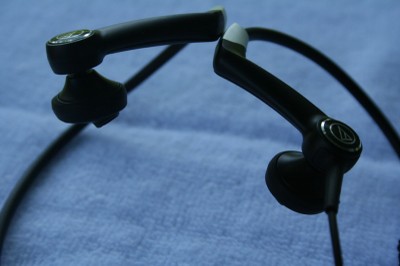 There are really two parts of the fit system of the Audio-Technica ATH-CP700 headphones - the band and the rubber surround on the earbuds. The second part is for comfort and to grip your ears - and, for the most part, it works. Hard earbuds are pretty much universally uncomfortable for me. But the Audio-Technica ATH-CP700 earbuds are wearable for much longer before I notice any discomfort. Usually it is when I remove the earbuds and I realize the pressure that was being put on my ear that the pain comes. A quick rub and a few moments wait and the pain recedes.
One thing to note about the Audio-Technica ATH-CP700 is that they are designed to allow in outside noise. This is a safety feature allowing runners and others to hear things like cars before they become a threat. The physics of earphones dictate that allowing in outside noise kills bass. Audio-Technica combats that by giving the ATH-CP700s prodigious amounts of bass. Press the earbuds into your ears and you'll hear bass that you won't believe could come from such small earbuds. The "aiming" port is situated in a way to direct the bass down your ear canal.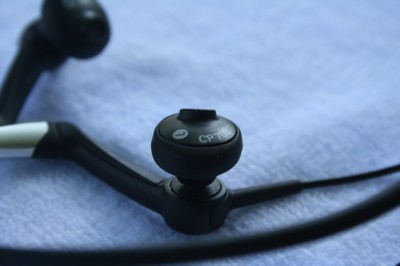 Use
I exercised with the Audio-Technica ATH-CP700 headphones (climbing) and found that they held in place just as I expected. But they are really designed for people that exercise outside. Like runners. Probably specifically runners.
I'll do a lot of things for a review. Running isn't one of them. Unless there are zombies involved.
But I do have friends that are runners. One of them agreed to take them out on her run. This wasn't any morning, however, it was the morning that Tropical Storm Andrea hit the Tampa Bay area. It wasn't at the height of the storm but there were moments of sideways rain. Because this is Florida, we don't put much stock in Tropical Storms. I mean, we might buckle down during the worst of it but we'll still make a beer run if we have to.
It's only a Tropical Storm
That means that not only was it raining, and raining hard, but there was traffic. My friend was very impressed with the performance of the Audio-Technica ATH-CP700 headphones. She normally uses the stock earbuds (sacrilege!) and found that the Audio-Technica ATH-CP700 stayed in place much better. She also found them to be much more comfortable. As the Audio-Technica ATH-CP700 are meant to be used in the wet (just don't run water directly into the driver hole according to the manual), their performance didn't waver during the rain. The stock earbuds will start to crackle (her words) if they get wet.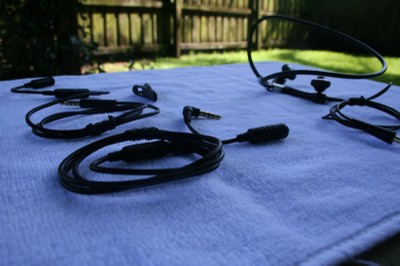 I asked her about outside noise. At the time, she didn't really notice outside noise but she did note that she wasn't startled by passing cars as she often was with the stock earbuds. To me, this indicated that Audio-Technica succeeded. Whether she knew it or not, the Audio-Technica ATH-CP700 earphones had kept her safer during her run.
Confused about what AV Gear to buy or how to set it up? Join our Exclusive Audioholics E-Book Membership Program!
Recent Forum Posts: