JVC 55" LED 4000 BlackSapphire Preview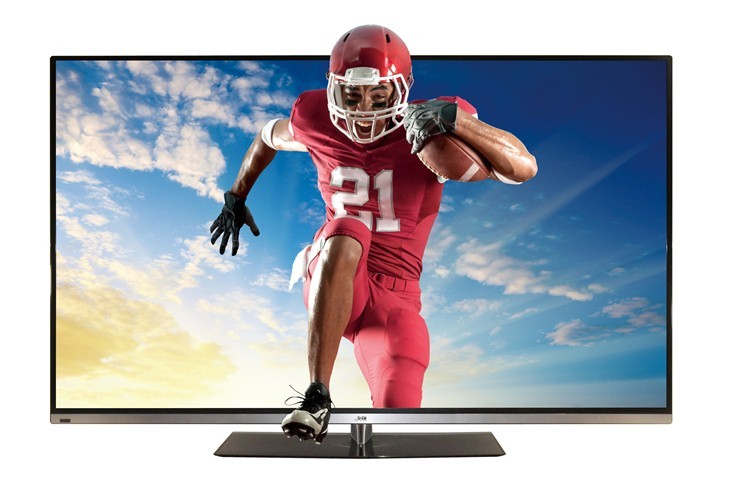 JVC 55" LED 4000 BlackSapphire
Summary
Model

Model Name

JLE55SP4000

Model Title

55" Class BlackSapphire™ 1080p, 120Hz, Smart, 3D, E-LED HDTV

Display Specification

Size Class (Diagonal)

55" (54.6 diagonal)

Resolution/Aspect

1920 x 1080 / 16:9

Backlit

Edge LED

Frame Rate

120Hz CrystalMotion™

Brightness (nits)

400

Contrast Ratio

20M:1 (Dynamic)

Viewing Angle

178/178

Panel Response Time

5ms

Display Color

1.06B

3D

3D Capability

Built-in, XinemaView 3D™

3D Glasses

4 pairs of battery free 3D glasses

Internet

Internet Capability

Yes, I.C.E.™ platform

Network Connectivity

Ethernet 10/100t; Built-in, Wi-Fi 802.11n

Preloaded Internet Apps

I.C.E. Apps™: SlingPlayer, Netflix, Vudu, YouTube, Pandora

Control

Remote with QWERTY keypad

TV Features

Color Enhancement

Yes, CrystalColor™

Built-in NTSC/ATSC/Clear QAM tuner

Yes

Parental Control

Yes, V-Chip 2.0

Picture Modes

Yes, Preset and Customizable

Audio

Audio Technology

XinemaSound™ 3D

MTS Decode

Yes

Graphic Equalizer

Yes

Speaker Output Power

45W (15Wx2 + 15W woofer)

Convenience Features

Ambient Sensor

Yes

Audio Only Mode

Yes

Gaming Mode

No

HDMI-ARC

Yes, HDMI-1

HDMI-CEC

Yes

USB Multimedia

Picture, Music, Video

Remote

IR, with QWERTY keypad

Picture Quality

Gamma, Gamma Correction

Yes

3D Comb Filter

Auto

Independent Gain & Offset, Color Temperature Adjustment

Yes

Energy Saving Features

Auto Power Off (DPMS)

Yes

Energy Star

Yes

Input

Input List

4 HDMI ; 1 Antenna/cable ; 1 Component ; 1 Composite (shared with component) ; 1 VGA/RGB ; 1 USB ; 1 Music Port (shared with PC audio)

Output

Optical Digital Audio Out

1

Stereo Audio Out

1

Mechanical

Wall Mount Pattern

VESA (400x400mm)

Without Stand (approx.)

48.9" x 28.9" x 2.2"
47.3 lbs

With Stand (approx.)

48.9" x 30.9" x 10.6"
53.9 lbs

Power

Input Voltage

120V AC

Max Power Consumption

Max: 150W
Standby: < 1W
Executive Overview
There seems to be no shortage of large flat-panel TVs on the market, but JVC is hoping to shake things up with the release of the new JLE55SP4000 55" BlackSapphire 3D LED TV. Other than an absurd model number, the new TV has a host of features that are commonly found on the competition but also adds a few features to help set it apart.
The JLE55SP4000 is the first model in JVC's new BlackSapphire line of HDTVs. The TV physically looks great with a thin bezel that is just under half an inch thick. The depth is on par with many other LED sets at 2.2", but not as thin as some TVs from manufactures like Samsung or LG.
It is edge lit with no mention of local dimming, but local dimming on edge lit designs isn't particularly effective at bumping up real-world contrast anyway. The refresh rate is pretty standard at 120Hz. It also boasts built-in WiFi and a Qwerty remote to navigate preloaded Internet Connected Experience (ICE) apps. The preloaded apps include Netflix, YouTube, Vudu, Pandora, and Slingplayer. Slingplayer is a great addition for people that use Slingbox because they can avoid buying another Slingbox for this TV. Similar to LG and Vizio, the new TV utilizes passive 3D technology as opposed to active shutter glasses. The TV also has a light sensor to account for ambient light. All of the inputs are on the side of the TV, which is nice when the TV is being mounted close to the wall.
So far, the list of features on the TV is pretty run of the mill. 802.11n, Qwerty remote, thin bezel, 120Hz refresh rate, and 3D are features shared by many TVs on the market. What is not shared by many other TVs is a quality set of speakers. The JLE55SP4000 has two 15w speakers and a 15w woofer. Mitsubishi used to make flat panel TsVs with good built-in speakers, but since they stopped production I don't know of any consumer TV with speakers more powerful than a pair of headphones (that might be a bit of an exaggeration). I suppose that Bose makes a TV with a built in sound system, but let's not go there...
The speakers built-in any TV are limited by the depth of the TV and with extremely thin TVs there is no room to fit decent speakers. In order to even think about getting quality sound out of a thin TV two things absolutely need to happen. 1) The speakers need to be on the front of the TV, not on the back or bottom. 2) There needs to be a subwoofer to handle bass. Out of those two things, JVC did neither.
We started to write an optimistic article about how this TV could sound much better than the competition, and then we realized that the "15w woofer" they speak of is actually inside the TV. After that we realized that all of the speakers are on the back or bottom of the TV. If the TV came with a wireless external subwoofer we could give it a chance, but without anything external we are extremely skeptical at best (largely because of this pesky thing called physics). With that said, if you cannot use external speakers for some reason, it is likely that this TV will sound better than the competition, but don't buy into the marketing hype of high quality sound.
Conclusion
It is nice to see a TV manufacturer trying to set themselves apart from the competition by integrating better sound into their TVs, but it seems evident JVC didn't try too hard. Still, the JLE55SP4000 has all of the features that we would expect in a high-end TV and at a price that competes with entry level products. To us, the combination of useful features (3D, WiFi, Qwerty Remote, 120Hz), improved sound (we hope), and an asking price of only $1299 makes this TV a good value. As long as the picture quality holds up JVC should have a competitive set on their hands with the JLE55SP4000. The TV is slated to ship January 2013.
For more information visit JVC

Unless otherwise indicated, this is a preview article for the featured product. A formal review may or may not follow in the future.