V-MODA BoomPro Use and Conclusion
V-MODA BoomPro Use and Conclusion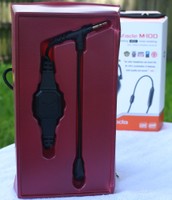 The V-MODA BoomPro mic is designed to be used with either headphone. If you look at the V-MODA offerings, the Crossfade M-100 has the ability to attach its cable to either headphone. The less expensive M-80 headphone only connects to a single side (the usual way these things are set up). If you are thinking that V-MODA is trying to push their highly touted, and very expensive, top-of-the-line headphone...well, you are wrong. V-MODA has a simple 3.5mm input which is standard for headphone connections. These are used by most manufacturers when they add a detachable cable to their headphones. I tried the V-MODA BoomPro cable with the two other headphones with detachable cables I had on hand - the $60 RHA SA950i and the $300 Pioneer SE-MJ591 headphones. The BoomPro worked perfectly with the RHA offering but wouldn't fully seat with the Pioneer. If you read back over the Pioneer review, you'll see that I complained that the connection at the headphone was proprietary (it's a simple 3.5mm plug but it has to be inserted extra far into the cup). I worried in that review if the Pioneer decision would somehow hinder the headphone from being used with 3rd party cables and it seems I was right. V-MODA has an abbreviated list of compatible headphone (Beats Solo, Studio, Mixr, Skullcandy Aviator, Hesh 2, Monster Inspiration, DNA) but you can bet that as long as the headphone has a standard 3.5mm jack for its detachable cable, the BoomPro will work.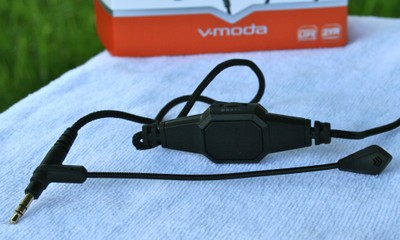 The BoomPro features an in-line control of sorts. When I say "in-line control", you're probably thinking about controls that play, pause, answer calls and such. This is not the case. The BoomPro in-line controls adjust volume and can mute the mic. The volume control does not feed back into your computer or device - it is simply between the computer and the headset. The uses here are dubious. If the idea is to keep you from having to move around or to keep the "clicking" sound of you adjusting the volume on your computer out of your recording, then I get it. Mostly, though, I don't. The volume just seems to be a thing they tacked on with very little real world use. The mute button, on the other hand, is much better. It kills your mic but does leave behind a telltale click on your recording. Easy enough to fix in post production but it would have been nice to have some sort of dampening to keep that out.
There are really three uses for the BoomPro mic that make sense to me - Skype and similar services, gaming, and podcasting. While I use headsets for calls, I don't see myself carrying around such a large mic and compatible headphones for such use. I wasn't able to test out the gaming aspect as I don't online game any more. I probably will someday but currently I don't have anything set up for that. For those that are interested, the BoomPro will work with any device that has a 3.5mm input and even has a breakout cable that for devices that require separate connections for the sound and the mic. For those with an Xbox 360 or other system with proprietary connection, V-MODA has adapters available for an extra charge.
I imagine that that Skype performance of BoomPro will be similar to the online gaming. The BoomPro, for the most part, provided excellent sound quality for Skype. I use Skype every week for my podcast, AV Rant, as well as for many personal calls to family and friends. Universally I was told the mic sounded great. Much better (obviously) than the one in my computer but not as good as the Audio Technica AT2020 Cardioid Condenser Microphone I normally use. But there were a few catches - first, mic placement was very important. I couldn't just move the mic close to my mouth and hope it would sound good. With Skype's "adjust your mic input automatically" setting this was minimized, but I disable that and adjust it manually. Even with the mic pulled straight forward (not bent over my mouth as you'd expect), the input was very hot. I had to move down the input level to make sure that I didn't clip. During calls this was less noticeable but it was certainly noticeable when recording the conversation for the podcast.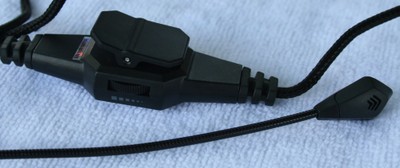 The BoomPro doesn't have a windsock or spit guard. While I prefer this aesthetically, there were times when I would have the mic placed too close to my mouth and it was an issue. The only other issue was cable thump. As I mentioned with the mute function, there is a bit of noise transference down the cable. This is to be expected with an in-line mic. Extraneous noises are something to be worried about no matter what microphone you use. I found the cable thump to be more than acceptable as long as the cable was touched below the inline controls. Above and it was very pronounced. The key, then, is to use the clip on the back of the inline controls. This isolates the worst offenders but you have to be careful to place it correctly so that the cable above the clip doesn't rub anywhere and that you have enough freedom of movement to overt pulling the mic.
Sound quality is really what is at stake here and I can say that, for a $30 mic, I was very impressed. Once I got my placement and clipping issues worked out, I found I could get very good sound quality from the BoomPro. For some examples, my first "real world" test with the BoomPro was AV Rant #341: Curved Roamie. I was sick that day and had to use the mute function over and over to cover coughs (I've never needed a mute button before that day but I certainly was glad it was there). While my voice was scratchy from coughing, what you're mostly hearing is my mic being too close and clipping the recording. While Rob reported that I sounded fine, the Audacity recording was a mess. I learned from that one. My next podcast, AV Rant #342: V-Moda BoomPro Mic Review Part 1 was better. Liz and I both used the BoomPro mics and I did some tests to make sure that the mics were both at the right distance from our mouths. But, instead of recording locally, I used a program called Audio Hijack Pro to record the Skype call directly. While there is still a bit of clipping going on, the audio quality is much better. Lastly, on AV Rant #343: Some Butts About It, we all used the BoomPro mics, recorded locally with Audacity, and I mixed them together. This is about as good as the BoomPro mic can sound for podcasting without extensive (at least more extensive than me) post-production capability. It should be noted that Liz had some echo on her side which we mostly edited out but that was not because of the mic.
Conclusion
This was a lot of words to pick apart a $30 inline mic accessory. Is it the best mic in the world? No. Obviously not. Is it good? Heck yes. The V-MODA is better than every other in-line mic I've experienced by a long shot. Would I recommend it? Wholeheartedly. Can you do better? Sure, but the mic won't be attached to your cable and you'll have to spend more. While I've discussed a lot of the pros and cons of the V-MODA BoomPro mic, the most telling result is the podcasts. If you want to know how it can sound - all you need to do is listen. But remember that during Skype calls I was repeatedly and universally told that the mic sounded better than even the recordings I made. If you have headphones with a detachable cable that you'd like to use for gaming or that you want to add a microphone to, the BoomPro from V-MODA is $30 well spent.
V-MODA BookPro Micophone
MSRP: $30
The Score Card
The scoring below is based on each piece of equipment doing the duty it is designed for. The numbers are weighed heavily with respect to the individual cost of each unit, thus giving a rating roughly equal to:
Performance × Price Factor/Value = Rating
Audioholics.com note: The ratings indicated below are based on subjective listening and objective testing of the product in question. The rating scale is based on performance/value ratio. If you notice better performing products in future reviews that have lower numbers in certain areas, be aware that the value factor is most likely the culprit. Other Audioholics reviewers may rate products solely based on performance, and each reviewer has his/her own system for ratings.
Audioholics Rating Scale
— Excellent
— Very Good
— Good
— Fair
— Poor
| Metric | Rating |
| --- | --- |
| Performance | |
| Function | |
| Versatility | |
| Build Quality | |
| Ergonomics & Usability | |
| Ease of Setup/Programming/Integration | |
| Remote Control | |
| Fit and Finish | |
| Performance | |
| Value | |
Confused about what AV Gear to buy or how to set it up? Join our Exclusive Audioholics E-Book Membership Program!
Recent Forum Posts: