Impact Acoustics USB Superbooster Setup and Conclusion
Impact Acoustics USB Superbooster Setup and Conclusion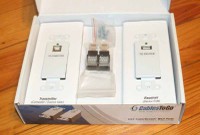 This is one of those products that is better shown than talked about. The connections are simple. For the wall plate models you simply set up the transmitter (USB B-type connector) so that it is near the source (typically a desktop or home theater PC). The other end is a standard A-type female connector that can receive any USB 1.1 device which plugs into that type of connection. Since the system pulls its power form the USB connection on the transmitter (Computer) side, you don't need to worry about external power supplies. It literally just works. We tested our configuration with a 100 foot run of Impact Acoustics Cat5e cable and were able to upload and download information from our Universal MX-3000 reference remote control and MRC-400 system controller. Transmission was quick and the computer never once asked to install any drivers for the new USB components. That's a definite plus since it essentially means that the system just works transparently as far as your PC is concerned.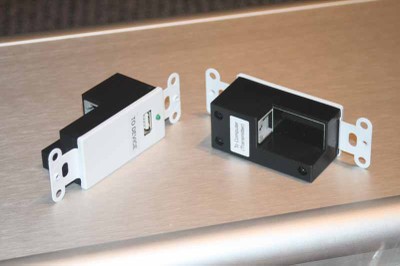 The physical characteristics of the wall-plate Superboosters include Decora-style devices which have a recessed Cat5e port. Everything about these products seems tailored to convenience and ease-of-use.
The USB Superbooster wall plates also come with a pair of tool-less IDC RJ45 connectors, so you can terminate your own bulk Caty5e/6 cable to any length you need. It's a nice little addition that gives is all that much more value to consumers who might purchase it (installers will presumably already have tons of connectors for Ethernet-type cabling).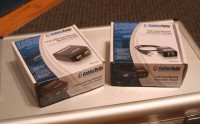 The extender kit is similar except that it doesn't feature the styling of a wall-plate. This system would be more useful for installations where an entirely dedicated wall plate would be overkill. In this way the transmitter and receiver can simply exist in-line with the components and jump directly to a wall plate containing an RJ45 port. Our kit came with a 2-port receiver, so it may be advised to use the included DV power adapter.
We decided to test this out in the most practical application we could think of: Guitar Hero III. As we alluded to above, there may be situations, like mine where the Xbox 360 is located in a remote equipment closet - well separated from the theater room. How then is one to use a wired Guitar Hero controller? It's not hard if you sling up some Cat5e to a Superbooster and run it the distance you need. We did exactly that and, after setting some lag calibration settings (both audio and video well over 100 ms), we were able to rock out with no apparent problems or glitches. This USB Superbooster system is starting to become very convenient.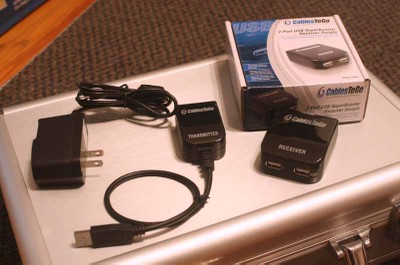 Everything you need is included and we were able to run everything in our tests without using the included DC power adapter. Cool metal case not included...
Conclusion
You may not think much about USB, but when you need it, you need it. And if you need to get it from point A to point B without worrying about the limiting lengths of USB cables, then the Impact Acoustics USB Superbooster is a great solution that won't set you back much money. We found both products to be very well made and the "self-powering" aspect of the system is extremely attractive. We're sure there are more than a few enthusiasts and custom installers (you know who you are) who will find this type of product to be a true lifesaver.
Impact Acoustics USB Superbooster Products
$99.99 - $129.99
Impact Acoustics
3555 Kettering Blvd
Moraine, OH 45439
937-224-8646
About Impact Acoustics
Impact Acoustics is a division of Lastar, Inc., a leader in the computer connectivity industry since 1984. In 2002 Lastar created Impact Acoustics in order to deliver its expertise in computer and data connectivity products to the consumer and commercial communications electronics industry. For information regarding Impact Acoustics visit www.impactacoustics.com.
The Score Card
The scoring below is based on each piece of equipment doing the duty it is designed for. The numbers are weighed heavily with respect to the individual cost of each unit, thus giving a rating roughly equal to:
Performance × Price Factor/Value = Rating
Audioholics.com note: The ratings indicated below are based on subjective listening and objective testing of the product in question. The rating scale is based on performance/value ratio. If you notice better performing products in future reviews that have lower numbers in certain areas, be aware that the value factor is most likely the culprit. Other Audioholics reviewers may rate products solely based on performance, and each reviewer has his/her own system for ratings.
Audioholics Rating Scale
— Excellent
— Very Good
— Good
— Fair
— Poor
| Metric | Rating |
| --- | --- |
| Function | |
| Network Features/Performance | |
| Build Quality | |
| Ease of Setup/Programming/Integration | |
| Fit and Finish | |
| Performance | |
| Value | |
Confused about what AV Gear to buy or how to set it up? Join our Exclusive Audioholics E-Book Membership Program!
Recent Forum Posts: