Speaker Cable Faceoff 2 - River Cable Cardas
Speaker Cable Faceoff 2 - River Cable Cardas
River Cable Flexygy
River Cable is a relative newcomer to the exotic cable industry. Their approach is also refreshingly new as their products appear to be snake oil free. I liked the Birth Certificate that they furnished with the products as it demonstrates objective measurements and quality control were applied to these products prior to shipping to the customer. Just like Cobalt Cable and Axiom Audio, River Cable uses no pseudo-sciences to sell their products. I found their article at the engineer's corner to be both refreshing and informative.
My only beef with them is their published specifications on their birth certificates are actually too conservative as you will later see in my measurements.
Check out our review of the River Cable Flexygy 6 for more info.
Inductance: .200uH/ft

Capacitance: 41 pF/ft

DC Loop Resistance: 3 mohms/ft

Velocity Factor: 0.87

1 meter pair

$235

2 meter pair

$255

3 meter pair

$275

4 meter pair

$295

5 meter pair

$315

12 meter pair

$455

15 meter pair

$515
River Cable Starflex
Inductance: ---

Capacitance: 45 pF/ft

DC Loop Resistance: 2.6 mohms/ft

1 meter pair

$175

2 meter pair

$187

3 meter pair

$195

5 meter pair

$235

12 meter pair

$315

15 meter pair

$365
Cardas Crosslink 1S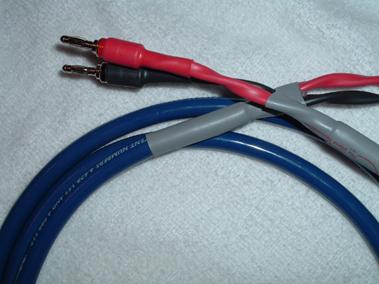 Cardas 1S speaker cables are part of their entry level design (at least as far as esoteric cables go). They utilize the same banana termination found on the Goertz MI2 Veracity cable.
Unfortunately Cardas is not snake oil free. They also promote many of the common cable myths popularized by esoteric cable vendors and cable forum cult hobbyists such as Cable Break In. Thankfully we know better that Cable Break In is nothing more than a baseless myth, and a poor one that that.
Cardas also promotes big sonic differences in biwiring and changing out jumpers on your speaker terminals but provide no rhyme or reasons behind the logistics of such claims. Again, it appears they are merely stating opinion rather than fact.
Cardas SE 9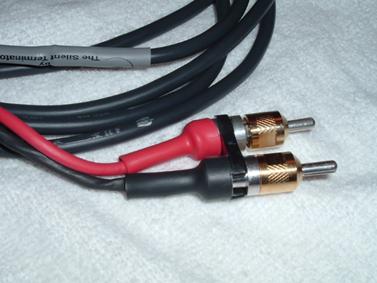 Cardas promotes optimizing the "Q" of the cable for specific type of speaker loads and amplifiers.
SE cables are optimized for single ended amplifiers and high efficiency loud speakers. They are Golden Ratio, concentric, asymmetrical, coaxial cables. The smallest gauge size the speaker will permit should be used. SE cables do not have a high "Q" like conventional cables, because efficient speakers do not demand it. They have dramatically low energy storage for their size, which makes them ideally suited for horns and other highly efficient speakers.
We will revisit this in our Analysis section to be posted shortly.
I am not sure who or what the "Silent Terminators" are. Is it that the wire techs at Cardas must maintain absolute silence while performing the sacred act of terminating their cables? Or maybe the methodology of termination they use is so unique or innovative that they can't talk about it? Nah, it's probably just a fancy marketing term to increase product appeal. In any event, all Cardas cable samples in this review were terminated by the "Silent Terminators".
The Cardas SE 9 use the same terminations as the Audience Maestro, but with an annoying plastic mount across the lugs to make it nearly impossible to connect to your loudspeakers or amplifier. Since the conductor spacing is limited by the plastic clamp which is too narrow to be accommodate any equipment I tried it with, I had no choice but to remove them. Removing them wasn't easy and required a cutting tool since I could not manually remove them with my hands. I don't know what those "Silent Terminators" were thinking, but I would personally like to see them not include these on future cables.
It's sad (but not surprising) to see another exotic cable vendor who touts resolving "Skin Effect" problems with their cable do no better with the alleged problem than ordinary 10AWG Zip Cord. As you can see the AV Cable has the lowest DC resistance in this comparison and similar breaking points as the costly SE 9 and significantly lower AC resistance than the Cardas 1S. Grant it neither of these cables have an issue with skin effect at audio frequencies to cause any real world audible problems. However I am at a loss for understanding why cable vendors tout this in their marketing literature, especially when they are at a disadvantage.
Confused about what AV Gear to buy or how to set it up? Join our Exclusive Audioholics E-Book Membership Program!