River Cable Flexygy 8 Speaker Cable Review
River Cable Flexygy 8 Speaker Cable Review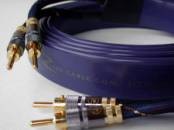 River Cable Flexygy 8 Flat Speaker Cable
Product Name: Flexygy 8
Manufacturer: River Cable
Performance Rating:
Value Rating:
Review Date: September 20, 2005 19:00
MSRP: $ 373.69 (3 meter pair)
8 x 16 AWG in parallel, for an aggregate value of 7 AWG
Bi-wire effective gauge, source end: 10 AWG
Bi-wire effective gauge, target end: 13 AWG
Straight configuration effective gauge, both ends: 10AWG
Hyper fine stranded 4 Sigma laminar copper
0.020" conductor insulation with 0.030" lead- and cadmium-free polymer jacket
1.130" wide x 0.210" thick (28.7mm x 5.3mm)
Exclusive gold plated expanding banana plugs, gold plated pins, or gold 1/4" spade cable lugs

Electrical Characteristics

Capacitance: 10 pF/ft
DC Resistance: 0.003 ohms/ft
Velocity Factor: 0.87
Inductance: 300 nHy/ft

Note: Available as single cables or cable pairs in both

straight and bi-wire configurations
Pros
Excellent fit and finish
Snake Oil Free
Customizable design
Great for under-carpet installs
Cons
Expensive
Difficult to differentiate conductors in low lit room
River Cable Flexygy 8 Introduction

I know what you are thinking - not another speaker cable review?!? Don't tell me some reviewer is about to take me on a tour of the wonders of exotic cables and how they magically can transform your hi-fi system into audio nirvana! Rest assured, we don't suffer from audio nervosa (at least when it comes to cables) like many elitist audiophiles tend to. We are realists for the most part and do our best to keep things in perspective, especially on topics which are easily quantifiable through empirical data and analysis. Oddly it's the topic of cables, one of the simplest components to analyze and quantify, that seems to be surrounded by the most propaganda and snake oil. We can only figure it must be because the differences between any reasonably competently designed speaker cables are so miniscule that some manufacturers must rely on these snake oils or newfound sciences to help bolster product appeal (directed towards unwary consumers who, through no fault of their own, simply don't know any better.) Take a hobbyist for any particular passion (i.e. cars, fitness, etc) and plant the power of suggestion of them, sprinkle in some fancy techno babble while creating an urgency for the product, and they will likely buy it in droves. Add to the fact that audible preferences are very subjective in nature, and - wham - you got the winning receipt.
For a list of the common snake oils we have so far uncovered, I recommend reading the following article I authored titled "Top Ten Signs a Cable Vendor is Selling You Snake Oil"
Confused about what AV Gear to buy or how to set it up? Join our Exclusive Audioholics E-Book Membership Program!