Leap Motion Unboxing and Accessories
Leap Motion Unboxing and Accessories
I get so many things in for review that it often feel like Christmas to me. Like most adults, I've long given up hoping for "surprises" for Christmas. I pretty much know what I'm getting mostly because I bought it over summer and told my wife, "This'll count for Christmas."
Hey, when I motorcycle goes on sale, you don't wait for Christmas or your birthday to roll around, you just buy it.
But I digress. Because I have products sent to me for review, sometimes by my co-workers without my knowledge, I often have no idea what is in a box until I open it. I was convinced that the Leap Motion was just another set of headphones that I was expecting (and am still waiting for) for review. I knew the Leap Motion would be small and light, but I didn't really expect it to be so small.
As you'd expect from a motion control device, there really isn't much to see. The Leap Motion is three inches wide, a half an inch tall, and just over an inch deep. There is a proprietary connection on the side and a light on the front. The bottom features the Leap Motion logo (it is just the work "Leap" so I don't know if that qualifies as a logo exactly), and a gloss black top.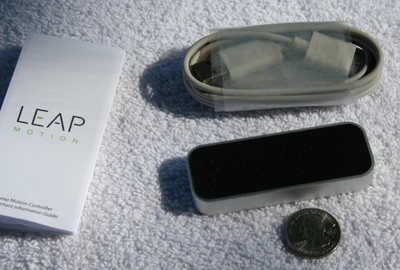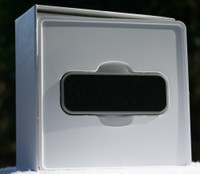 The Leap Motion arrived in a spiffy box that looked very professional for a first generation product. Honestly, I wouldn't have been surprised if it had arrived in a padded manilla envelop. Under the Leap Motion were two cables - one two feet long, the other five feet. I really thought this was a good addition on Leap Motion's part. If you are using the Leap Motion with a desktop, you'll probably want the longer one. If you are using it with a laptop, you'll prefer the shorter. If you are like many people and have both types of computers, you can leave the longer one plugged into the desktop and throw the shorter one into your laptop bag for use on the go.
The one omission that surprised me was a lack of carrying case. If you've got a brand new, super cool Leap Motion Controller and you are at least the slightest bit vain, you'll find an excuse to bring it to Starbucks.
Don't judge me.
While the Leap Motion only costs $80, I would have loved to see some sort of hard case to keep it clean and safe during transport. Heck, even a little velvet sack would have been a nice inclusion. As it was, I put it in my bag and later in my pocket. It wasn't damaged at all but ended up getting covered with lint and debris. A carrying case would have eliminated that. Since I have a number of unused "sacks" for headphones lying around, I've taken to putting the Leap Motion in one of those when I want to travel with it.
Confused about what AV Gear to buy or how to set it up? Join our Exclusive Audioholics E-Book Membership Program!
Recent Forum Posts:
avengineer posts on September 03, 2013 01:06
I tried Leap Motion too. I found the apps "interesting", but useless in the practical sense. I found the device itself to be elegantly designed physically, but the system (software and hardware) to be half-baked. As a pointing device, it was hopelessly sloppy. Just trying to use it to control a browser was a complete mess. I never appreciated how much precision there is in pointing and clicking until I tried Leap Motion. So, aside from using their own apps to demo the concept, it was a pointless pointing device. I had envisioned placing it below my 50" plasma and using it to interact with the screen…not going to happen.

I also found the device gets quite warm, qualifying for "hot" at times. It's highly affected by ambient light, even that from your own monitor. They make positioning sound non-critical, but in actuality it's very critical, and doesn't work well at all unless placed correctly.

But I also discovered another problem. I pre-ordered mine months before it was available. I got it in late July, tried it, and decided I had no need to keep it. Returning it was simple, and can be done online. But then the problems began. Actually getting credit back too almost a month, numerous emails (in which Leap Motion insisted they'd refunded me already), calls to the bank, and back to emails. The refund finally came through, but it was anything but timely, and smooth.

This may someday be a great product, but if you're thinking "iPad control without the touch", forget it. Not even close. The best demo was one where you could influence the direction of a school of fish. The worst was actually trying to use it as a substitute for a track pad or mouse. I would say, not recommended yet. I'll watch for reviews of V 2.0, if it ever gets that far.
Post Reply