Leap Motion Setup
The Leap Motion Controller is compatible with Windows 7 or 8 or Mac OS X 10.8 Mountain Lion. Leap Motion suggests a minimum of an AMD Phenom II or Intel® Core i3, i5 or i7 processor, 2GB RAM, USB 2.0 port, and an Internet connection. While they all are "requirements", the last one, an Internet connection, really isn't debatable. The first thing you'll have to do after plugging in the Leap Motion is to visit www.leapmotion.com/setup to download the appropriate software. There is no included CD or flashdrive for installing the software locally.

I found it interesting that, unlike many software downloads, the Leap Motion site couldn't automatically detect what type of computer I was using. Downloading the software was fairly quick and easy though I have a faster than average Internet connection. As I mentioned, I have a desktop and a laptop. My desktop is a PC and the laptop is a Mac. I had absolutely no problems getting the Leap Motion to work with the Mac. The PC...not so much. But, and I say this not to defend a product that may be defective but because it is true, my PC is a piece of junk. It is older than two of my children, has been "upgraded" a few times by me to keep it working even though it should have died long ago. It habitually doesn't work with hardware that it should. So, while this review will focus solely on the interactions with the Mac, if you have the minimum requirements listed above, you should have no problems getting it to work with your PC (I did a quick Google search and didn't come up with anything that looked to be a systemic issue with PCs).
After you download the software, it will walk you through a tutorial. I've been through the tutorial a few times and it still confuses me. The gist of it is that you need to put your hands over the Leap Motion to start each of the sections and when you move your hands away for a few seconds, it will advance to the next section. The coolest "tutorial" was the one where they showed you a wireframe representation of what the Leap Motion sees. While I had to take the pictures myself so you can only see one hand in the pictures below, it would accurately and in real-time track all five of my fingers and even know when my hand was upside down. It was exactly what I was looking for in the Leap Motion and I really got excited after seeing this.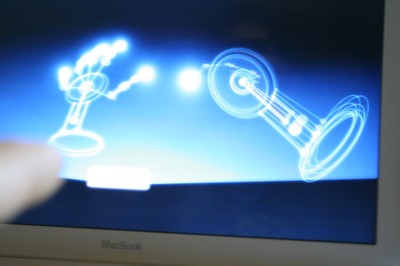 In this one, that thing on the right is the camera.

Leap Motion Apps
The next thing you'll need to do is download a few apps. One of the disadvantages (at this time) is that not all apps are available for all platforms. That means you may hear of an app and want it just to find that it is Mac or (less likely) PC specific. Currently, there are over 80 apps in the "Airspace" app store for Leap Motion. Many are pay apps but some are free. Regardless, the first app you'll want to download is "Touchless". It is created by Leap Motion for both platforms and I really don't understand why they don't include it with the initial download. This is the app that allows you to interact with your computer using the Leap Motion.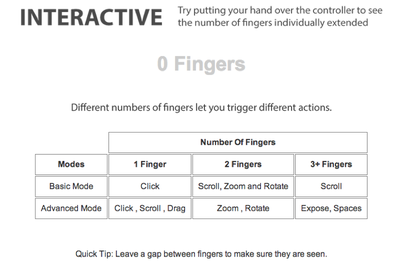 There are three settings - Intro (takes you through the introduction), Basic, and Advanced. I would have preferred more direct control, but there is an app for that as well. As you can see, depending on the mode, the controls differ quite dramatically. I preferred the Basic mode and, and must say, during the course of writing this paragraph, I finally got the hang of rotating. If you are familiar with the touchpad controls on a Mac laptop, these motions will feel very familiar to you. The hard part is getting used to making those gestures in a three-dimensional plane without any tactile feedback. I'm still trying to get the hang of the Advanced Mode. The second app that should be downloaded is Mac specific. Better Touch Tool as all the configurations you'll need to customize your Leap Motion experience.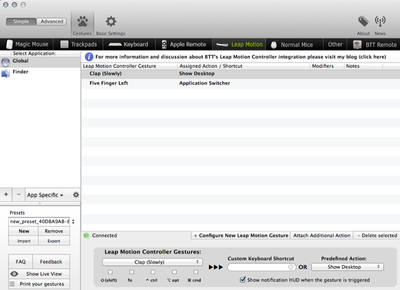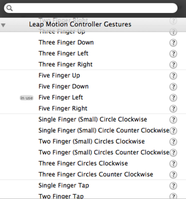 Essentially, you can customize motions up, down, left, or right and the number of fingers used and map them to specific actions. You can also map one to five finger taps and one to three finger circles clockwise and counterclockwise. Currently, I have "Show the Desktop" mapped to a clap and a five-finger left swipe mapped to "Show Application Switcher". These are actions I do often and the Leap Motion takes a lot of the hassle out of them. As you might guess, mapping these gestures can interfere with other apps (like games) or just controlling your computer (though the Touchless app). I found that using the Better Touch Tool was something that I used a lot during certain situations but not at all during others.
There are a number of games for the Leap Motion including Fruit Ninja and Cut the Rope. Cut the Rope is free and I tried it out. It works much, much better than I expected with the cursor staying always on the screen. You don't "cut" unless your motion is fast enough and you select not by pressing forward but by hovering for a set period of time. I didn't think I'd like this app but I have to admit that I did.
My favorite game wasn't a game per se. The tech demo Kyoto is basically just a tree, moon, and some water. You interact with all of the the above and "play" it until it sort of ends (check out some of the pics below). I'm not going to try to explain it to you because, frankly, I can't. What impressed me, however, was the cursor. Instead of a circle that expanded or contracted as you moved back or forward, it was a six-point representation of your hand (but small). You could see your fingers grabbing stuff and moving it. It was totally intuitive and I had a great time with it (lasts about five to ten minutes).
Of course, the problem with this sort of control is keeping your arm up. And I did find that my arm would get tired after a while.
Starts pretty basic. That weird constellation on the left is my "cursor" - five fingers and my palm.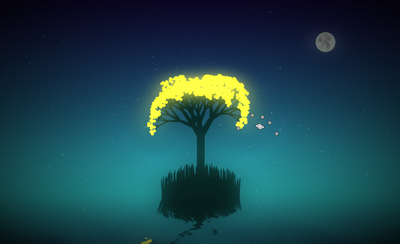 I've grown my tree by "grabbing" the seed.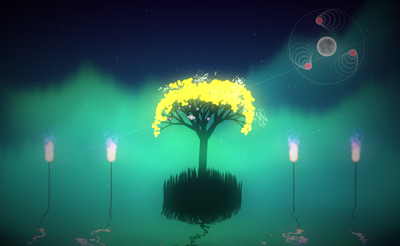 It gets a little trippy after a while.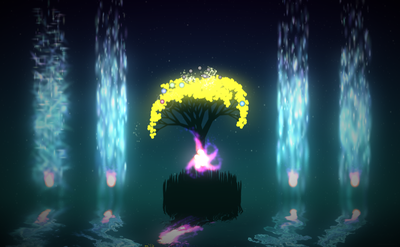 Not pictured: relaxing and well done music.

Confused about what AV Gear to buy or how to set it up? Join our Exclusive Audioholics E-Book Membership Program!
Recent Forum Posts:
avengineer posts on September 03, 2013 01:06
I tried Leap Motion too. I found the apps "interesting", but useless in the practical sense. I found the device itself to be elegantly designed physically, but the system (software and hardware) to be half-baked. As a pointing device, it was hopelessly sloppy. Just trying to use it to control a browser was a complete mess. I never appreciated how much precision there is in pointing and clicking until I tried Leap Motion. So, aside from using their own apps to demo the concept, it was a pointless pointing device. I had envisioned placing it below my 50" plasma and using it to interact with the screen…not going to happen.

I also found the device gets quite warm, qualifying for "hot" at times. It's highly affected by ambient light, even that from your own monitor. They make positioning sound non-critical, but in actuality it's very critical, and doesn't work well at all unless placed correctly.

But I also discovered another problem. I pre-ordered mine months before it was available. I got it in late July, tried it, and decided I had no need to keep it. Returning it was simple, and can be done online. But then the problems began. Actually getting credit back too almost a month, numerous emails (in which Leap Motion insisted they'd refunded me already), calls to the bank, and back to emails. The refund finally came through, but it was anything but timely, and smooth.

This may someday be a great product, but if you're thinking "iPad control without the touch", forget it. Not even close. The best demo was one where you could influence the direction of a school of fish. The worst was actually trying to use it as a substitute for a track pad or mouse. I would say, not recommended yet. I'll watch for reviews of V 2.0, if it ever gets that far.
Post Reply