Lair PS3 Game Review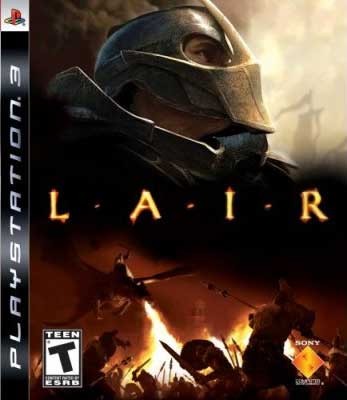 Lair for PS3
Platform: Playstation3 (PS3)
Developer: Factor 5
Publisher: Sony Computer Entertainment
Game Resolution: 1080p/30
Display: Panasonic PT-AX200, Gateway 30" LCD
Reference System: Reference System 2
MSRP: $59.99
Style: Action-Adventure
Rating: Teen (Blood & Gore, Violence)
Pros
Uncompressed full-surround audio
Impressive orchestral scoring
Exceptional detail
Cinematic cut scenes
Cons
Not much LFE for your subwoofer
Sixaxis controls extremely tedious
Inaccurate targeting
Bizarre in-game mini cut scenes that detract from the action
1-on-1 dragon fights disappointing
Gameplay is somewhat monotonous
Introduction
Lair is a game which received much fanfare. It is, in fact, a game which has already been reviewed by several primary gaming magazines. While those sources focused on gameplay, we felt that the elements of audio and video quality were sorely lacking – at least in any sort of objective sense. As we unwrapped the Blu-ray packaging and inserted the game into the PS3 we realized we were going to be in for one heck of a sensory experience.
Game Byline
In a world ravaged by endless conflict and natural disaster, a call for peace turns into a bloodbath of betrayal and deceit in Lair for the PLAYSTATION3 (PS3) computer entertainment system. Playing as a warrior named Rohn who rides a voracious dragon trained for deadly aerial and ground combat, gamers must defeat the war-hungry Mokai to save the Asylian civilization. Together, Rohn and his dragon will attempt to change the destiny of a world on the brink of extinction by scorching, clawing and smashing through thousands of enemies and their war-trained beasts.
Visuals
Within the gameplay of Lair, colors are muted into a very film-like tonality that is reminiscent of a very good cinematographer/telecine team. Though at times bland, the imagery is very cinematic and colors feel at least authentic given the medium – as if there was a colorist involved in the process of developing the cinematics and visual sequences. It leaves you thinking, during play and afterwards, that this was a carefully crafted work of art that attempts to render itself as close to a true cinema style as possible. I especially liked the close-up dragon shots and cityscape scenes which made good use of both texture and color.
Resolution, Detail and Anti-Aliasing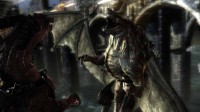 There is a ton of detail in this game. Stone buildings, intricate roofs and detailed architecture abound in almost every game chapter. During slow pans (of which there are many) I noted a visible breakup of the detail as judder-like effects blurred pans and resulted in slightly flickering visuals. Edges were anti-asliased for the most part but I could definitely see that jaggies were more noticeable on some of my displays – and less noticeable on others. The output of the PS3 is going to be somewhat dependent upon the display you are using, particularly if you are outputting 1080i. As intricate as games are these days, motion artifacts abound and there doesn't seem to be any easy way to eliminate them completely at the current level of console technology.
When actually playing the game you may note, at certain angles, a slight jaggy edge around your dragon's wings. This increases and decreases depending upon angle and what's occurring. Honestly this is a universal problem I've noted and only the highest-end PC video cards running their anti-aliasing settings maxed out (8x, etc) do much better.
The dragon textures are excellent, with skin that folds and ripples, and legs and tails that have rather satisfying plating marks. Even the wings have a texture that keeps them from looking like they are made of bed sheets. Batman should be so fortunate. One area detail seemed to be missed was in the hand-to-hand dragon combat, where the blood seemed to be a rather unconvincing overlay of parallel slashes that floated in space. Characters seemed well designed, especially in the cut scenes, but the armies were so uniform when on the ground that they seemed little more than clones of the same figure slightly repositioned in different directions. I like a stiff formation, but there was absolutely no variance whatsoever in most sequences I participated in.
Cut Scenes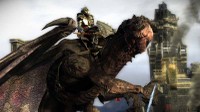 Two words: Freaking Awesome. But apparently full motion antialiased video rather than real-time in-game engine cut-scenes. In my opinion I could care less. Why not make the cut scenes look as good as possible? Since you can't control your character regardless there seems no reason why these shouldn't be blown out to the best resolution available. A full music score adds to the effectiveness of the cut scenes (discussed in more detail later) and you can instantly tell that Lair spent a lot of time with their voice acting and story editing.
One of the strange things about Lair arises whenever you go in to attack a dragon. During particular attacks you will end up in a face-to-face dragon combat situation where you breathe fire, claw and bite your way to victory. The trouble is that the action is so reactionary and delayed that it's more of a random button-push than anything particularly tactical or real-time. A faster response time and higher frame rate for these attack sequences would have been incredibly satisfying. What's there now seems a tad forced and at the conclusion the camera zips off in such a fashion that your dragon ends up in a direction that it wasn't originally, forcing you to reacquire your bearings each time. Vertigo abounds on a 100-inch screen, so be sure to take your Dramamine.
smurphy522 posts on November 21, 2007 15:50
Tsk- Tsk, come now girls. Play nice please
Wafflesomd posts on October 25, 2007 23:24
darien87, post: 323281
Well at least we can agree on something.

But seriously, what's the point of trolling and being a jackass? Do you get some kind of weird pleasure out of it?
If you wanna keep throwing insults back at each other I can do that.
Trolling is pretty easy. The most common misconception is that people think that you spend a lot of time doing it. It's pretty quick. Just type what you want, then click Post Reply. Some people also assume that someone who trolls, also has the same qualities outside of the forum. The best part about trolling, has to be the responses given by other users. Isn't it ironic how other uses seem to show that they care about what the troll says, while the troll is well aware that this is, in fact, the internet, and none of it matters.
Always remember.
Internet: Serious Business.
darien87 posts on October 25, 2007 18:34
Wafflesomd, post: 323270
Guy's.

I'm an idiot.
Well at least we can agree on something.
But seriously, what's the point of trolling and being a jackass? Do you get some kind of weird pleasure out of it?
j_garcia posts on October 25, 2007 17:54
Wafflesomd, post: 323270
Guy's.

I'm trolling and being an idiot, because it's really, really easy to do with PS3 owners.

It's just funny to watch you guys care so much about video games.
So are you saying it is any different vs a 360 forum or a PC game nerd forum? I would thing there were better things to do with one's time. It is pretty clear that you are just stirring the pot…
Wafflesomd posts on October 25, 2007 17:46
Guy's.

I'm trolling and being an idiot, because it's really, really easy to do with PS3 owners.

It's just funny to watch you guys care so much about video games.
Post Reply
Confused about what AV Gear to buy or how to set it up? Join our Exclusive Audioholics E-Book Membership Program!