IOGEAR Wireless HDMI Kit GWAV8141K Review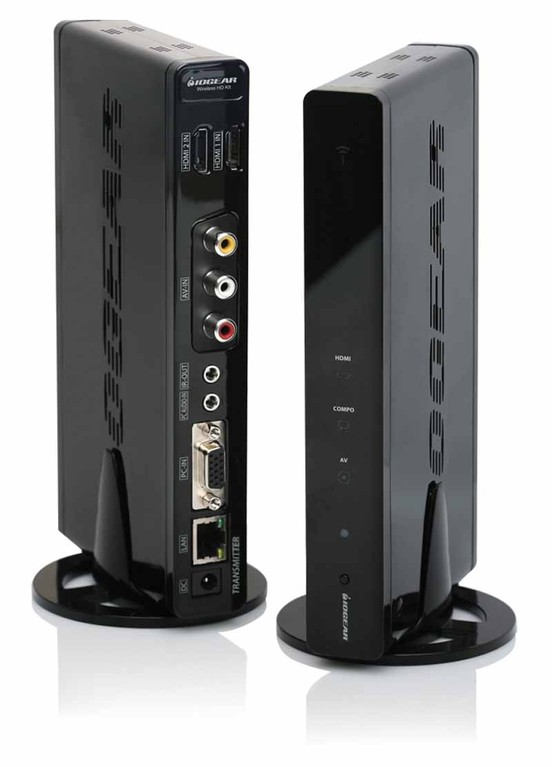 IOGEAR Wireless HDMI HD Kit GWAV8141K
Summary
Video support: Up to 1080p/60Hz (HDMI/PC); 480p (composite); 1080i (component);
Audio support: AC-3 Dolby Digital, DTS (pass-through), 16-bit stereo PCM 44.1/48kHz, analogue
IR emitters: Receiver unit receives/sends IR info to transmitter and IR emitters
Video inputs: Composite, PC/component, HDMI x 2 (with audio)
Audio inputs: Stereo RCA, 1/8" mini
Video outputs: Composite, component, HDMI
Audio outputs: Stereo RCA, 1/8" mini
Firmware update: via USB port
WiFi frequencies: 5.19 GHz (CH 38); 5.23GHz (CH 46)
Wired connectivity: via LAN port (RJ45)
Remote: Discrete inputs and switching, WiFi channel selection
Independent audio & video source selection
Onscreen info display of transmitter, receiver & display status
Executive Overview
For a long time we've been big fans of anything that can circumvent the inherent difficulties of HDMI cables, and that includes providing wireless solutions that can remove the cable altogether between the source and the display. The trick, of course, is that the solution has to actually work. IOGEAR recently released its take on the wireless HDMI revolution with its Wireless HD Kit (GWAV8141K). This kit eliminates the need to drill holes to complete a job. It also takes you out of the attic, especially if you couple it with a handy PowerBridge Total Solutions Kit, which makes for easy installation of 120V power behind your flat panel television. The new IOGEAR wireless solution allows installers to customize any living space and offer the ability to wirelessly transmit any source, be it Blu-ray, DVD, DVR, laptop or other media streaming device, directly to your HDTV or projector.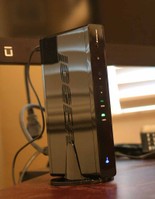 It doesn't just stop there, though. It also takes any composite, VGA, or component video source and upconverts it, if needed, to HDMI. The included remote let's you switch between sources, even allowing you to mix and match audio and video. This means that your legacy A/V receiver might have just gotten some new life out of it while you're saving the hassle of installing HDMI cabling. 
IOGEAR's Wireless HD Kit can actually stream 1080p/60Hz video and audio content up to 100 feet away. We tested it as far as 30 feet, and even put the receiver behind the TV without any difficulties in reception. Standing between the transmitter and receiver didn't seem to affect it and the unit has two different frequencies it can use to help it navigate any potential difficulties. It also offers the added flexibility of a RJ45 LAN for those needing to go further than 100 feet. This essentially turns the system into a fancy HDMI-to-Cat5e/6 balun.
The Wireless HD Transmitter provides the ability to broadcast with unnoticeable latency its own integrated WiFi (802.11n) signal without the need of an additional wireless router, so that the content can be streamed to a total of 4 Wireless HD Receivers.  This simplifies the process of installing multi-room or multi-display environments and provides the freedom of additional displays in not so common areas in the home or business with ease.
Why We Love Wireless HDMI
Wireless solutions, like the Wireless HD Kit from IOGEAR, offer installers the ability to replace long, difficult cable runs with a wireless end-to-end solution that simply uses UWB or WiFi (802.11n in this case) to ship fast packets of high-definition goodness from the source to its final destination. A good system will do this at resolutions up to 1080p and the better systems will do at at that resolution and at 60Hz. The best systems will do all this and add more features on top of it, like source selection, IR signal relaying with emitters and even the ability to hardwire the system over long distances. Kudos to IOGEAR for positioning itself at the top of the wireless HDMI food chain.
HDCP - Confound You!

For a system to be great, it must be easy to connect, easy to use, and negotiate the finicky HDCP handshake without requiring reboots of your hardware or specific power-on processes. Believe me, if you want to take a great system and make it no fun to use, simply rely on HDCP to do its thing without triple checking your hardware to ensure that you are helping it get what it needs, when it needs it. This is where manufacturers can make or break a system. While the IOGEAR product didn't have much difficulty connecting, there were ways in which it took a long time to lock onto the HDMI source signal. It typically managed to find it, however, and we simply had to be patient and wait for everything to catch up. In addition, we were spoiled by a competitor's product which managed to lock onto the HDMI CEC system, even in standby, and turn on our display when the Blu-ray player powered up. This wasn't possible with the IOGEAR Wireless HDMI Kit. 
Conclusion: Truly Impressive

One of the features we really loved about the IOGEAR Wireless HDMI Kit was that it came with the ability to receive IR signals at the receiver and send them back to the transmitter. This is a common issue, since many people are using wireless HDMI precisely because the source components are relocated from the display. Because of IOGEAR's emitter system, you can potentially point the remote at the TV and still control all of your A/V hardware. Speaking of remote, IOGEAR's included credit card-style remote allows you to select your audio and video sources independently and send them to your selected output of the receiver. This is not only convenient, it allows, as we hinted at earlier, older AV receivers that are pre-HDMI to remain in your system and still interface with a newer HDMI-capable flat panel display.
Overall, we found the IOGEAR Wireless HDMI Kit to be extremely usable, easy to setup and profoundly reliable. We watched a ton of material over this connection, including HDX programs in 1080p sourced from VUDU and plenty of 1080p/60 content on Blu-ray. Its reliability and the sheer elegance of the product make it a real solution that will appeal to many high-end users who can afford the steep price of entry. While not cheap, we do believe that this is a great product that will only get more appeal as the prices drop and wireless HDMI becomes more popular as a result.
IOGEAR's Wireless HD Kit is available immediately at a MSRP of $899.95.
The Wireless HD Kit is the newest product in IOGEAR's AVIOR series. The is a comprehensive product line that focuses on convergence and connectivity and caters to installers and specialty resellers. For further information on IOGEAR and its connectivity solutions, please visit www.iogear.com.
About IOGEAR
IOGEAR headquartered in Foothill Ranch, CA, offers innovative Consumer Electronics and IT solutions that enable convergence through connectivity in the home, at the office and on the go. Founded in 1999, the company provides a broad range of products that help integrate technologies in everyday life, share resources, decrease clutter and energy consumption, and reduce electronic waste. IOGEAR distributes throughout North and South America, Europe and Asia.

Unless otherwise indicated, this is a preview article for the featured product. A formal review may or may not follow in the future.
ned posts on June 29, 2010 18:23
Great review! Hopefully prices will come down close to HD-Brite's system.
Post Reply
Confused about what AV Gear to buy or how to set it up? Join our Exclusive Audioholics E-Book Membership Program!