Impact Acoustics HDMI Selector Build Quality and Conclusion
Impact Acoustics HDMI Selector Build Quality and Conclusion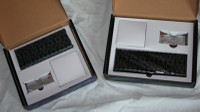 The main differences between the 5-Port HDMI Selector Switch and the 2-Port (aside from the number of inputs) is the 5-Port has an IR Extender jack and discrete On/Off codes. What does this mean? The 2-Port doesn't have discrete On/Off codes so you'll probably want to leave it on all the time if you are putting it into a system and utilizing a universal remote. The 5-Port does have discrete codes for On/Off and the IR Extender input means there's no need to add an IR flasher to the front of the unit - eliminating the worry about missed commands. From an installer's perspective, this is a very desirable addition. Both units have discrete input selection via the remote. The front of both units sport a couple of LED lights that let you know a) that the power is on and b) which input is currently being routed to the output. There is a selection button on the front of each unit that cycles though the inputs.

Both of the units are constructed out of steel or heavy gauge aluminum and feel heavier than they look. Sturdy? Oh yeah. Little rubber feet adorn the bottom and keep it from scratching your furniture. The inputs on the back are well spaced and easy to use. The power cable has a small plug rather than one of those big square transformer types that takes up three slots on your surge protector. The IR Extender input is very close to the power input on the 5-Port Switch but you should have more than enough room to access it. The front green lights are fairly bright and powering off the unit doesn't extinguish the power light (only unplugging the unit does that). There is no dimmer option.
Setup
Setting up a switcher is nearly the easiest thing you can do. Power everything down, connect all your transports to the switcher's inputs, connect a single cable from the output to the display, plug in the power, and turn everything on. Both of the Impact Acoustics switchers are HDCP compliant so if you have an older cable box or HDMI 1.0 receiver and are having handshake issues these devices may be a solution for you.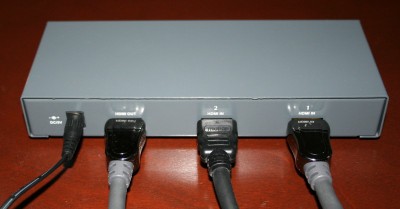 Of course, one of the main substantive differences between the two switchers is the number of ports. While you may think you'll only need 2 ports, I suggest you think a little about this decision. The 2-Port is really designed as particular solution, perhaps to be utilized in an installation that requires a specific 2-way switching application. The 2-way switcher will be more difficult to program into a universal remote system because of its lack of discrete IR codes so be sure that you're prepared to utilize workarounds. Two ports may seem like enough for now, but as the upgrade bug hits, you'll find yourself with more and more HDMI capable devices. Impact Acoustics has notified us of a 3-Port version that will be released soon which will include discrete codes.

The 5-Port switcher has enough ports that you'll probably never have to upgrade again. With receivers still sporting only 2 or 3 HDMI inputs, you very well could be using this switch for years to come - and it keeps you from having to upgrade. Both of the switchers will pass 480i, 480p, 720p, 1080i, and 1080p. My tests showed that they passed all these flawlessly with no discernable alteration to either the video or audio stream and no HDCP handshake issues.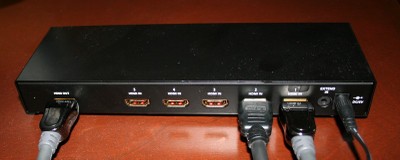 Remote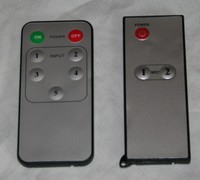 The remotes for the 2 and 5-Port HDMI Selector Switchers share a lot of the same styling cues. Lightweight to the point of ludicrous, they feel insubstantial in your hand. I've never met, seen, or hear of a couch that wouldn't swallow these remotes in a millisecond. The smaller of two remotes for the 2-Port switcher has a tiny loop on the end that could presumably be used to attach something larger and heavier to keep it from getting lost (or tying to a stray thread on the side of your couch I suppose). The remotes ship with a plastic cover over the positive battery terminal to ensure they will power up when you start to use them. Each sports a dedicated button for each input and, while the 2-Port only has a toggle power button, the 5-Port has discrete 'On' and 'Off'. I had no problem controlling either of the units from my normal seated position.
Recommendations
There really isn't anything to dislike about these switchers. The remotes are sort of flimsy but that's par for the course - especially since you can program the commands into any universal learning remote. I'd like to see a dimmer on the LEDs or just reduced light output but that's about it.
Conclusion
When working with multiple sources, a switcher is your only option. But what if you just want to extend the life of your display or receiver? For $130 bucks you can have an HDMI switcher that will allow you to use your 5 year old receiver for a few more years as you wait for the prices of HDMI receivers to come down. While there are plenty of switchers out there priced in the multiple hundreds, Impact gives you everything you need at a price that just about everyone can afford. If you're on the market for a switcher, you need look no further than Impact Acoustics.
Impact Acoustics 5-Port HDMI Selector Switch
$129.99 
Impact Acoustics 2-Port HDMI Selector Switch
$84.99 
Impact Acoustics
1501 Webster St.
Dayton, OH 45404
Phone: 877-AV-EXPERT (877-283-9737)
Fax: 800-331-2841 
About Impact Acoustics
Since 1984, Lastar has been a leader in the computer connectivity industry. Under the brand name Cables To Go, Lastar created a line of computer connectivity products known for quality and value. CTG uses the finest components and the latest construction technologies to maximize cable performance and ensure compliance to industry specifications for each cable and its designated application. From PC Cables and Adapters to Networking and Data Sharing products, Cables To Go has delivered the best products at an always-competitive price.
The Score Card
The scoring below is based on each piece of equipment doing the duty it is designed for. The numbers are weighed heavily with respect to the individual cost of each unit, thus giving a rating roughly equal to:
Performance × Price Factor/Value = Rating
Audioholics.com note: The ratings indicated below are based on subjective listening and objective testing of the product in question. The rating scale is based on performance/value ratio. If you notice better performing products in future reviews that have lower numbers in certain areas, be aware that the value factor is most likely the culprit. Other Audioholics reviewers may rate products solely based on performance, and each reviewer has his/her own system for ratings.
Audioholics Rating Scale
— Excellent
— Very Good
— Good
— Fair
— Poor
| Metric | Rating |
| --- | --- |
| Video Performance | |
| Build Quality | |
| Ergonomics & Usability | |
| Ease of Setup/Programming/Integration | |
| Features | |
| Remote Control | |
| Fit and Finish | |
| Performance | |
| Value | |
Confused about what AV Gear to buy or how to set it up? Join our Exclusive Audioholics E-Book Membership Program!
Recent Forum Posts:
westcott posts on May 06, 2008 18:11
PhillyDan1969, post: 367887
OK the monoprice 4X1 HDMI switch failed when I connected my Toshiba HD-A2 and my Motorola HD-DVR, so I am going to spend the extra $60 some dollars and grab the Impact Acoustics 5X1 HDMI switch!!!
IA 5x1 worked for me on the HDXA2, the DN VPN622, and the BD-P1200 when the monoprice would NOT!!!
westcott posts on May 06, 2008 18:09
mike c, post: 409666
will this switcher pass all the fancy audio formats?
It has for me, so far. Which is more than I can say for the one I bought from Monoprice.
mike c posts on May 06, 2008 12:19
will this switcher pass all the fancy audio formats?
bandphan posts on January 31, 2008 07:27
PhillyDan1969 posts on January 31, 2008 01:41
OK the monoprice 4X1 HDMI switch failed when I connected my Toshiba HD-A2 and my Motorola HD-DVR, so I am going to spend the extra $60 some dollars and grab the Impact Acoustics 5X1 HDMI switch!!!
Post Reply