DIY Cable Faceoff - Testing and Methodology
DIY Cable Faceoff - Testing and Methodology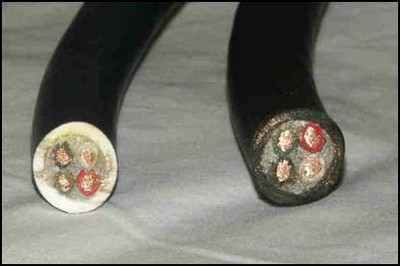 Figure 8
Cables from Lowes. 12/4 is on left & 10/4 is on right. Both have a 0.75" OD
Monster MCX-1S
I bought this cable from Tweeter when I bought my Mirage Speakers. The 10 foot pair of cables is $50, but, unless you want to use the pins, you need to purchase the Monster banana plugs or spades which cost another $12.50 for four (and you need a total of 8 for the pair of cables).
Parts Express
As the name implies, do not know the manufacturer, but thought is may be a nice to include. This is a 14 gauge, 4 conductor cable.
Sound King
I bought a 100 foot spool of 10 AWG speaker wire from Parts Express. I liked the large strand count. Anyway, I cut several 10 foot lengths of this zip wire and tested four variations of this cable. See Figures 9 through 12 for descriptions.
The same comment here as with the CAT 5 cables. As I started with many 10 foot lengths, the overall length of the speaker cable was somewhat shorter after twisting and braiding. This shorter length of each version is used below when determining Rs, Cp, and Ls on a per foot basis.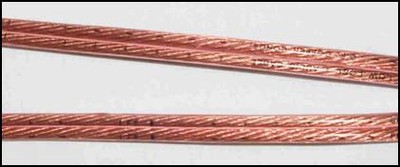 FIGURE 9
Sound King 10 AWG Zip Wire (V1 in following Tables)

FIGURE 10 
Sound King 10 AWG Twisted (V2 in following Tables)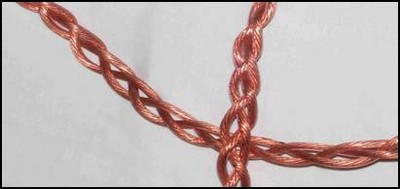 FIGURE 11 
Sound King 10 AWG Three Wire Braid (V3 in following Tables)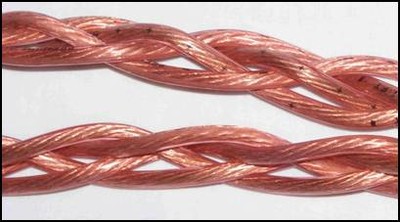 FIGURE 12
Sound King 10 AWG Four Wire Braid (V4 in following Tables)
Woods
This is a generic 25 foot heavy duty 12/3 extension cord purchased from Home Depot for $16.
Testing
All measurements were made on a BK Precision Model 885 LCR meter using the optional Kelvin Clips. This meter has several functions which are very suitable for my purposes. This meter can measure capacitance, inductance, and AC resistance at 100, 120, 1000, and 10000 Hz. However, since I'm using excel to plot everything in a log format I did not bother with the 120 Hz measurements. Prior to making each measurement, the meter was run through a self calibration test.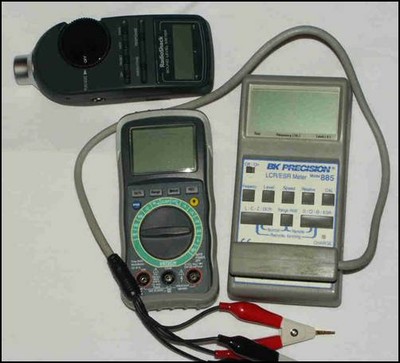 Figure 13 - Test Gear
Methodology
As stated above, the LCR measurements were made at 100 Hz, 1kHz, and 10kHz. The measured parameters were then averaged. The averages were used to evaluate the cables against each other and to cables from the two cable face-offs performed by Audioholics.
The evaluation process involved generating a dimensionless number based on linear interpolation.
By setting the worst case average, in each case this is the highest average, to 1, and the best average (the lowest) to 10, and interpolating for those averages between the best and worst to develop the dimensionless factors for all cables.
After all factors were calculated, weight factors were applied. These weight factors were arrived at after numerous email discussions between Gene DellaSala, John Escallier, and myself. For the most part, I just sat back and said uh-uh. Anyway, we arrive at the following weight factors.
| | |
| --- | --- |
| Resistance | 0.41 |
| Inductance | 0.32 |
| Capacitance | 0.27 |
| Technical Factor | 0.6 |
| Cost | 0.4 |
The way this system works is to apply the weight factor to the dimensionless factors for resistance, inductance, and capacitance and arrive at a Technical Weighted Ranking Number (TWRN). The TWRN then has the technical weight factor applied and is summed with the cost dimensionless factor and the cost weight factor to finally arrive at a Final Weighted Ranking Factor (FWRF). The highest FWRF wins.
This method was also used to compare the results of both cable face-offs, and the total combined results of my analysis and both cable face-offs. Check the tables, the results are surprising.
References: Speaker Cable Face Off 1 and Speaker Cable Face Off 2
Confused about what AV Gear to buy or how to set it up? Join our Exclusive Audioholics E-Book Membership Program!