Speaker Cable Faceoff 3 - The DIY Shootout
Speaker Cable Faceoff 3 - The DIY Shootout
by
Thomas Goldsworthy
—
April 30, 2005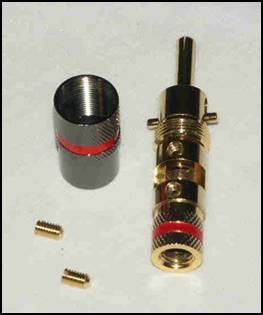 WBT locking banana connector
This effort is an offshoot of my search for a decent performing large OD cable, which will be used for my DIY speaker cables. When I bought my first really good pair of speakers, the salesman sort of talked me into a set of Monster MCX-1S cables. I had been/ am a zip cord type of guy and did not know any better. Well, after purchasing those particular cables, and speakers, I had a bit of buyers remorse. Not over the $1400 pair of speakers, but the $75 pair of cables. At the time, my wife and I were dismantling the recording studio we had in the basement and selling it off in pieces, and saving some for a home theater. And after a lot in internet searches, I found Audioholics among others, and my education really started.
I have always had a bigger is better philosophy, as well as a devote DIYer. So after reading all I could about speaker cables, I started on my path to building a bigger (and better) mouse trap. I wanted diameter as well as performance. I also had the tools to determine which was better. I have my own LCR meter, a BK Precision Model 885. Granted this is no Wayne Kerr model 6420 with unobtanium leads and a $15000 price tag like Audioholics uses in their Test Equipment Arsenal, but it is suitable for most home grown/military applications and cost less than $1000. Not much less, but less (even with the Kelvin clips). Nor does it generate gigahertz frequencies, it maxes out at 10000 Hz. Which is fine with me, after all I cannot hear anything over 16000 Hz so why test speaker cables at 1 GHz? Video cables are another matter, but not in this paper.
So, let's get to the meat of the order.
Cable Descriptions and Comments
The cables tested include some standard speaker cables, and some readily available power or control cable from various sources. I acquired all cable at my own cost. Costs range from $0.21/foot to $16.00/foot (of course to get this particular cable at this price you have to buy 1000 feet). Anyway, some of the cables were tested in a couple of different ways, and some were tested straight. The table below is a list of the tested cables and their construction.
Manufacturer

Model

AWG

Strand Count

Conductors Per Cable

Conductors Used

Construction

Alpha

85104CY

10

658 x 38

4

2

Twisted Lay

Carol

10/3

10

104 x 30

3

2

Twisted Lay

Carol

12/4

12

65 x 30

4

2

Twisted Lay

CAT 5

V1

12

16 x 24

4

4

Twisted Lay

CAT 5

V2

12

16 x 24

4

4

Flat Braid

CAT 5

V3

10

24 x 24

6

6

Twisted Lay

CAT 5

V4

10

24 x 24

6

6

Flat Braid

CAT 5

V5

10

24 x 24

6

6

Twisted Braid

Generic

10/4

10

104 x 30

4

2

Twisted Lay

Generic

12/4

12

65 x 30

4

2

Twisted Lay

Monster

MCX-1S

NA

NA

2

2

Twisted Lay

Parts Express

Part Number 100-768

14

41 x 30

4

2

Twisted Lay

Sound King

V1

10

413 x 36

2

2

Flat Lay

Sound King

V2

10

413 x 36

2

2

Twisted Lay

Sound King

V3

10

413 x 36

2

2

3 Wire Braid

Sound King

V4

10

413 x 36

2

2

4 Wire Braid

Woods

HD Contractors Cord

12

NA

3

2

Twisted Lay
TABLE 1
TESTED CABLES and CONSTRUCTION
Unless otherwise stated, all cables were finished with WBT Clone, crimp style, locking banana plugs (see Figure 1).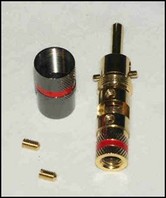 FIGURE 1
WBT Clone (GLS) Locking Banana Plugs use for all cable ends
Alpha 85104CY (10/4 shielded)
I acquired 48 feet at a garage sale for $25. I thought this might be great performing cable because of it's high strand count, shielding, and gauge. Internet research indicates a retail price of $16/foot through Allied Electronics with a 1000 foot minimum. It is a marine grade control cable, very flexible, with a very supple feel to it. If I wanted one cable to really perform in my test it would be this one, mainly because of it's ¾ inch diameter, and 3X bend radius. Only two opposing conductors were measured, leaving the adjacent conductors unused.
Carol Cable
I bought 50 feet each through Parts Express of 10/3 (Part Number 100-58 for $33.15), and 12/4 (Part Number 100-590 for $33.10). Price does not include shipping charges. I made three tests with the Carol 12/4 cable: The first test was made the way all other four conductor cables would be tested, in this method, only two opposing conductors would be measured. For the second and third tests, I made a rig so that I could use the two unused conductors to power a 500 watt photo lamp (second test) and drive a speaker playing pink noise (third test). The reason for the second and third test was based on my post in the A/V Connections Forum and my question to John Escallier (aka jnuetron) about how a signal may be affected by signals in near by wires.
T1 - Two conductors out of four used.
T2 - Two conductors used for evaluation purposes, and two conductors used to power a 500 watt photo lamp.
T3 - Two conductors used for evaluation purposes, and two conductors used to power a speaker playing pink noise at 75 dB C weighted.
Cat 5
I have read about using cat 5 wire as a speaker cable, but I was not that interested in braiding all those tiny wires hundreds of times. Then I though that since the wire pairs run rather loosely inside the outer covering, how would they test out if I made speaker cables using the entire package? Since cat 5 is just a twisted bunch of 24 gauge wires, I figured that 16 wires was roughly equal to 12 gauge litz wire and 24 wires was roughly equal to 10 gauge litz wire, viola, 4 and 6 individual lengths of cat 5 would be all I need. I took about 100 feet of cat 5 wire where I work and cut it into 10 foot lengths, attaching all wires (left inside the sheath) to banana plugs (see Figure 7). The prices shown in table 5 are based on prices from Parts Express and the number of 10 foot lengths used and does not include the connectors. I used these cables in five different variations using 4 or 6 cables. See Figures 2 through 6 for descriptions.
As I started with many 10 foot lengths, the overall length of the speaker cable was somewhat shorter after twisting and braiding. This shorter length of each version is used below when determining Rs, Cp, and Ls on a per foot basis.
FIGURE 2
CAT 5 - V1 Four Twisted Cables
FIGURE 3
CAT 5 - V2, Four Cables Braided


FIGURE 4
CAT 5 - V3, Six Twisted Cables
FIGURE 5
CAT 5 - V4, Six Cables Braided
FIGURE 6
CAT 5 - V5, Six Cables in Three Twisted Pairs Braided
Typical Cable Ends Finished for Testing
Generic
I do not know the brand name of these cables, but they are available at Lowes. The 10/4 cost $1.74/ft and the 12/4 costs $1.46 per foot. I purchased these after being very impressed by the supple feel, flexibility, and large diameter. Both cables have some sort of polyester fill between cables, and the 12 gauge cable has a white polyurethane sheathing inside the rubber external sheath. Both cables have the same OD. 20 feet of each was purchased and the entire length was used in testing.
Confused about what AV Gear to buy or how to set it up? Join our Exclusive Audioholics E-Book Membership Program!