Preview: Dish Network One-Ups CableCARD with USB and Microsoft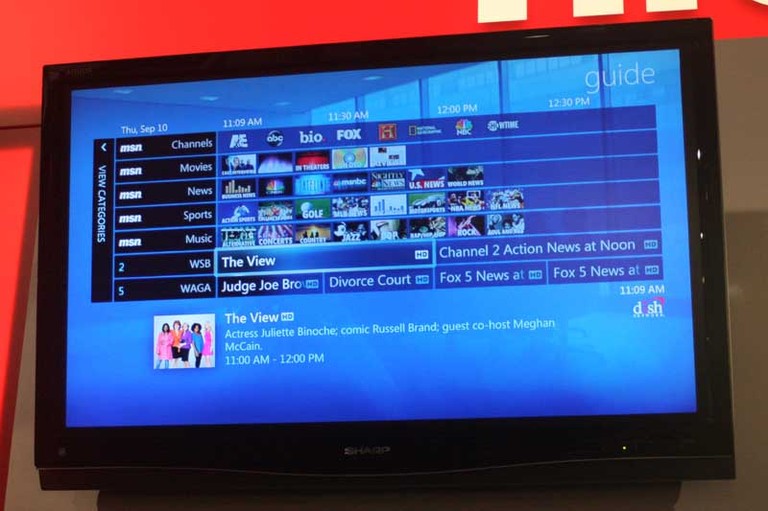 Dish Enters Windows MCE
Summary
Product Name:

USB HD Tuner Integration

Manufacturer:

DISH Network

Review Date:

September 11, 2009 16:50

MSRP: $TBD
First Impression:

Pretty Cool
Executive Overview
We don't have a ton of info on this, but DISH Network was demoing a cool new technology that made use of Windows 7 Media Center and integrates Dual HD Tuners via USB. What's so interesting about this is that it bypasses the ridiculous CableCARD format in favor of using the existing USB standard. What? Bypass an all-but-failed CableCARD format for a standard already used and which takes up less space and can be more easily integrated into existing equipment? That's preposterous. Apparently, someone over at DISH Network (and Microsoft) are putting on their thinking caps and doing some real innovation in terms of bringing DISH to Windows Media Center.
This is excellent news and the interface was pretty robust, offering a ton of meta data that can be viewed regarding television shows and movies. When we took a look at the proof of concept it was clear that DISH has been working hard to provide their service as a seamless integration within Windows Media Center. With the promised stability of Windows 7 (of course this remains to be seen) 2010 might be the year we see more and more Media Center integration into the living room - especially with proliferation of inexpensive laptops that include HDMI.
Since the proof of concept uses two USB ports, this means that you can both view and play back an HD stream at the same time. It will be interesting to see if the system ultimately requires another USB port for each tuner or if there is a more efficient way to transfer the data for additional recording and playback streams.
You won't see much more info on this from DISH network since it's preliminary, but it's certainly encouraging and we look forward to seeing it deploy.
Unless otherwise indicated, this is a preview article for the featured product. A formal review may or may not follow in the future.
Andy S posts on September 11, 2009 19:06
I think there is some confusion here. CableCard tuners currently work via the USB bus. In fact, even the PCI internal cards plug into the motherboard USB header, and the tuners show up as a network device within Windows.

This is basically the same functionality that CableCard provides, although this proof of concept is slower than cablecard on channel changes. See the EngadgetHD post w/video. (I can't post links here because I don't have enough posts yet…but it was posted yesterday).

Additionally, CableCard was opened up to be available to use with all PCs, where in the past it was limited to a select few OEM models. And there are MOCUR multistream tuners that will support 2, 4, and possibly 6 tuners per cablecard. CableCard was also announced to support SDV (Switched Digital Video), which is spreading around to allow cable providers to add more channels by only sending the ones requested to your house instead of all of them all the time. This should make it easier for enthusiasts to get into media center, much as they would do with a TivoHD using cablecards. Anybody can plug in the tuner and use it either via a PC attached to the TV or via an extender like the Xbox 360.

DirectTV was also working with MS on a tuner, but they as well as Dish both put their projects on hold, even though both setups supposedly were working and the Dish project even had a beta program.

So the CableCard solution for all of us is official. The other two hopefully will make it out as well, but there have been no announcements other than the projects were put on hold. It is odd that Dish would come to CEDIA with this after announcing about a month ago they had stopped the project, so I'm hoping it will see release at some point.
jinjuku posts on September 11, 2009 18:04
Finally, after years of vaporware this product sees light of day…
Post Reply
Confused about what AV Gear to buy or how to set it up? Join our Exclusive Audioholics E-Book Membership Program!