Apple iPhone Multi-touch Technology and Flick Scrolling
Apple iPhone Multi-touch Technology and Flick Scrolling
I put the iPhone in the cradle, and it immediately fired up and said something like "activated" on the screen, and began syncing with my MacBook Pro.  About five or ten minutes later, it had completed the sync which included photos from my iPhoto library, songs, TV shows and movies from my iTunes library.  It also synced all of my contacts, my calendar and my bookmarks from Safari (Apple's web browser). 

Probably the coolest thing to me, though, was that it automatically configured my 3 email addresses their corresponding mail servers.  Let me repeat that - I did not have to configure my email.  I have 2 earthlink addresses and one .mac address.  I went into settings and it was all there, including passwords, incoming and outgoing mail servers.  The email application on the phone is a full-blown email client, as is the web browser.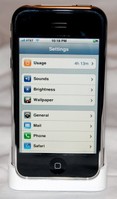 The iPhone is based on "multi-touch technology," which allows for the many interesting touch screen interface operations.  While many manufacturers are working on this technology, Apple is the first to bring it to market.   Operations such as the slider and "flick" scrolling are examples.  What is "flick" scrolling, you ask?  If you are in the phone mode, looking at a list of your contacts, just take your finger and "flick" up or down on the screen, and the contacts list scrolls up or down, at a speed determined by the thrust of your flick.  Imagine watching a video slot machine in Vegas - it's that kinda thing.  Another interesting use of the multi-touch is when you are viewing a web page or a photo.  If you want to enlarge what you are looking at, take your thumb and forefinger and place them on the screen as if you are squeezing, and expand them.  The image enlarges.  Bring them back together (think "pinch"), and the image reduces.  It is really cool, and a totally effective way to surf or navigate photos or Google maps, for example.
As for size, the iPhone is slimmer and smaller than I expected.  It is .46" thick, and is 2.4" wide by 4.5" tall.  In comparison, it is less than half the thickness of my trusty Nokia 6620, and if the Nokia were not rounded it would be about the same size (width and height).  It weighs a mere 4.8 oz.  The rear of the phone is constructed of what feels like anodized aluminum with a small black plastic section on the bottom (which would presumably be the location of the antenna).  The front of the machine is black with a chrome trim around the perimeter, and the screen is a gorgeous 3.5 inch diagonal widescreen with 480 x 320 pixel resolution at 160 dpi.  There is only one button on the front face - a round "home" button centered at the bottom and flush with the surface.  On the left side is a volume rocker and a mute switch to silence the ringer.  On top of the unit you will find the headphone jack (more on that below), the SIM card slot, and the on/off button.  When a call comes in, pressing the on/off button once silences the ring, pressing it a second time sends the call directly to voicemail.  When you flip the ringer switch on the side of the unit, the screen shows an icon of a muted bell and a short vibration lets you know you have entered silent mode.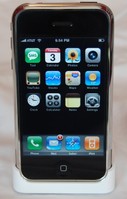 The 2.0 megapixel camera lens is located in the top corner on the rear of the phone, and the camera seems to take decent photos, although I have not yet tried anything critical.  The phone is Quad-band GSM, operating at 850, 900, 1800 & 1900 MHz.  For wireless data, the phone operates using Wi-Fi (802.11b/g), EDGE, and Bluetooth 2.0 + EDR. 

Much has been discussed about Apple's decision to go with the slower EDGE technology.  Last week some users reported exponential speed jumps in AT&T's EDGE network, leading some to believe that AT&T and Apple had been working on a speed bump, but that has not been confirmed.  Apple has responded to the criticism by suggesting that many people find themselves in a Wi-Fi area more often than not when using their devices, so they opted for the robust Wi-Fi system for the iPhone.  Apple tends to think forward rather than current, so this makes sense when you start to think how many people have Wi-Fi at home and at their office, and with everyone from Starbucks to airports to entire cities beginning to offer wireless net access, they assume that this is where things are headed. 

Also included as features of the iPhone from the home screen are SMS Text Messaging, Calendar, Photos, YouTube, Stocks, Maps, Weather, Clock, Calculator and notes.  And of course, a full-featured, touch screen video iPod.

Confused about what AV Gear to buy or how to set it up? Join our Exclusive Audioholics E-Book Membership Program!
Recent Forum Posts:
avaserfi posts on July 10, 2007 15:44
birdonthebeach posts on July 10, 2007 15:42
Very good points, dvolk. I agree with your observations, and they line up with Apple's recent history of product introductions. Innovate and price accordingly, and they will come.
dvolk posts on July 10, 2007 15:07
GSM-only strategy makes sense for iPhone

There are a few points to highlight when discussing the "shortcomings" of the iPhone. In reality, they may prove to be shrewd business decisions by Apple, but only time will tell. In no particular order…
1. Apple likely chose the GSM-Edge network due to the worldwide size of that market – the vast majority of European and Asian markets use the GSM technology, not the EVDO standard in much of North America. This choice expands the number of markets and potential for rapid growth, economies of scale, and establishing a foothold in multiple regions before competitors copy the technology and introduce their own knock-offs.
2. Feature set – smartphone, email, iPod, video – these features are targeted at the upper end of the consumer segment and not at business users. This segment is highly mobile, has a greater amount of personal time, likely spends more time than average commuting (via public transit or in groups), and has a relatively high level of disposable income. The target is likely the 16-34 year olds who are already users of the iPod and are OK spending >$500 on the latest technology (iPod, PS3, or the original web phones).
3. Manufacturing limitations – you can only build so many units in a given time frame, so why not position your product at the high end of the market and get the feedback from people with a history of using high-end products and make adjustments over time.
4. Mid-market consumers and business users are more price sensitive and less tech-savy than most people realize. If Apple tried to be everything to all people, they would satisfy no one and end up tossing their iPhone on the pile of "nice ideas" like the Newton. Different versions on other networks are likely to arrive in the coming years as the bugs are worked out and the adoption rate increases.

Final comments: The wealth of new technologies in this device are likely to raise the bar for all manufacturers. The key for Apple is to position this device as a good phone with a great combination of iPod and email features. If they are successful, they have a chance at competing in a much larger market – cellphones – rather than being relegated to a niche device manufacturer (iPod).
birdonthebeach posts on July 05, 2007 15:49
I certainly agree that this is a first generation product with things missing. And it is not for everyone. But it is always funny to me that people are saying "don't jump on the bandwagon" and things like that.

It is what it is. Not perfect, not the end-all, but a cool little device. People don't say not to jump on the Treo or Blackberry bandwagons ("they don't have an iPod" or "they don't have visual voicemail" or "the email is not full-featured," etc.).

It's a matter of taste. The price will keep many people away. The lack of alternate carriers will keep many away. The list goes on. Those that buy one will probably love it. Those that don't will probably be pretty critical of it. Both opinions are justified.

The more I use it, the more things I find that I wish were better or different. But I also find more and more that I love about it.
zoran posts on July 05, 2007 13:56
mine got shipped from china, will be here tomorrow
Post Reply