Line 6 AMPLIFi TT Guitar Effects Processor FBV Shortboard MKII Pedal
Line 6 AMPLIFi TT Guitar Effects Processor FBV Shortboard MKII Pedal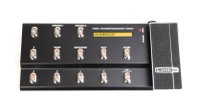 The AMPLIFi TT is more than just a very powerful home theater interface for your guitar.  When adding the FBV Shortboard MKII foot controller and powered speakers, the AMPLIFi TT is gig worthy too.  This simple-to-use Shortboard MKII pedal has 16 well-conceived foot switches and a Volume/Wah pedal.   It is also very compact when compared to the Line 6 POD HD500.  Four of the bottom switches allow you to instantly access your pre-programmed tones.  There are also separate switches for a Stomp Box, Modulation, Delay and Reverb, so you can turn on and off the effects with the tap of a button.  The Volume/Wah pedal is dual function and the compact size is comfortable on the foot without being overly bulky as some Volume/Wah pedals can be.  With a slight downward tap to click, you can switch between a volume pedal or access a library full of well-known Wah-Wah pedals.  The best part about this FBV Shortboard MKII pedal is that it is connected with nothing more than an RJ-45 cable, which is the same as an Ethernet cable.  The RJ-45 is for connectivity and power so there is only one cable coming from the pedal to the AMPLIFi TT, making connecting it clean and simple.  And, there's one less power supply to worry about too.
My only issue with this pedal at first was the built in Chromatic Tuner.  The tuner has four brackets that go down to three, to two, to one and then to two stars when in tune.  I noticed that it seemed jittery when doing the slightest amount of tuning on my guitar.   The Chromatic Tuner went from four brackets to one bracket or two stars too quickly to be accurate.   I brought this to the attention of Line 6 and after their investigation and agreement they put out a firmware upgrade to correct the issue, though I didn't have an opportunity to validate it. 
Flat                                                      In-tune                                               Sharp    
The Soundstage
AMPLIFi TT and Yamaha RX-V2600 Home Theater Receiver
My home theater system includes the Yamaha RX-V2600 along with custom RBH Sound T-2 Towers combined with custom modified Signature SE/R center and surround speakers.  My first listening experience with the AMPLIFi-TT was through this system set to 7-channel stereo.  At first, the volume settings on the AMPLIFi TT and home theater receiver can be confusing.  When selecting a clean amp setting, some people may be inclined to turn the AMPLIFi TT volume to nearly maximum, and adjusting the receiver volume high as well in order to compensate for the low gain.   But because of the sudden volume issue described earlier, it is better to keep the physical volume knob of your home theater system low at first and use the settings in the software to help boost the overall volume with gain.  Once that is set, then turn up the home theater volume and use caution when switching models again.
It was incredible to hear my guitar play through my 5.1 home theater system!
It was incredible to hear my guitar play through seven channels of three-way speakers.  The clarity and brilliance of the soundstage was stunning.  I marveled that Line-6 even included simulated tube buzzing on certain models with high gain.  The tube buzz changed in pitch and volume to match the actual tone of the amplifier it was simulating.  Feedback at high gain settings also seemed to come natural and was controllable by palm muting the guitar strings, just as you would when crunching on a mega British stack.  Switching to a Clean Jazz setting and hitting the neck pickup allowed me to emulate the tones of some of my favorite Jazz artists at the touch of a finger on the phone app.  Volume matching the guitar to the song playback was a piece of cake and could be done either by the App or manually on the front panel dial knob.  Pushing the button inward turns the LEDs from white to red and allows you to change the music or guitar volume to match.  When the volumes were matched and the right tones were selected, it was a seamless sound of the playback music and my actual guitar playing.  I pulled up John Mayer's Born and Raised, selected a user library tone that matched his guitar, and started doing amazing fills between the vocals.  My wife from another room asked if I was playing the fills or if it was a new version of the song.  The sound between instrument and playback was seamless.
AMPLIFi TT and Line 6 StageSource L2m Powered Speaker
I do quite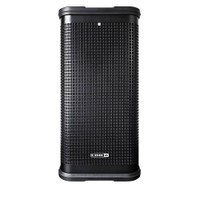 a bit of open mic nights around town.  Being an owner of the Line 6 DT50 212 has proven difficult on my aging body and bad back as moving a near 70-lb amp from house, to car, to bar, to car, to house always proves to be a struggle.  If you're like me, I think it becomes more important to have equipment that is lightweight, easy to move and simple to set up.  This is especially true during an open mic night where time and sometimes space on the stage is limited.  I took the AMPLIFi TT, MKII foot controller and Line 6 StageSource L2m powered speaker to an open mic night to see if I could finally leave my hefty guitar amp and pedals at home.  I am now convinced that we are in a time where it is no longer necessary to connect tons of analog pedals with various power supplies to a heavy guitar amp that is then in turn re-amplified via a microphone to the house PA system.  Instead, with one ¼" cable from your guitar to the MKII, one RJ-45 cable from the MKII foot controller to the AMPLIFi TT and two RCA cables from the AMPLIFi TT to the StageSource powered speaker, you are done!  The StageSource series of powered speakers offer several groundbreaking features.  A powerful Sharc DSP is used to give the user options for the speaker setting that include Reference/PA, Playback, Floor Monitor, Electric Guitar, Acoustic Guitar and Keyboard.  These speakers also include an accelerometer that allows them to identify if it is horizontal or vertical and to automatically reconfigure the speaker mode setting accordingly.  Some models also include a digital mixer.  My preference was to test drive the L2m simply because it was the smallest and lightest weight speaker in the Line 6 line-up.  I was very impressed with the tightness of the 10" driver and the clarity of the horn speaker.  Although I missed some of the liveliness of my big DT50 212 amp, the combination of the AMPLIFi TT, MKII foot controller and StageSource L2m proved to be gig worthy with a substantial weight decrease and a considerably easier method of connecting.  I was able to ease through my four pre-sets and turn on and off effects pedals at will.  The sound was great for the open mic night and setting up has never been easier.
AMPLIFi TT Wish List
The AMPLIFi TT is a formidable pre-amp guitar effects processor with a wide range of uses and groundbreaking features.  But even with that, there are a few areas where the product can be improved.  For starters, there is no loop feature when combined with the MKII pedal.  And as mentioned earlier, there is no volume surge protection.  This is a big issue for me especially when connecting the unit to a home theater receiver.  It is far too easy for someone to go from a clean jazz amp setting with low gain to a library setting with high gain and be slammed to the next room with a sudden volume increase.  This surge can also blow a home theater receiver and/or speakers. 
Line 6 seems to have done a great job in tailoring this product to the electric guitar musician.  But, if they push the envelope a bit further, I believe they can do more with this product to appease both the acoustic guitar and bass guitar players.  For an acoustic guitar, this would mean creating new amp models that have high frequency settings built in to highlight the wood tone subtleties of a high quality acoustic guitar.  It would also be nice to have similar processing capabilities of a Fishman Aurora or Zoom A3, for example.  The same holds true for the bass guitar side with well-known amps and effects. 
Another feature that I'd like to see in a future version of the AMPLIFi TT is a separate channel for a microphone input.  This would make the AMPLIFi TT much more useful when taking out to gigs and open mic nights, or even practicing at home if you are a vocalist and guitarist.
Since Line 6 has now bridged the gap between home theater and pro-audio, it makes me wonder how far this technology can go.  For example, what if a future version of the AMPLIFi TT was set up to do HD Audio?  How amazing would it be to have a compact box like this with an HDMI output that will allow the guitarists to simulate multi-channel effects on their 7-channel home theater system, and play and record in HD Audio?
Confused about what AV Gear to buy or how to set it up? Join our Exclusive Audioholics E-Book Membership Program!
Recent Forum Posts:
Hobbit posts on March 24, 2015 01:16
Band practice just finished Thanks for the review! Nowadays I play through a Fender Mustang III. I find these modeling amps in the Fender and Line 6 lines amazing. So much so I can't remember the last time I played through one of my tube amps….
gene posts on March 22, 2015 23:57
The Line 6 AMPLIFi TT guitar effect processor is a groundbreaking product that allows any musician to connect to their home theater system for practicing, and to take a compact, lightweight and easy to connect system to their gigs. The ability to use a simple software app via Bluetooth to control, program and customize the AMPLIFi TT to sound like your favorite guitarist, or to create your own signature tone, is revolutionary in the pro-audio arena. Line 6 has crossed the threshold from Pro-Audio to Home Theater with an amazing dual purpose product.




Read Line 6 AMPLIFi TT Guitar Effects Processor Review
Post Reply