Spock's Beard Band Interview
Spock's Beard Band Interview
AH:
What can you tell us about the pending new release?  Title, inspiration and how it differs from previous SB music?


DM:  It's most likely going to be a two-disc set.  Perhaps a standard edition with just the main disc and a special edition that also contains a bonus disc with some extra tracks on it that didn't make it onto the main disc.  I'm not sure how they'll market it yet, but that's what has been talked about.  It is still in construction phase, but it promises to be a really good CD, right up there with our last one "X".  There are a couple collaborations between Al and Neal Morse, so that will be interesting as well.  It's hard to answer how it differs from previous SB music because especially in recent years, as you said in your interview, each CD is really different from the last, and this one will be equally as different from the last few.  The obvious difference is that Jimmy is now playing drums on the CD, and Ted will give the vocals a different dimension.
JK: I think with each release, the band gets a little more fearless and the writing a little more concise. Even though "X" had fairly long songs, it felt like everything moved and changed for a reason. Concise doesn't have to mean short.

AH:  Where has Spock's Beard found their inspirations and themes post Neal Morse?
DM:  All different places for me.  I've even gotten inspiration from a television commercial.
AH:  Is Spock's Beard embracing digital recording on the pending title?
DM:  Yeah, we've been doing that for pretty much the entire history of the band actually.  A long time ago it was tape based digital recording, mostly ADATs, then when we started recording at The Mouse House with Rich we went fully ProTools.  We have occasionally recorded some instruments to tape for more of an effect than anything else, but it's been primarily digital tracking.  We do mix to ½" analog tape though, it has a nice sonic quality to it.  We've been doing that for the last couple CDs and are doing it this time as well.  But then after it's mixed, it goes back to digital for mastering.
AH:  What Country/Location does Spock's Beard find most of its success?
DM:  Europe and UK.

AH:  Does the band have any regrets since its inception?
DM:  Well, not really a regret, but it would be really cool to somehow know how the band would have done had Neal not left when he did.  It felt like we were really on the verge of something at that time, but we'll never know how it would have played out.    
JK: Well, you wouldn't know me and that's bad!
AH:  Will you be embracing any HD Audio formats for this and prior releases?
DM:  Not that I know of.  
Meet Jimmy Keegan:
AH:  How did you learn to drum and who were your influences?
JK:  "The Song Remains The Same." John Bonham hit me like a ton of bricks. My brother Dennis played that for me and I was hooked. I had a few teachers who focused on technique and reading but most of my learning came from doing. I would do any kind of gig I could get. As for other influences, Phil Collins, Stewart Copeland, Terry Bozzio, Jeff Porcaro and lately Gavin Harrison but this list could go on and on.
AH:  How did you get hooked up with Santana and move to SB?
JK:  I had worked with the two primary writers, KC Porter and JB Ekyl, before. KC is the Latin king. He's worked with everybody. Both of them happen to be Baha'i's. They are a tight community and the word spread fast. Before I knew it, I was doing all kinds of projects for members of the Baha'i faith. Fine by me. It was all great stuff and there are many great artists in the community (Mike Porcaro who, besides playing for Toto, played with me on the record). So KC and JB had been, sort of, commissioned to write and track a few songs for Carlos. JB was my champion but KC was kind of an old school guy and insisted on his regular names. A list of drummers found their way to KC's studio and all tracked very predictable standard tracks. Good but zzzzzzz! JB finally got through to KC and Mike and I were brought in (we did a record for JB together). We determined what was lacking in the previous sessions and presented ideas that KC and JB loved (mostly Mike's ideas). We tracked five songs of which Primavera was on the original CD and One Fine Morning was included on the Legacy release.
Nick was my connection to Spock's. We were both in cover bands in the LA Orange County area and if you are a singing drummer, you are aware of all the other guys because you inevitably need a sub. Nick and I went a long time without meeting face to face because we were always working at the same time. Eventually we both ended up with gigs on the same night but down the street from each other. So on breaks my band would go sit in with his band and vice-versa. It made the otherwise quiet evenings fun. When the whole deal with Neal went down, I made some passing jokes and let him know I was available to be his Chester Thompson. He called a short time later and after a bit of schedule adjustments, I took the gig. As for the current situation, it was just simple logic. Fortunately for the guys, there was no learning curve. We were already friends and had a long span of time playing together. Easy-peasy! No stress. I'm not filling Nick's shoes by myself, either. It takes two of us to do that.
Meet Alan Morse:


AH:  You seem very capable of playing any style of music.  Some songs include amazing finger picking while others include shredding leads combined with strategically placed melodic sustaining notes.  How did you learn to play and who are your influences?

AM:  I started playing bass, first in the school orchestra (they already had enough violin players!), then in a band with my brothers. I was a pretty crappy bass player though - no rhythm, like "lead bass," way too many notes!  Switched to Guitar, much better! Took a few lessons from a fingerpicking style guy, then mostly self taught after that. 
My biggest influences were Mick Ronson, The Beatles, Jimi, etc. 
I really can't play "any style." I'm mostly a rock guy, with some folky fingerpicking. I'm pretty much at sea with "real" jazz or classical ... But, thanks for saying that!
AH:  From the SB website, your equipment list is all analog.  Have you considered the digital world and if so, what are your thoughts and perhaps favorite products?
AM:  I use some digital stuff live, a Digitech RP-20 and whammy pedal, but I do prefer vintage stomp boxes. I have a 60s uni-vibe that really kills, and an old DOD 280 compressor that's my secret weapon, I use it all the time! I have a Digitech space station pedal and Moogerfooger ring modulator for really trippy stuff. But really the coolest thing is the Sustainiac pickup on my Strat. That's what gives me all the crazy sustain and squealy harmonics. Gotta have that!
Meet Ted Leonard: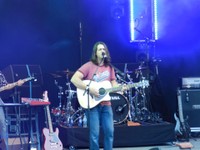 AH:  The first release from Enchant titled, A Blueprint of the World had similarities to Kansas with a perfect blend of progressive and classic rock.  But the second release, Wounded reminded me of Emerson, Lake & Palmer releasing Love Beach.  What happened and how did the band end up going more mainstream?  Was that the demise of Enchant?
TL: I didn't realize Enchant met with any demise.  The first album was written over the course of about 6 years and the second and all others were more reflective of where our influences were at that time.  After touring with Dream Theater, I suspect we all realized that our strength was writing good songs and not necessarily gratuitous displays of technical proficiency.

AH:  Your vocals are spot on and seem at a higher level than most lead singers in the industry. Were you formally trained as a singer? 
TL:  Thank you.  Yes, I did have a vocal instructor.  After the grueling process of recording Blueprint, I realized it was very necessary which is why my voice sounds so different between the 1st two albums.  In some ways, I don't think I figured out what kind of singer I wanted to be until Time Lost. 
AH:  Who are your vocal influences?
TL: Power and soul are what appeal to me most as a singer.  Steve Walsh, Paul Rogers, Joe Lynn Turner, Doug Pinnick all have these attributes.  For their ability to really sell an emotion, I also dig Steve Hogarth and, well, Neal Morse...there I said it!
AH:  What do you feel you will bring to Spock's Beard?
TL: Spock's has never lacked for great vocals so I guess what I bring is my own unique style and interpretation.  I have a bit more melancholy in my delivery for whatever reason and I think a really strong melodic sensibility.   These coupled with the great song writing that this album already has should make for something really special.
Meet Dave Meros: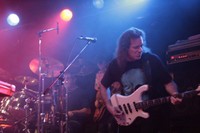 AH:  You mentioned once that Chris Squire is one of your favorite Prog-Rock bass players.  Who else is on your list of influences? 
DM: Instead of the guys who could play the fastest, it was mostly the writers of great bass parts during the period I was growing up that I was inspired by the most and that made me think that bass might be something that I'd love to play someday (that was in the 60s and 70s):  Paul McCartney, John Entwhistle, James Jamerson, Carol Kaye, Francis Rocco Prestia, Marcus Miller, Jaco Pastorius, and the list goes on and on.  
AH:  Are you a pick man, finger pick player or both? 
DM: Both.  I started out with fingers and since I don't play guitar it  actually felt very awkward to develop pick technique, but there are times where you just gotta use a pick, so I worked at it until I became comfortable with it.
AH:  You seem loyal to Rickenbacker basses.  What else have you played and what is your top pick thus far? 
DM: I got into having a Ric when Spock's Beard started, mainly for the prog rock vibe that Rics have.  Before that it was mainly Fenders of various flavors and the occasional boutique instrument or weirdo bass like the Vox Phantom IV I had for a long time.  Hard to pick a favorite.  It depends on the song and what works the best in any given situation.  I've been playing a Music Man a lot lately, and since I put a Full Contact Hardware bridge on my Carruthers 5-string I can't stop picking that one up.  

AH:  Why did you join a band that was Progressive Rock in nature, since it likely wasn't the money? 
DM:  It's funny what fate throws at you.  I specifically remember thinking around that time that what I was doing musically was really cool but I was sort of stagnating and really needed something challenging and inspiring to keep me going.  Then about a month later, out of the blue, Al called.  We hadn't talked in a while, so there was some chit chat and catching up, then he told me about some really cool songs that Neal had written about a year before and asked if I would be interested in hearing them.  I don't even think he even mentioned anything about possibly joining the band at the time, he just wanted to know what I thought of the music. 
So. .. I got the tape, it was a little quirky for my taste at the time, but it was EXACTLY the kind of thing I had been subconsciously hoping for, and when Al said that they were planning on doing a couple of gigs and asked if I would be interested in coming to a rehearsal I jumped on it.
Meet Nick D'Virgilio: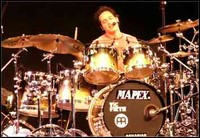 AH:  Can you provide some details about your involvement with Cirque Du Soleil?
ND:  Cirque has 21 different shows going on worldwide. The show I am in is called TOTEM and right now we are touring around North America. Currently we are in Washington DC and then we move onto Atlanta in October. It is working out that we are in a different city about every 2 months.
AH:  What type of performance do you do with Cirque Du Soleil?
ND:  I'm the drummer, one of the lead singers, I play guitar on a couple of tunes, and I am also the asst band leader.
AH:  How can fans see you perform?
ND:  Go to the Cirque website www.cirquedusoleil.com and all of their shows will come up. Just click on the TOTEM page and it will show where the show is at that time. If it is anywhere near where you live just grab a ticket and come on out.
AH:  how did you get involved with the organization?
ND:  Work was slow and so was money. I was trolling the internet and found out how to send in audition material to Cirque online. It took a good long time but they eventually called me and offered me this gig. They also said I would be able to bring along my wife and 2 kids and that made me say OK, I'll give it a try. It's been over 2 1/2 years already.
AH:  Do you intend to get back into playing for a band again either as a member or studio drummer?
ND:  Of course and I never stopped. I am involved in 2 different projects that have just recently been released. One is the band BIG BIG TRAIN - http://bigbigtrain.com - and the new CD - English Electric (part one) -  has just recently been released and is chock full of gooey progressive rock. A really great CD.
Another great project I have been blessed to be involved with is the band MYSTERY from Montreal Canada.  http://www.unicornrecords.com/mystery/  Their new CD THE WORLD IS A GAME has also just been released and again is another great prog offering.
I also just performed Kevin Gilbert's rock opera "THE SHAMING OF THE TRUE" this past August in Whittier CA that will be released on DVD and CD later this year.  I'm still going!
AH:  Do you intend to regroup with Spock's Beard after you complete the Cirque Du Soleil tour?  
ND:  I will never give up on the chance to jam with the guys again. I was in that band from the beginning and for 20 years. Some of the best musical and life memories I have had. I wish them all the best with what they are going for and we will just have to see what life brings to the table and take it from there. I have stopped trying to predict those kinds of things.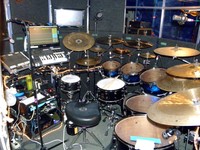 AH:  Who are your drummer influences and how did you learn to play?
ND:  Phil Collins, John Bonham, Tony Williams, many funk and R&B drummers. Really too many to mention but I grabbed some sticks when I was about 4 years old and listened to all the music my older brother and sister listened to.
AH:  Tell me about your best drum setup and what's included.
ND:  I play Mapex drums and use their SATURN series drums. Along with Meinl cymbals and Aquarian drumheads and I hit them all with Vic Firth drum sticks. It is an 8 piece kit with 3 rack toms ( 10,12,14") and to floor toms (16,18") and 22" kick and two snares drums. A 14" main snare and a 10" side snare. This picture shows the drum set I'm using for Cirque Du Soleil.

Check out this song sampler of Spock's Beard's soon to be released album coming this fall:

Confused about what AV Gear to buy or how to set it up? Join our Exclusive Audioholics E-Book Membership Program!
Recent Forum Posts: