Best Buy Caught Tricking Customers Again, Now It's HDTV Calibration
Best Buy Caught Tricking Customers Again, Now It's HDTV Calibration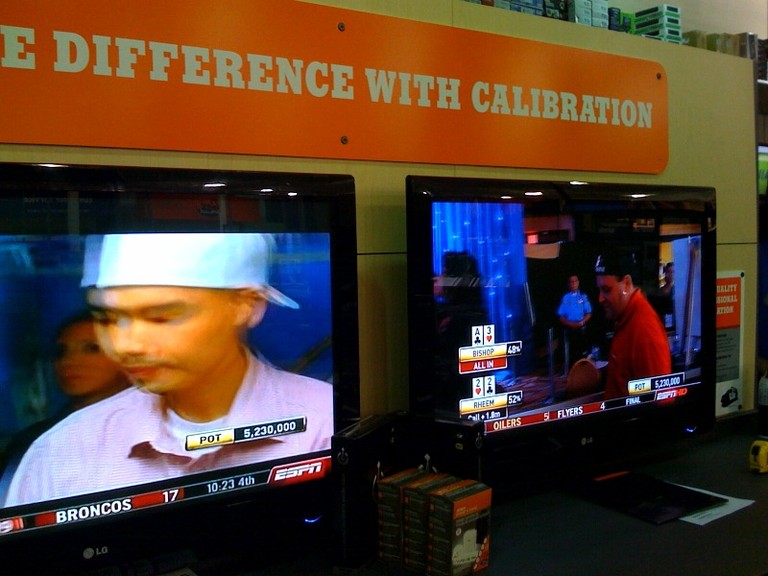 Wow, those Best Buy technicians are amazing, aren't they?
Electronics retailing giant Best Buy is stooping once again to generate business, showing they are willing to go to any length to get it, and they are certainly not going to let truthfulness or ethics get in the way.
HDTV calibration, as we here at Audioholics talk it up, is a good thing.  A properly calibrated television balances color, providing a more natural viewing experience.  It does not make crappy SDTV signals look less blurry and distorted.  Best Buy is counting on uninformed customers not knowing the difference to sell Geek Squad branded HDTV calibration services.
In its report, The Consumerist has reprinted a letter from Robert detailing his experiences HDTV shopping at the local Charlotte NC Best Buy.
Seems Robert went HDTV shopping at Best Buy for his father and noticed something odd about the Geek Squad HDTV calibration service sales display.  The HDTV showing the benefits of calibration was tuned to ESPN HD and unsurprisingly showed a crisp detailed picture.  The other before HDTV, of identical model, had a blurred and grainy picture, but not because of the skills of the Geek Squad.  According to Robert, the before HDTV was also tuned to ESPN, but not the HD version, which Best Buy employees had gone to some lengths to disguise by hiding the SD channel logo behind a sign advertising extended warranty plans.
Robert spoke with several sales people about this discrepancy and called them out on the deception after receiving some questionable claims and defenses.  At first, the employees insisted the improved picture was entirely due the skill of the Geek Squad's color calibration services, which also would somehow magically reduce power consumption by 30%.  After finally admitting that the crappy HDTV picture was just stretched SD, the employee claimed that they didn't know where the remote was so that is why they were tuned to different channels.
Robert went about his business and as he prepared to leave 10 minutes later, he noticed that the Best Buy employees had made no effort to find the remote and rectify the discrepancy.  Not surprised, Robert decided to document the deception with a camera phone to share with the rest of us.
For those readers familiar with the big box store mentality, this should be no surprise.  When not being sued by the Attorney Generals of states like Ohio and Connecticut for deceptive business practices including repackaging used goods for sale as new and running an alternate, in store kiosk based intranet designed to look like the Best Buy web site other than prices that are higher than those advertised on the web, Best Buy lawyers are falsifying evidence released to plaintiffs during discovery during lawsuits and the company is being fined by the FCC for failing to follow rules about identifying soon to be obsolete analog TVs before unloading them on unaware customers to clear out stock and then fighting those fines, not over innocence, but over legal technicalities of FCC jurisdiction.
This is not to say that Best Buy has not spent a fair amount of time figuring out how to take advantage of customers in other ways.  Best Buy profiles customers, otherwise know as marks, in an attempt to avoid customers who look for deals and make sure that customers who mindlessly spend money are fully taken advantage of by sales associates.  Claims that replacement batteries on $700 laptops run $500 to push extended warranties certainly do not help generate public perception for honest salesmanship.
If naive enough, Best Buy will be more than happy to take your money to professionally install Xbox 360 games or make Windows recovery disks after insisting there is no way a customer can do this for themselves.  The Geek Squad will even happily charge for iPhone setup services that can be had for free from Apple.
As to the quality of those services, the Geek Squad has got it covered.  After pilfering through customer's computers looking for porn, the Geek Squad will gladly misdiagnose computer trouble and charge for unneeded parts and services or happily provide system backup services by copying the desktop shortcut to data stored on a computer but not the actual data.
While I may be picking on Best Buy in this article, do not believe for a moment that many other retailers do not attempt to pull their own brand of crapola on customers. Circuit city is drowning in their customer Karma at the moment.
First and foremost when making a big purchase, have the best price that can be found printed out on paper, either from Best Buy's internet site or from a competitor, before entering any store.  As for tech service, never use store tech service for anything other than warranty service.  Without any employment requirements for formally trained technicians and minimal to no requirements for supervisors and home theater installers, odds are that most Geek Squad employees don't know much more than the average customers they serve, they just act like they do.  Note that sales seem to come first, before any talk of technical competence, in Best Buy/Geek Squad job listings.
I've bought my fair share of merchandise from Best Buy, but I don't go in there unless I know exactly what I want and what I expect to pay.  I really don't recommend that anyone shop at any corporate chain store without doing some research first.
The Consumerist also has some additional insider tips for dealing with Best Buy sales pitches as well as corporate contact information for various executives and the CEO.  This can be handy if something goes very wrong.  Use them wisely.
A fool and his money are soon parted, they say, so do some research before talking with any salespeople to ask for product advice, at any store.  It's the only way to be able to spot fishy sounding claims before they start costing money.
And please make sure that you know that color calibration does not turn SD signals into HD, regardless of the television, before being talked into paying some idiot $300 for the service.
Loudz34 posts on November 30, 2008 21:48
I just hope they dont think they are going to get away with comming out plug in and then leave, I will make sure my pic is what it should be since i spent almost 7k there in less than 30mins. on a tv and reciever and misc cables.
bandphan posts on November 27, 2008 05:43
lburguiere, post: 488961
I would think that Audioholics would be thrilled that a large national retailer would be promoting the concept of ISF calibration!
Why? I cant say that ive ever had any informed BB information, and never had a pleasant experience in their stores. Lack of proper training and poor hires is the typical motif. The Magnolia stores are no better and are sometimes one and the same. I suggest consumers be informed before they shop there(and the other big box stores) because misinformation and deception is rampant. Large national retailers tend to hurt the indusrty more than help it. As for ISF being a concept, its a standard and specialty retailers have been promting them for years
lburguiere posts on November 26, 2008 22:03
I work at Best Buy - Thats not how the demo works

I work at Best Buy and that demo is intended to show the difference between a out-of-the-box non-calibrated tv and an ISF-calibrated tv. As per planogram, the two tvs are supposed to be the same model. Both are supposed to be hooked up to the same same bluray player or directv hd box with the same type of HDMI wire. What was happening in that particular store was not the SOP for all Best Buy stores. Perhaps an employee was being dishonest with his clients - which is a shame. Because then it gives all the Audioholics guys fuel for a fire that I don't think should even exist. I would think that Audioholics would be thrilled that a large national retailer would be promoting the concept of ISF calibration!
A/VUSMCSGT posts on November 20, 2008 17:59
Thanks for the post.

That's good to know. I don't think any of our norms around here would be con'd by any big box store's gimmicks, but it's a great read for anyone who's unknowledgeable about how this stuff really works.

Thanks!
Gatsby191 posts on November 20, 2008 03:19
bandphan, post: 485597
Maybe you should find work as a "sub"contractor or "sub" let some of those rooms in that beautiful house.
Hee Hee, I get it. You used sub because of all the SVS subs. (think Beavis and Butthead:eek
Joe B.
Post Reply
Confused about what AV Gear to buy or how to set it up? Join our Exclusive Audioholics E-Book Membership Program!