Are Bowers & Wilkins the Best Car Speakers You Can Get? Are They Worth It?
Are Bowers & Wilkins the Best Car Speakers You Can Get? Are They Worth It?
by
Sponsored by Bimmertech
—
June 25, 2021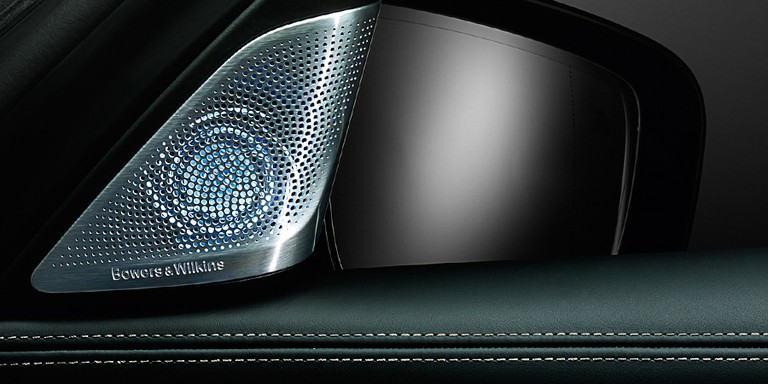 This article is Sponsored by BimmerTech

If you want great speakers, who do you turn to? Which brands are you going to put in your top 10?
If you said Bowers & Wilkins, you probably won't find too many people arguing with you. The British company is one of the leaders in the home audio market, with B&W producing some genuinely exquisite speakers over the last 55 years, that are fit to grace even the most discerning listener's entertainment setup.
In 2008, B&W entered the car audio game. They have aligned with the most luxurious car brands from Europe, such as Jaguar, Volvo, McLaren, Maserati and BMW.
So how does the idea of Bowers & Wilkins car speakers sound to you?  The ultimate question would be is it worth it? Can you upgrade B&W car speakers, and what alternatives are there?
If you're in the market for a new BMW, you'll find out that Bowers & Wilkins are currently the Bavarian manufacturer's high-end audio partner of choice, providing the BMW premium sound package found in its most luxurious vehicles.
What sound system does BMW use?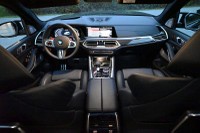 Not that B&W is the only audio brand you'll find in a BMW, of course.
The current crop of BMWs can also feature speakers from long-time BMW audio partner Harman Kardon, as well as more generic OEM speaker offerings. Which BMW audio system you get is going to depend on how much you're willing to pay, with the Bowers & Wilkins diamond surround sound system topping the list for quality as well as price — north of $4k.
With the Harman Kardon system sometimes mistaken to be the pinnacle of the BMW sound system options — perhaps because of its broader availability in a wide range of models — audiophiles will do well to remember that there's still another level above it with the Bowers & Wilkins sound system.
Bowers & Wilkins vs Harman Kardon
So how does the Bowers & Wilkins Diamond surround system for BMW trump the alternative, the Harman Kardon surround sound system?
One of the biggest differences is something you'd think would be the same — if you're one to buy into marketing hype, at least. Both systems tout themselves as 'surround sound' options, but B&W's idea of being surrounded is far more enveloping than HK's.
While the BMW Harman Kardon setup has the level of surroundedness you'd expect from a car surround sound system — a few speakers at the front, a few speakers at the back — Bowers & Wilkins steps it up to a full 3D environment, with speakers also positioned overhead in the roof lining. That's a nice touch, considering car speakers stuck low down in the doors can have a hard time delivering clear, unmuffled sound to you and your passengers' ears.
Bowers & Wilkins Diamond series for BMW
So B&W has got speakers in the right places. But has it got the right speakers in the right places?
Bowers & Wilkins tried to leverage some of their home audio prowess, or at least use the same kinds of words you've probably heard bandied about in a Bowers & Wilkins review or two.
The most obvious of those words is 'Diamond', best known from the 800 Series of home loudspeakers. B&W brought the same name over to its in-car offering, like a little doff of the cap to its top-tier legacy.
And what's in a name? Diamond does play its part in at least some B&W car speakers, with the Diamond Dome tweeters promising the kind of stiffness-to-lightness ratio you wouldn't usually expect from an OEM BMW car speaker.
That's not the end of the materials carousel, either. B&W really went down the checklist, ticking off all the premium materials they've been using in their home stereo speakers for decades. Why settle for any old midranges, when you can have aramid fiber midranges? And honestly, who wouldn't reach for ROHACELL when building a subwoofer?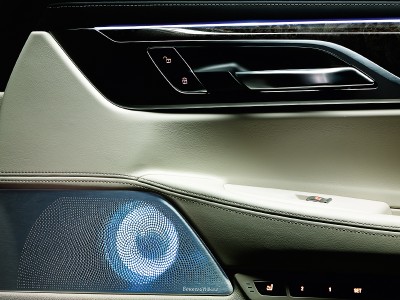 BMW Bowers & Wilkins Listening Modes
OK, so that's enough with the buzzwords. How does this thing actually sound when you're listening to it?
That's going to depend on how you listen to it, with B&W giving you a few different audio profiles to choose from. With the 1475W B&W diamond car amplifier boasting 20 channels, you can expect each of those profiles to be able to take full control over each speaker in your vehicle.
Everything's fully integrated with BMW's infotainment system, too, so just head into the iDrive menu to try them out.
Right at the top of the list is 'Studio', sure to be a lot of people's favorite. It's supposed to be clean and pure, as close as possible to how it sounded fresh out of the studio. That doesn't mean no manipulation of the sound at all, though; if you're going to get pure-sounding audio in the cramped confines of a car, you'd better be doing some kind of processing to keep everything tight.
Move down the list to 'Concert', and you'll see why B&W threw so many speakers at these BMWs. With the overhead speakers at the ready, it's a lot easier to tease out a more expansive sound. It might not be the kind of sound you'd want every day, but for genres that suit the style — like classical — it's a solid option.
The 'On Stage' profile is designed to emphasize the vocalist, bringing the midrange and high-mid frequencies to the front of the soundstage. The idea is to replicate the feeling you'd get at a live show, so it could be a good choice for pop and rock music.
The 'Cinema' option is a bit of an enigma, but the surround sound feel does lend itself to videos and other non-music content. Not that we'd ever encourage anybody to take their eyes off the road, but with car infotainment systems cramming in more and more content, it makes sense that B&W would want to offer a profile for audio other than music.
The really interesting profile, though, is 'Lounge'. When tuning a car audio system, the focus is usually on optimizing the sound for the driver. Sometimes, that comes at the detriment to everybody else — the previous generation BMW upgraded sound system, produced by Bang & Olufsen, was sometimes criticized for producing an excessively small bubble of great sound around the driver's head.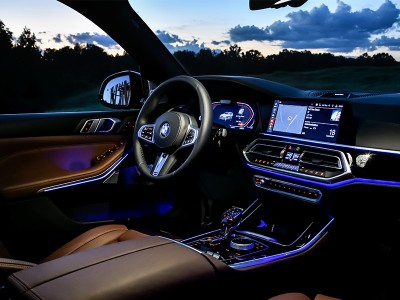 B&W's Lounge profile, however, is explicitly intended to produce better, clearer sound in the back seats. Perfect for those long family road trips, if you've already passed the audio bug on to your kids.
What Cars Have Bowers & Wilkins?
If you're tempted by the Bowers & Wilkins diamond surround system for BMW, you'd better hope you're also tempted by one of BMW's more premium vehicles, like the behemoth X7 SUV. As is tradition for BMW, its premium sound package doesn't make it down below the 5 Series, also cropping up in the luxury 7 Series and X5 SUV and related models.
If you want to put a positive spin on it, that makes the price tag a much easier pill to swallow — what's an extra $4k when you're already dropping 20 times that on the car?
Are Bowers & Wilkins Worth It?
The $4k price tag is the only thing that is going to hold anybody back from the B&W surround sound system for BMW, and you're the only person who's going to know whether you need that kind of sound quality on the road.
If you do, the Bowers & Wilkins system is an obvious step up from anything else BMW has to offer from the factory, and even an improvement on the Bang & Olufsen system in previous-generation BMWs. The BMW/B&W partnership really is up there with Bentley/Naim and Mercedes/Burmester when it comes to the best car audio systems going.
Can I Retrofit Bowers & Wilkins Car Speakers?
Fortunately, even if you miss out on the high-end B&W system in your BMW — whether you went for a lower-spec vehicle, are buying used or prefer a model the premium music system isn't available for — you don't have to settle for your car's factory system.
While retrofitting the B&W system isn't an option, the car audio retrofit scene is as lively as ever, and with BMW car audio specialists like BimmerTech offering top-of-the-range speakers and amplifiers customized for your vehicle and your preferences, there's no excuse not to have the best possible audio experience in your BMW.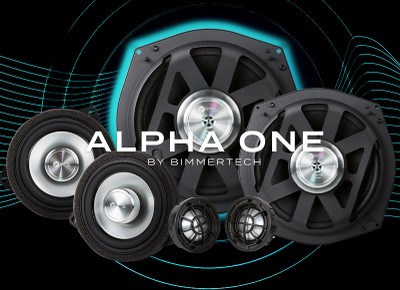 How To Personalize a BMW Sound System
The best thing about going aftermarket is having complete control over your system, from picking just the speakers you need, to tuning the amp with powerful DSP software. And unlike premium systems like the Bowers & Wilkins surround sound system, quality aftermarket systems aren't restricted only to premium models; BimmerTech's Alpha One BMW speakers and amplifier upgrades fit BMWs of all shapes and sizes, new and old.
As the only aftermarket company offering the personalized support of an expert audio audio engineer, with BimmerTech you'll be able to enjoy personalized sound that rivals anything available from the factory.
This article is Sponsored by BimmerTech
Confused about what AV Gear to buy or how to set it up? Join our Exclusive Audioholics E-Book Membership Program!