Audiologic Schumakubins Loudspeaker Review
Audiologic Schumakubins Loudspeaker Review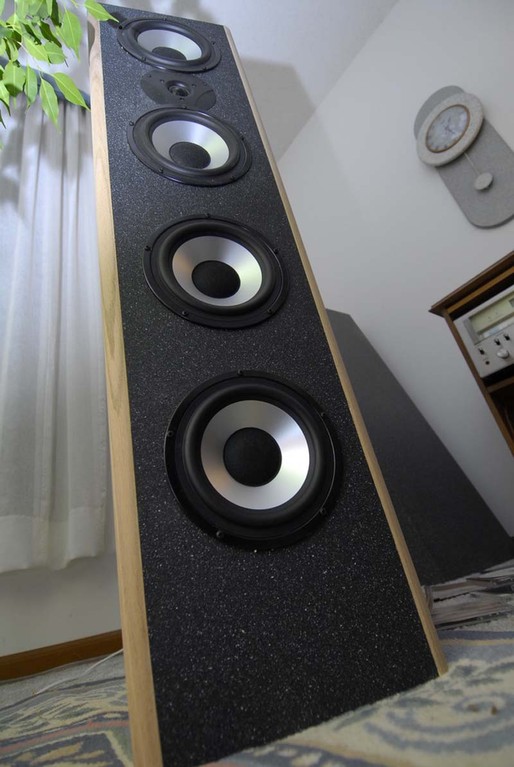 32Hz (vented) or 50Hz (sealed) - 20KHz
Anechoic sensitivity 84dB/2.83V
6 Ohm load nominal
Crossover 1500Hz
Max 50Hz SPL, 103dB Excursion limited
Max 100Hz SPL, 112dB Power limited
Pros
Excellent imaging and sound stage
Narrow front baffle
Good value as a kit
Cons
Completed cabinets not really complete
Introduction
As a Do-it-yourself speaker builder I have found myself wondering many times as I perused the internet's vast sea of home speaker builder's selections as to what some of the DIY speaker kits would sound like. Hence I decided to check out the Schumakubins which were born on the Parts Express forum utilizing their very own Dayton drivers. The Schumakubins shined with their smooth midrange and tight bass. If you are interested in building speakers but a little reluctant the Schumakubins are a great opportunity. I recommend buying the kit with the precut front baffle. You will be on your way to getting the best sound for the least amount of money and work. Kit speakers are a great and fun way to get some really good sound enjoyment and the Schumakubins are a great way to start.

Confused about what AV Gear to buy or how to set it up? Join our Exclusive Audioholics E-Book Membership Program!
Recent Forum Posts:
Pete S posts on May 22, 2008 22:00
Reasons for Iron Core Inductors

There is a common belief that iron cores are inferior to air core inductors. To an extent, that is true. But an iron core inductor used well below saturation will exhibit distortion levels orders of magnitude lower than the drivers they're connected to.

With the prices of copper these days, keeping the price of a passive crossover low almost mandates the use of iron/steel/ferrite as an inductance booster to lower the amount of copper required to achieve the desired result. The lower in frequency you go, the more it matters since the part values become quite large and expensive. Price out a 6mH air core inductor of 15ga or lower and you'll get a real shock.

The kit comes with many options, including one with no crossover, allowing the builder to simply use the accompanying schematic to construct the crossover with the parts they like the best. Low gauge air core inductors, boutique caps and metal film resistors may, or may not help in the overall production of sound, but it's a sure bet that the wallet will be a lot lighter.

The intention of the Schumakubins is bang for the buck, and a big sound in a small footprint at a low price. On that account, they really do shine. Crank them up and you'll really get a shock when you realize that those smallish 7" woofers are producing that full range sound.
Swerd posts on May 12, 2008 16:22
wadeh911, post: 411033
Surprised to see iron core inductors still used, what was the crossover designer's explanation for this rather than air core?
The common belief is that air core inductors are better than any other kind for speaker crossovers is generally true, but not always. In 3-way speakers, or in this case a 2.5-way speaker, air core inductors are usually used everywhere in the crossover, except for the low-pass filter of the woofer, without significantly impacting the overall sound quality.
Iron core inductors use less copper wire, and as a result have much less resistance than equivalent air core inductors. For low-pass crossovers used with bass drivers, the lower resistance of an iron core inductor is worth it. The higher resistance of a large air core inductor would have a greater negative impact on the sound of a woofer that is probably already less sensitive than the other drivers in the speaker.
wadeh911 posts on May 10, 2008 12:19
Nice to see a loudspeaker review this thorough, particularly the recognition by the author for different listening tastes. Surprised to see iron core inductors still used, what was the crossover designer's explanation for this rather than air core? Also, what happened to the sand-filled wharfendale cabinet philosophies of yesteryear?
Post Reply