Spouse Approved Home Theater Install & Set-Up
Spouse Approved Home Theater Install & Set-Up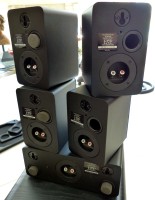 I originally bid the installation to be a 3-4 hour job max which 12 hours after completion, I realized was a gross underestimate. Lesson learned. When I showed up to do the install  everything that could go wrong, did go wrong. The entertainment center didn't have all of the necessary routed holes I requested to pass cables through and the surround speaker wires ran through the ceiling were 24 AWG telephone cable. I insisted that these cables would need to be swapped out else I wouldn't proceed with the installation. I was impressed to see my dentist friend jump in into the attic and snake out the old cable while routing the new 16/2 cable. It was a challenge for him to route it down the in-wall conduit, but I was there to help pull it through. Next, speaker cable had to be routed up the front wall to the front speakers. The problem was that the drywall was already in-place and in fact the wall itself wasn't just drywall but the entire wall had a giant sheet of plywood underneath the drywall. The wall was reinforced to handle the weight of the suspended 60" Samsung LED TV and the wall unit where all of the equipment was being installed it.  I was fortunate his cabinet guy was still there to drill through the walls and help route the speaker cables where they needed to go, but it was quite time consuming. Fortunately, they did have the foresight to install a plastic conduit up the center of the wall to route HDMI and power to the display.
I plugged the ports on the rear firing ports of the EMP E3c center channel with the supplied foam plugs since it was being placed directly against the wall but I left the ports open for all of the E3b satellite speakers since they had ample clearing from the backwall once installed on their mounting brackets.
Editorial Note about In-Wall Wiring

Whenever you are drilling holes in a wall or running wire, you need to be conscious of the local fire and electrical code, as well as what might be hidden inside the wall. In this scenario we were fine running power through an existing conduit, but that is not always the case. Whenever you run any cables in the wall it is imperative to ensure they are in-wall rated. Here is a great guide by our friends over at Blue Jeans Cables about how to determine if your cables are in-wall rated. You don't want an inspector to show up to a job site and tell you to rip out all of your wiring.
Components Installed into Wall-unit
As you can see in the above image, I placed the Denon A/V receiver and Dayton speaker switch box on the bottom shelf, and the Panamax power center and Samsung Blu-ray player on the top shelf. The adjacent bay housed the Verizon Fios box, Xbox360 and Nintendo Wii. The SVS SB-1000 subwoofers were each placed on the open shelf on opposite ends of the wall unit. They fit snug as a bug and you couldn't see any cables since they were routed into the cabinet behind all of the components. 
I was getting ready to install the EMP E3b front channels centered between the  top and bottom of the Samsung display when the boss (dentist wife) decided she did NOT want the speakers at the same level as the TV. She thought it would make the TV look like it had ears. So, I installed them above the TV as shown below explaining to her that this does compromise sound quality and in the end I think it looks more like ears this way. She was happy, he was happy, so I didn't press the matter.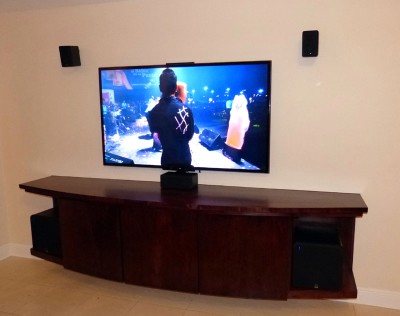 Front View of System Install – Looks like Mickey Mouse?
Back Wall Surround Speakers Mounted
I utilized the RBH SB-1B speaker brackets for the front and back channels while the E3c center channel was set on the shelf just below the display.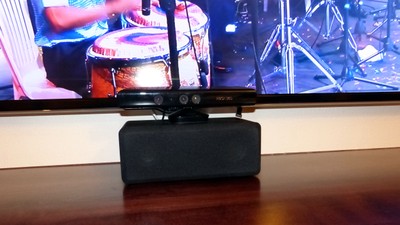 EMP E3c Center Channel with Xbox Motion Bar mounted below the Samsung Display
Multi-Room
Since the main theater room was running a 5.1 speaker system, I had two amplifiers left unused in the Denon AVR-2313CI. I reconfigured these amplifiers to run Zone 2, which was fed to the SS-6 Dayton speaker selector. This provided the ability to switch on all 6 pairs of speakers for multi-room audio while also impedance matching them when running simultaneously to avoid overdriving the amplifiers. 
Since I didn't install the in-ceiling speakers or volume controls, I really didn't know what to expect.  Mistake #1. I assumed the previous installer actually had a clue when doing this. Mistake #2. What I found was quite a disaster of an install. Each pair of speakers was apparently wired in series to their associated volume control and a single speaker cable was fed back to the theater room from each zone.  I managed to hook up all of the speakers to the SS-6.  Although five of the six zones worked, they didn't play exceedingly loud. The sixth zone wouldn't pass any audio at all but it did pass noise via a battery test.  I honestly was at a loss with this one. But, I did learn a lesson. Never assume the installer prior to you did competent work and never assume you can use existing gear for a new install. My dentist was happy enough with how it was working and didn't wish for me to further troubleshoot it. So, I left it alone, though it did vex me a bit as I wouldn't personally be satisfied with such a solution if it were my own home.  He was happy enough that for the first time he's been in this house (for nearly 10 years), he had all of the speakers working. He also had the ability to run a 5.1 source in the theater room while listening to music in the other zones. This is a capability he never had prior to my intervention. 
Calibration
I didn't get a chance to run Audyssey, mostly because of the time constraints and the inability to have a totally quite house long enough to run the setup. So I broke out my old fashion tape measure and Radio Shack SPL meter. I calibrated using the internal pink noise generator of the Denon receiver and also did some spot checking measurements with my Dayton Audio Omni-mic system to ensure I achieved good integration between the satellite speakers and subwoofers. All speakers were set to "small" and the best crossover setting I found to use was 120Hz for this system. 
I configured their Blu-ray player to output HD audio for the very first time.  It's amazing how many people's homes I visit never do this, and more often than not never even have their source devices set to 1080p resolution despite their new state of the art displays having the ability to support it. I also configured the XBOX to pass 5.1 surround sound and 1080p resolution. The Wii was connected via component video and set to 480p.

Harmony 900 Universal RF Remote Control
Remote Control
Since all of the equipment was installed into a wall unit, the IR signals were blocked, meaning the stock remotes weren't able to operate them. My dentist friend loves setting up devices so I instructed him to purchase a Harmony 900 remote. I was impressed to see him actually configure it all by himself via the web interface. I also connected up Ethernet to his Denon A/V receiver and downloaded the Denon app so he could control the receiver from the convenience of his iPad.
The Results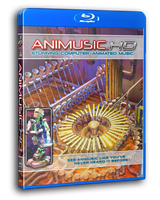 I brought over a couple Blu-ray discs to demo the new system.  We started out with Animusic HD, which brings bass that quickly separates the men from boys in subwoofers. I went right to track #9 "Heavy Light" which really kicks in as the pillars rise out from under the ground after the short keyboard intro. I watched my friend's face light up as the sound from beams of light surrounded the room. Once the bass drums kicked in, he was hooked. Even his wife stood up at attention.  They never experienced sound quality of this caliber in their home and I was happy to have them realize that there are alternatives to "cubed" systems that not only sound much better but also don't occupy more space. We flipped over to "Dark Knight Rises" and watched the airplane scene where Bane's superplane ripped apart the smaller airplane he was temporarily occupying. Bane's voice came in clear, much clearer than on the big screen actually, thanks to the remastering for Blu-ray.  After about 30 minutes of skipping around this disc it was time for me to part ways as it was pushing 11pm.  Suffice it to say, our friends were quite pleased with the end result and they started ordering Blu-rays from Amazon as I was leaving. 
Although this installation wasn't perfect, I managed to take a pretty grim situation and turned it around to a workable solution. Knowing the caliber of dentist my friend is, I asked him if the sound quality and function of the system met his expectations and he confidently told me "NO! They exceeded them!"  Now I'm just waiting till the audiophile bug really hits him and he manages to convince his wife that they should build a dedicated two-channel listening room.  Perhaps a topic of discussion for my next office visit ;)
Confused about what AV Gear to buy or how to set it up? Join our Exclusive Audioholics E-Book Membership Program!
Recent Forum Posts:
deepak posts on April 15, 2013 03:17
Good Looking Invisible Speakers
Well not practically invisible, but at EzHomz Solutions Delhi, India, we use Artcoustic Speakers which are easily approved by everyone including interior designers and of course your wife as they look very beautiful on wall, have amazing prints to match any color or any type of interior.
And all this is without any loss of sound quality.
Click here to visit
EzHomz
website.
bobnegi posts on March 18, 2013 19:13
And that folks, is why I no longer do this type of work for anyone except myself
bobnegi posts on March 18, 2013 19:12
Wow, what a challange!

Know thats customer service on your part, half the job seems to be convincing people that they are missing out.

If it had been me, I would have suggested to the dentist, to just get a new wife, cause this one ain't worth it!
haraldo posts on March 13, 2013 14:41
Very very nice Gene, you're the man :-)

The problem you face many times is that people who want small invisible speakers don't really know what a well performing system can do and the pleasure you get from a really good sound system, only one way of doing this, prove it to them….. you should have invited his wife to listen to her favorite music in your rig Gene, then probably his wife would demand big speakers
As a dentist I'm sure he can pay a bill for quite descent speakers
Marshall_Guthrie posts on March 13, 2013 14:36
j_garcia, post: 956694
Link hasn't been changed lol.
Looks fixed now.
As for the actual install, I think the SVS subs were a great choice. Truthfully, there isn't much in the small/sealed category that also performs well. The Aperion Bravus II 8D would be another great option as it's small and beautiful, but doesn't dig as deep. Did you consider any other subs before landing on the SVS?
Post Reply