MelodyWing Wireless Speaker Technology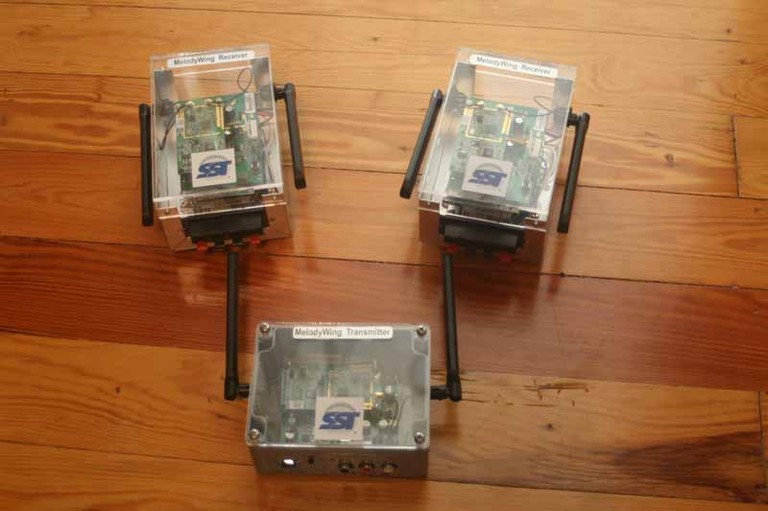 MelodyWing Wireless Speaker Technology
Summary
Product Name:

MelodyWing Wireless Speaker Technology

Manufacturer:

SST (Silicon Storage Technology, Inc)

Review Date:

December 20, 2007 10:52

MSRP: $TBD
First Impression:

Pretty Cool
Amplifier Output: 24W/stereo; 50W/mono @ 4-ohm
Frequency Response:  20 Hz to 20 kHz ± 0.6dB
THD+N (1 kHz, 1W): < 0.03%
Peak-to-peak jitter < 5 micro-second;
Left-to-right time skew < 1 micro second
Security ID: 48 bits
Stereo input for transmitter: RCA
Speaker jack: Speaker terminal
Supply Voltage: 120V AC
Transmitter Dimensions (HxWxL): 1.8" x 4.5" x 3.5"
Transmitter Weight: 0.4lbs (0.19 kg)
Receiver Dimensions (HxWxL): 2.4" x 5.3" x 3.5"
Receiver Weight: 0.7lbs (0.32 kg)

Executive Overview
This is one of our few "technology" reviews that we get to do from time to time. We love it since it nets us a sneak peek at upcoming technologies even before they are polished and placed within a manufacturer's final packaging. The MelodyWing wireless speaker system from SST (Silicon Storage Technology, Inc.) being reviewed here is a dual-band system that can be utilized for driving surround speakers or even a second audio zone without the need for running wires. All that is required is power - and that is a lot easier to locate than running cables. In the past these wireless devices have been a mixed bag. Some have worked very well - but at the expense of wreaking havoc on all other wireless 2.4GHz devices in the area. Others have suffered from dropouts or periodic interference. All (to date) have shipped with underpowered and unimpressive amplifiers or have been integrated into a complete system (like the Soundolier lamp we reviewed earlier this year) which weren't subject to upgradability. The MelodyWing is a little different in that it seems to be built with a touch more robustness and it also came with two receivers so each could be discretely paired with its own loudspeaker. It also accepts line level inputs, meaning that you aren't taking a 'Speaker B' output from your AV receiver instead of the more appropriate (and desirable) Zone 2 or stereo preamplifier outputs for the remote speakers.

Setup and Overview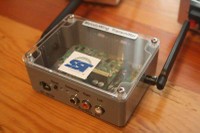 To give you an idea of just how much of a preview this was, the wireless transmitter and receivers came in a case with clear acrylic tops so that manufacturers could examine the component utilized within. Personally, I'd consider rounding off some edges and calling it a finished product... almost. It's at least a cool idea and I haven't seen too many "peek under the hood" products except for tube amps with half of their parts hanging out for show. One advantage to the acrylic tops was that I was able to note they utilized quality components and the power supplies were fairly robust compared to the scant amplifiers I've seen in past attempts at wireless systems. The onboard digital amplifiers are rated to 24wpc in stereo, or 48wpc mono. The amps automatically sense the attached load and will bridge the output for a mono signal to each speaker (which is how we utilized the system in our demo.)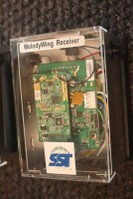 The package came with one SST18SC03 transmitter with line inputs and two radio receiver modules with speaker-level outputs and built-in Class-D amplification. All modules require DC power (12VDC for the transmitter and 24VDC for each receiver). The antennas are omni-directional and custom made for the Melody system, but even they can be customized by a  manufacturer if desired. Provided you don't have the antenna's touching metal and you're not trying to transmit from inside of a refrigerator they have an exceptionally good range. SST claims up to 50m, less if you are utilizing the systems in separate rooms with walls.

Setting up the system was very easy. The transmitter connected to my source - in this case a Marantz PM-11S1 integrated amplifier's preamp outputs - via a stereo RCA cable. I located the receivers in another room and connected each to an RBH sound Signature 61-SE/R loudspeaker. These speakers have a sensitivity of 87dB @ 1W/m and, while not terribly inefficient, are not the easiest speakers to drive. There was a drywall-over-plaster wall in between the rooms and the doors were closed during the listening/transmitting sessions. With this configuration, each speaker was receiving 48wpc Class-D amplification.

Flexibility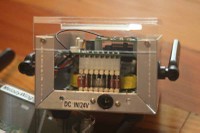 As we mentioned, the system is somewhat flexible, with 19 channels and dual-band support that can jump between 2.4GHz and ~5GHz without skipping a beat - literally. Line level outputs can be substituted for speaker level outputs by the manufacturer and a third receiver module can be utilized to create a system that also handles a wireless subwoofer. The MelodyWing wireless system is also capable of transmitting digital (S/PDIF, for example) signals which its digital amps can then decode, performing digital-to-analogue conversion after the wireless transmission. A unique handshake mode between transmitter and receiver also means that the system can be used with other systems for a greater level of interoperability not seen in many wireless products of this nature. Manufacturers will take these capabilities and determine a final shipping product.

Listening Tests
In listening to the MelodyWing system the one thing I'd have to give kudos to is the ability of the wireless network to never drop out under normal use. I didn't put the receivers into a lead box or try anything else remotely devious, however I did place the transmitter about 6-inches away from an 802.11g receiver and never experienced any problems - either from the output or my wireless network. That's saying a lot considering our past experiences with wireless audio systems absolutely taking over the wireless band in order to guarantee a solid connection. The MelodyWing system plays well with others and that's important. Music sounded full and robust, with plenty of bottom end coming through my RBH Sound 61-SE/Rs. I played a variety of music, from Classical to Classic Rock and felt that these digital amps did a better job delivering the sound than any I've heard to date. They couldn't power my speakers to obscene levels, but they drove them with gumption. 48 wpc seems to be about the right amount of power for a reasonable Zone 2 or surround sound speaker use. Any less (as is often the case) and you get a mixture of anemic bass or an underpowered lack of fidelity.

Conclusion
SST's MelodyWing brought the goods to perform above par with what we've come to expect. This wireless audio technology may not be as far away as we thought. I'd love to see this technology start to make its way "up the food chain" into more expensive components so that it could be a viable solution for those looking to go wireless without having to settle for second-class performance. Through my interview with the folks at SST, I got the impression they care about fidelity and would love nothing less than to position themselves as the solution for a wireless audiophile experience. They may have nailed it, though the real test will come as manufacturers deploy this solution in the real world and with their particular design variations and configurations.

Unless otherwise indicated, this is a preview article for the featured product. A formal review may or may not follow in the future.
Confused about what AV Gear to buy or how to set it up? Join our Exclusive Audioholics E-Book Membership Program!